Art: And now for something completely different
A series of sound art performances over the next 10 days features, among other surprises, two electronic artists going acoustic, and one infamous meat-lover going vegetarian.
Mixing Membrane Trans (同流膜跨域), part of the ongoing 2011 Taipei Fringe Festival (臺北藝穗節), consists of seven performances at Nanhai Gallery (南海藝廊) through Sept. 11.
According to curator Meta Hung (洪雅純), Mixing Membrane Trans can be seen as "a festival within a festival" that features works by artists and groups that perform regularly under the auspices of Mixing Membrane (同流膜), a project that has, since its inception in 2007, promoted experimental, alternative and crossover art forms at Nanhai.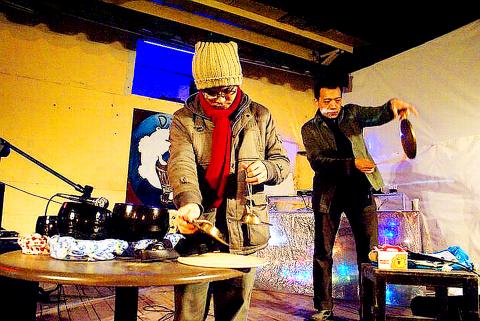 Kandala Records has organized a series of avant-garde sound performances titled NOISE80000V.
Photo courtesy of Mixing Membrane Trans
"The idea is to team up with different groups and projects, to collaborate with artists from different fields instead of having one programmer," said Hung, the brains behind Mixing Membrane.
A good example is NOISE80000V (噪音八萬伏特), a series of sound performances organized by Kandala Records (kandalarecords.tw), an independent label in Taiwan that supports noise, improvisational and avant-garde sounds from home and abroad. On Sunday at 3pm, Dizzy Lin (林峻立) from post-rock band Goodbye!Nao! (再見奈央) will perform.
Sunday night at 7pm, Minkoku Hyakunen (民國百年), a joint project by electronic noise-makers Chang Yo-sheng (張又升) and Yingfan Psalmanazar (黑狼, also known as Huang Da-wang, 黃大旺), will go unplugged, making bizarre and unpredictable sounds out of ordinary objects and musical instruments.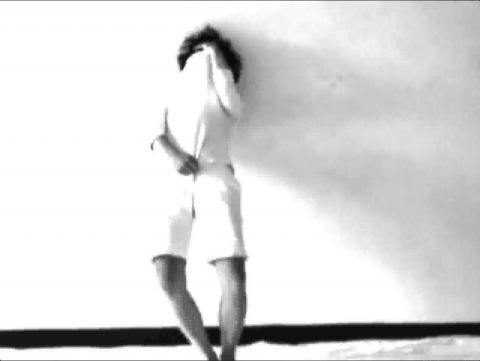 Lee Pei-ling's Law of the Mental Unity of Crowds will be performed as part of Mixing Membrane Trans.
Photo courtesy of Mixing Membrane Trans
Yingfan Psalmanazar will also make a solo presentation on Sept. 10, drawing on a wide range of sources, from human voices and children's toys to traditional Chinese musical instruments, to show off his sampling skills. On the same day, pianist Lee Shih-yang (李世揚) and sound artist and guitarist Jose Duarte from Costa Rica will demonstrate how to make music from instruments without actually playing them.
Power and power relations are explored by multimedia artist Lee Pei-ling (李佩玲), whose performances tonight and tomorrow involve video installations, four dancers and audience members' mobile phones.
Lin of Goodbye!Nao! will return on Friday next week with a follow-up to his audacious 2007 and 2008 performances that focused on the culinary arts. His earlier acts saw him cooking the audience meals using live frogs and pork; this time he plans to stick with vegetables.
Hung envisions Mixing Membrane to be a 10-year project since it "takes time for artists to mature, develop styles and build aesthetic vocabularies."
"If you have a regular venue like Nanhai Gallery, you can push artists and groups to perform new things on a regular basis," the curator said. "This way they can constantly see others' works, get inspired, exchange and grow. On the other hand, performing in front of an audience helps artists to look inward, gaining different perspectives and a better understanding of what they do."
Mixing Membrane holds performances, film screenings, exhibitions and other events at Nanhai Gallery almost every week. For more information, visit blog.roodo.com/nanhai.
Publication Notes
Festival Notes
WHAT: Mixing Membrane Trans (同流膜跨域)
WHEN: Tonight through Sept. 11
WHERE: Nanhai Gallery (南海藝廊), 3, Ln 19, Chongqing S Rd Sec 2, Taipei City (台北市重慶南路二段19巷3號)
ADMISSION: NT$200 to NT$300 depending on performance, available at www.walkieticket.com
ON THE NET: www.taipeifringe.org
Comments will be moderated. Keep comments relevant to the article. Remarks containing abusive and obscene language, personal attacks of any kind or promotion will be removed and the user banned. Final decision will be at the discretion of the Taipei Times.