Pop Stop
Ever since Edison Chen (陳冠希) was caught three years ago with a computer full of homemade sex photos featuring Hong Kong starlets, the actor-singer has been the gift that just keeps on giving to the showbiz gossip media.
The picture scandal died down but returned recently to haunt Cecilia Cheung (張柏芝), who starred in of one Chen's hard drive indiscretions. She is now divorcing her husband Nicholas Tse (謝霆鋒), thanks in part to a publicized reunion with her erstwhile lover. As Pop Stop readers will recall in the now infamous "airplane incident" from earlier this summer, Cheung was spotted sitting next to Chen on a flight to Hong Kong following a mutual friend's wedding in Taipei.
Tse was said to be enraged over reports that Cheung and Chen were chatting happily and snapping photos together on the plane. Rumors of marital strife between Tse and Cheung proved to be true with the announcement of their split last week.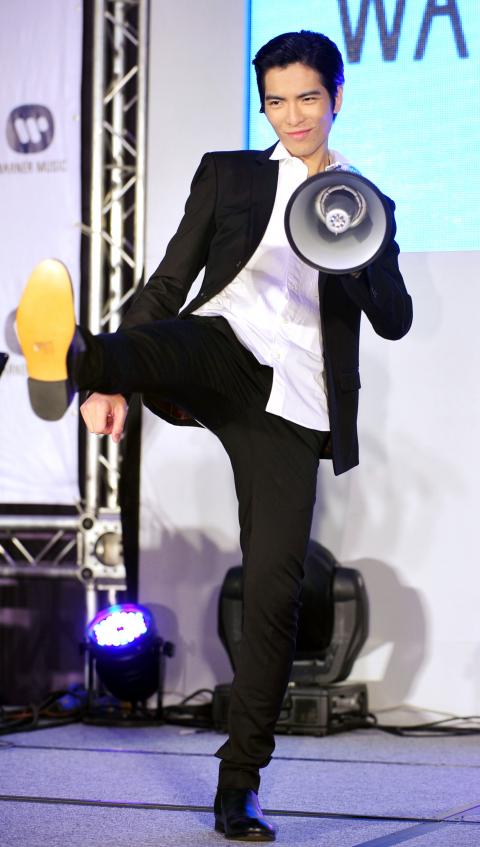 Jam Hsiao's been sleepless in Shanghai.
Photo: Taipei Times
And now, as if Cheung doesn't have enough on her plate already, Hong Kong magazine Face is making a fuss over the discovery of an "S&M" video starring the actress. The 39-second clip, made by one of Chen's friends, videographer Vernie Yeung (楊龍澄), has Cheung dressed in her underwear, tied to a chair and wearing a ball gag.
The video, easily found on Yeung's Web site, is nothing but a mediocre art house-wannabe piece, but it's hardly surprising that the media are milking it for all it's worth. On its cover, Face plastered screen-shots of Cheung from the film with the headline "Cecilia in an S&M movie" (柏芝被虐片). The Apple Daily made light of the fact that the filmmaker was a "close and personal" friend of Edison Chen's and that the pair were once rumored to be collaborators-in-porn.
Yeung took to his microblog to defend himself and his art, pointing out that the clip, titled Dog Prisoner (狗仔戰俘), was shown at a screening for an audience of 1,000 people five years ago. According to NowNews.com, Yeung defended Cheung, writing that she "was outstanding. Why is there no one praising her for her performance? If you don't get it, then blame me for doing a bad job of filming it."
The Apple Daily went on to note that Chen's sexcapades appear to have cursed the love life of another former "co-star," Canto-pop singer Gillian Chung (鍾欣桐). According to the paper, Chung announced online that she was still in search of Mr Right and would not rule out a matchmaker. "Right now I'm 30, and I think 35 is the ideal time to get married. If I'm not married by then, 40 is my absolute limit [to wait]," she said.
Singer Jam Hsiao (蕭敬騰) hasn't had any trouble attracting attention. The Mando-popper, who was in China earlier this week to promote a new album, complained about getting harassed by fans in the middle of the night at his hotel.
According to the China Times, a group of fans found out Hsiao's room number and spread the news on the Internet, with predictable results. Hsiao says he saw strangers hanging around in the hallways outside of his room, and on top of that, the singer received a steady stream of phone calls from callers who wouldn't say anything when he answered.
After Hsiao and his management complained to the hotel and online, the "crazed" fans posted an apology, saying they had no ill intentions and that they were "seized with a sudden impulse."
A would-be visiting pop star to Shanghai might consult Hsiao's management about where not to stay on a future visit. According to the China Times report, Internet fans said that Hsiao's room number was freely given out by the hotel, which wasn't named in the article.
Pop Stop concludes with a brief introduction to Taiwan's latest YouTube star, who goes by the name of Sister Hold You (Hold住姐).
The 20-something comedienne dresses in what she calls her "friend's grandmother's clothes," speaks Mandarin with a put-on foreign accent (think California valley girl) and purports to be a teacher of "fashion" (her Facebook page lists her as a graduate of the "Paris Bonjour Fashion University").
She's been a hit since debuting her goofy schtick on CTV's (中天電視) University (大學生了沒), which has racked up over 1,400,000 hits on YouTube. View Sister Hold You's performance at www.youtube.com/watch?v=aqNsaEL-wM4.
Comments will be moderated. Keep comments relevant to the article. Remarks containing abusive and obscene language, personal attacks of any kind or promotion will be removed and the user banned. Final decision will be at the discretion of the Taipei Times.