Highlight: Japan's Super Hero Expo (超級英雄主題遊樂博覽會)
Taipei is hosting Japan's Super Hero Expo (超級英雄主題遊樂博覽會) for the first time. These are not the Marvel and DC hotshots that Hollywood is so fond of these days, but the heroes from tokukatsu (特攝), Japan's renowned live-action films and television series. The expo, which runs until July 24, focuses on the Super Sentai Series (超級戰隊系列), which was adapted for US television as Power Rangers, and from tomorrow on it will feature the Kamen Rider Series (假面騎士系列). The two series have been in production for the past 35 and 40 years, respectively. The entrance of the expo is adorned with life-size models wearing hero suits, while Inside the hall there are games and souvenir booths, as well as a photo booth where children can pose in miniature hero outfits, which are on loan from Japan. Four times a day, at 1pm, 3pm, 5pm and 7pm, there are live shows that feature Taiwanese actors who were trained in Japan.
■ Daily from 11am to 9:30pm until July 24, at 7F, Shin Kong Mitsukoshi A9 building (新光三越信義A8館7樓), 7F, 9 Songshou Rd, Taipei City (台北市松壽路9號7樓)
■ Admission is free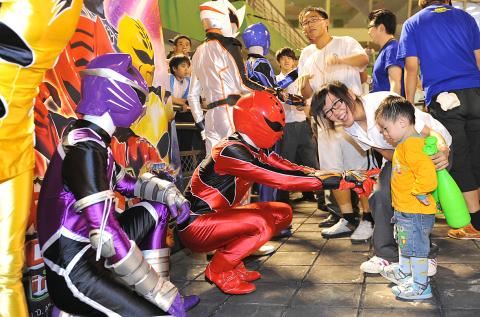 Fun for the kiddies.
Photo: Taipei Times
■ On the Net: www.supersentai.com.tw/news.html
Comments will be moderated. Keep comments relevant to the article. Remarks containing abusive and obscene language, personal attacks of any kind or promotion will be removed and the user banned. Final decision will be at the discretion of the Taipei Times.