Rewind 'n' roll
Indie rock institution Underworld is celebrating its 15th anniversary with a concert series that aims to revive the past and lectures and discussion forums that look to the future
As a bar in business for a decade and a half, Underworld (地下社會) has seen its fair share of cigarette smoke, drinking sessions that lasted until the next morning and obnoxious drunks that just wouldn't go away. And then there was the occasional brawl.
But what keeps this tiny basement club on Shida Road (師大路) in Taipei going is a love for cutting-edge rock 'n' roll.
Underworld has long been considered a favorite performance spot and hangout among those in Taipei's underground music scene, and the venue is getting nostalgic for its 15th anniversary, which falls on Aug. 1.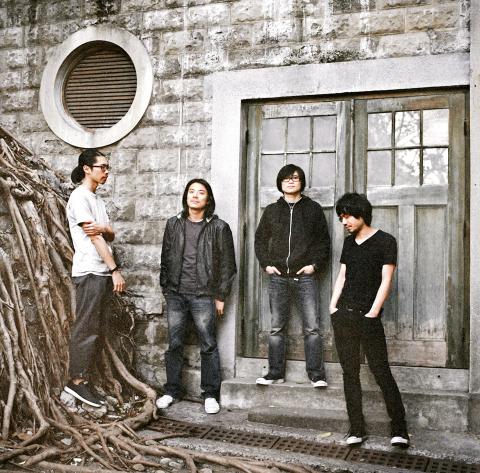 Sugar Plum Ferry, one of the country's first post-rock bands, will perform as part of Underworld's series of anniversary concerts.
Photo courtesy of Sugar Plum Ferry
From Tuesday until the end of the month, Underworld is holding a concert and lecture series that features a classic lineup of bands harkening back to the early days of Taiwan's underground rock scene. During the next two weeks, there will also be several discussion forums on the current state and future of indie music.
Bands scheduled to play over the next few weeks include Sugar Plum Ferry (甜梅號), one of the country's first post-rock bands, The Clippers (夾子電動大樂隊), a long-established group that mixes comedy and modern rock, and the indie-pop outfit 1976.
These bands, which formed in the mid- and late-1990s, made regular appearances at Underworld in their early years, and are getting into the spirit of the venue's anniversary celebration. Founding members from all three groups will be returning for "reunion" shows.
The "blast to the past" theme ought to resonate with Underworld's regulars, a mix of musicians, DJs and music fans, many of whom point to a sense of community and camaraderie as their reasons for frequenting the venue.
"The people that go there are like a family," said Lee Chi-ming (李奇明), aka Ah-Chang (阿強), lead singer for 88 Balaz (88顆芭樂籽), one of the featured bands in Underworld's concert series. "It's like a living room. You can go there and find your friends and talk ... everybody that goes there knows each other."
When owner Lin Tsung-ming (林宗明) first opened Underworld in 1996, he hadn't envisioned the place as the music venue it is today. Rather, it was meant as a cafe-space for a like-minded group of university students who were into art and social activism, according to Ho Tung-hung (何東洪), one of Underworld's resident DJs and shareholders.
Ho and his friend Randy Lin (林志堅), also a current resident DJ at Underworld, originally approached Lin Tsung-ming about hosting live music shows in 1998.
At the time, Ho and Randy Lin were working at the now-defunct Crystal Records (水晶唱片), a label that distributed albums from prominent indie bands of the time, which included Ladybug, Loh Tsui Kweh Commune (濁水溪公社, commonly known as LTK) and Sugar Plum Ferry.
They became concerned over the closing of Roxy Vibe, one of the few remaining venues friendly to Taiwanese underground bands at the time.
"From my experience at Crystal Records, I saw a lot of independent rock bands that had no place to perform," said Ho.
Lin Tsung-ming's decision to host live bands resulted in the Underworld becoming an institution of sorts for Taipei's underground music scene.
The venue has been the site of live shows several nights a week for over a decade, including countless memorable performances from a who's who of Taiwanese indie rock, from LTK and 1976 to new generation bands like The White Eyes (白目樂團), Touming Magazine (透明雜誌) and Go Chic.
Also part of Underworld's legacy is its nurturing of up-and-coming bands. "They let a lot of new bands play," said Ah-Chang, who added that Underworld is "tolerant" when it comes to "different styles" of music. "If [your band] only brings in 10 people, Underworld will still let you play a second time."
And despite its small size — 100 people inside the club is a tight squeeze — Underworld is also known for throwing wild, all-night electronica dance parties.
Underworld's renegade spirit has also attracted trouble. The venue was forced to stop hosting live shows from the summer of 2005 to the summer of 2006 because of problems with its business license. The club still operates under an ambiguous legal status as Taipei City Government's zoning regulations generally don't account for live performance spaces. (This could change in light of the recent events surrounding Witch House (女巫店), another indie music venue that was set to close but was saved by a last-minute intervention from the Taipei City Department of Cultural Affairs. For more information, see page 13 of the May 27, 2011, edition of the Taipei Times.)
The anniversary series of lectures and discussion panels includes a talk by Ho, who is also an assistant professor of psychology at Fujen Catholic University and a sociology PhD student at Lancaster University in the UK, about a central government program that provides subsidies to indie artists, record companies and promoters. He sees the government funding, which provides a substantial financial boost to bands looking to produce a recording, as a mixed blessing.
"In addition to performances, we want to help music fans and the general public to understand that there are [problems with] the government's cultural policies that should be discussed," he said.
In an interview with the Taipei Times, Ho lamented that after all these years, there are still so few venues for underground musicians.
"With an indie scene, the more places you have [to play at], the better. Looking back at the past 15 years of Taiwan's so-called rock music or pop music scene, there actually has been no diversity," he said. "So that makes Underworld a very valuable place."
On the Net: www.upsaid.com/underworld
Underworld 15th Anniversary: Schedule of Events
Tuesday 8pm to 11pm
Creative Youth and Music: Discussion forum with indie record company representatives and promoters
Wednesday 9pm to 11:30pm
Concert: Macbeth and The White Eyes
Thursday 8pm to 11pm
Stories About Touring Overseas: Discussion forum with the members of Go Chic, who recently completed a European and US tour, and Randy Lin, former manager for Ladybug
July 22 9pm to 11:30pm
Concert: Sugar Plum Ferry (甜梅號, reunion of founding members), Insecteens (昆蟲白) and Bowz Tiger (包子虎樂團)
11:30pm till late
Veterans Party: a reunion of past and current resident DJs, including A-kuan (阿寬), A-C (阿C), Ho Tung-hung (何東洪) and Randy Lin (林志堅)
July 23 9pm to 11:30pm
Concert: The Clippers (夾子電動大樂隊) and Celluloid (賽璐璐)
11:30pm till late
Pioneers Party: a reunion of Taiwan's electronic music DJs including Fish, Joe Ho, @llen
July 27 9pm to 11:30pm
Concert: 666, Rocking Chair (搖搖椅) and 88 Balaz (88顆芭樂籽)
July 28 8pm to 11pm
Where Music and Cultural Policies Collide: Discussion forum with Ho Tung-hong (何東洪), Underworld shareholder, DJ, and assistant professor in psychology at Fujen University and Ah-Chang (阿強) of 88 Balaz (88顆芭樂籽).
July 29 9pm to 11:30pm
Concert: Fucking Need Not Reasons (幹不需要理由) and Loh Tsui Kweh Commune (濁水溪公社, LTK)
11:30pm till late
We Are Young: From NuRave to UK Funky: DJs include Bounce Girlz, Fake Collection and Wang Yu-ming
July 30 9pm to 11:30pm
Concert: 1976 (reunion with original founding members)
11:30pm till late
Strictly Taiwan Bands Party: featuring DJs that are also musicians in Taiwan's indie music scene. DJs include Hsu Che-yu (許哲毓/Tizzy Bac), Floaty (78 bpm and Dirt Star), Showyao (小搖)
Publication Notes
Event Notes
What: Underworld 15th Anniversary concerts and discussion forums
When: Tuesday until July 30
Where: B1, 45 Shida Rd, Taipei City (台北市師大路45號B1), tel: (02) 2369-0103
On the Net: www.upsaid.com/underworld
Tickets: Concerts are NT$300, DJ dance parties are NT$100 and discussion forums are free. Advance tickets available at the venue
Comments will be moderated. Keep comments relevant to the article. Remarks containing abusive and obscene language, personal attacks of any kind or promotion will be removed and the user banned. Final decision will be at the discretion of the Taipei Times.