Theater: Thespian threesome
Theater group Taipei Players is back in action this weekend with three original short plays that were selected as winners in a writing contest held earlier this year.
Co-producer Sarah Zittrer said that Taipei Players started with straight-up comedy because "you need a break from work, [and] want to have a good time." This show, however, also aims to challenge people, "though [the plays] are still funny … in different ways."
Producer and director Mandy Roveda said: "The [winning works] represent three different styles of comedy. One is a farce, one is satirical, and one is a serio-comedy."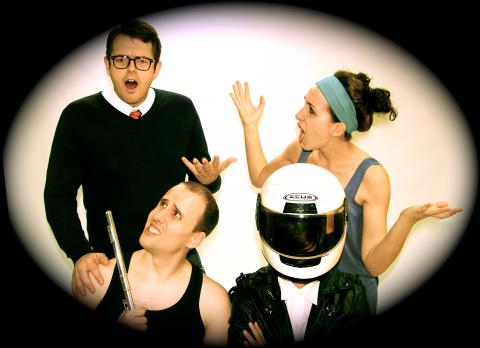 Are you in or out? Outed by Holly Harrington.
Photo courtesy of Gary Hillis at Digital Canvas Films
Zittrer and Roveda focused on choosing pieces that balanced and complemented each other, with a range of topics "because different things speak to different people."
Holly Harrington's Outed, Mauro Sacchi's Package Piece, and Matthew Lippart's Creative Control will debut over four shows tomorrow and Sunday.
The three playwrights, interviewed during the Players VIP party at Awfully Chocolate in Taipei earlier this week, could not be more different.
Are you in or out? Outed by Holly Harrington.
Photo courtesy of Gary Hillis at Digital Canvas Films
Lippart was "between writing projects" when he saw the competition on Facebook. "I've never actually seen a play before," he said. "I've seen musicals, I don't know if that is a play." He had also never seen a script, so he studied a scriptwriting Web site. "It took me a week to write the play, three days to learn just the format."
A New Mexico native, Lippart claims he ended up in Myanmar after accepting a job teaching math there, but had no idea of its geographical location, because they "call it Burma in the States."
Creative Control is based on his experience trying to record a heavy metal album there. "There were lots of hoops, censorship, army guys everywhere," he said. "They love having guns, but I didn't put the guns in the play." Instead he focuses on the absurdity of trying to deal with censorship.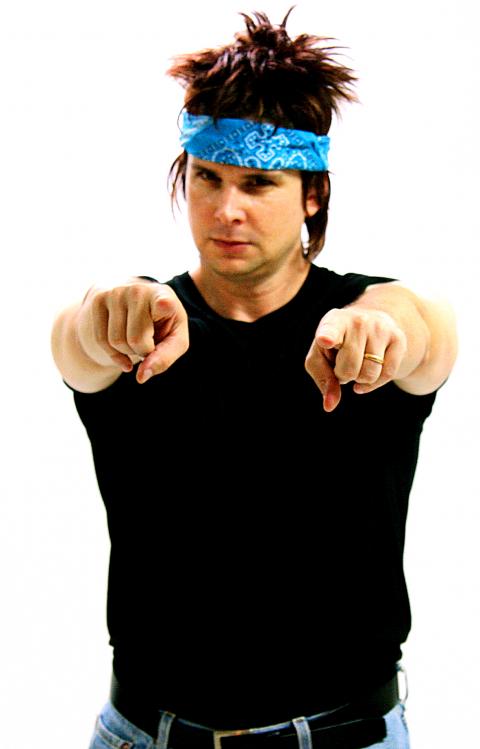 Rock out or block out? Creative Control by Matthew Lippart.
Photo courtesy of Gary Hillis at Digital Canvas Films
Mauro Sacchi, an actor and dancer for Taiwan's Horse Dance Theatre (驫舞劇場) company, wrote the serio-comedy Package Piece six years ago while teaching an Italian workshop in the US. Currently in artist's residence in Hualien to rehearse for an upcoming show, he reworked the piece using "much more concise English." "I'm really into words and the body," said Sacchi, who studied English and pre-med at university. "So it all works out now — I'm a dancer so I don't get to use words, but the play being put out makes it come full circle."
The story "is about a guy handling his package," Sacchi said. "No pun intended! The character tells a story, guessing what is in the package with his name on it."
Holly Harrington has worked previously with Taipei Players as an actress, and began writing the screenplay for Outed last year. "Many of my friends in Taipei are gay and I've heard all their stories and experiences," she said. Her play has a twist on the usual concept of "outing," and she is very happy to have fellow thespian Brandon Thompson playing one of the leads, as she had mentally cast him in the role of the father while writing it. "Every time I write I have in mind the actor for the character," she said. "Even if that doesn't end up being who plays it, still the characters' personalities are based on real people."
Special guest, DJ, live vocalist, spoken word artist, and poet LEO37 will round out the evening's entertainment.
For the first time, Taipei Players will project Chinese subtitles on the side wall. "We perform in English," said Roveda, "but we wanted to make it inclusive for everyone."
Publication Notes
Performance Notes
What: The Royal Threesome at The Crown
Where: The Crown Theater (皇冠藝文中心小劇場), B1, 50, Ln 120, Dunhua N Rd, Taipei City (台北市敦化北路120巷50號B1)
When: Saturday and Sunday at 2:30pm and 7:30pm
Admission: NT$500 at the door or NT$400 in advance, available at both Toasterias (吐司利亞) locations, 2, Ln 248, Zhongxiao E Rd Sec 4, Taipei City (台北市忠孝東路四段248巷2號), tel: (02) 2731-8004, and 1, Ln 72, Yunhe St, Taipei City (台北市雲和街72巷1號), tel: (02) 2365-3051
On the NET: www.taipeiplayers.com
Comments will be moderated. Keep comments relevant to the article. Remarks containing abusive and obscene language, personal attacks of any kind or promotion will be removed and the user banned. Final decision will be at the discretion of the Taipei Times.