City orchestras in survival mode
The instability of support from private sponsors and large corporations is forcing cultural institutions to return to the drawing board
From the recent string of crises at symphony orchestras you might conclude that orchestral business models are as outdated as the musicians' Victorian attire. The Philadelphia Orchestra filed for Chapter 11 bankruptcy in April; the Honolulu Symphony and the Syracuse (New York) Symphony Orchestra recently folded; and musicians of the Detroit Symphony saw their pay cut after a six-month strike. In a turbulent economy that has carried a wide range of organizations, including arts groups, banks and newspapers, to the brink, orchestras are being forced to re-examine their missions and structures to accommodate a changing fiscal and social landscape.
Music Makes a City, an engaging documentary from last year about the Louisville Orchestra that was just released on DVD, offers an inspiring and cautionary tale of creative chutzpah and financial mismanagement. The orchestra, which itself filed for bankruptcy in December, was founded shortly after the floods that crippled Louisville, Kentucky, in 1937.
It began as a ragtag ensemble that rehearsed, according to the film, "in a gloomy room that smelled of stale beer." A young conductor, Robert Whitney, quickly drummed the ensemble into shape, but financial problems loomed from the start. Charles Farnsley, the mayor of Louisville from 1948 to 1953, suggested that the orchestra, instead of spending money on glamorous soloists, commission new pieces: a policy that the board, though initially shocked, adopted. The endeavor was facilitated in 1953 by a US$400,000 grant from the Rockefeller Foundation to commission and record 52 compositions a year for three years. The DVD features lively interviews with some of the composers chosen, including Elliott Carter.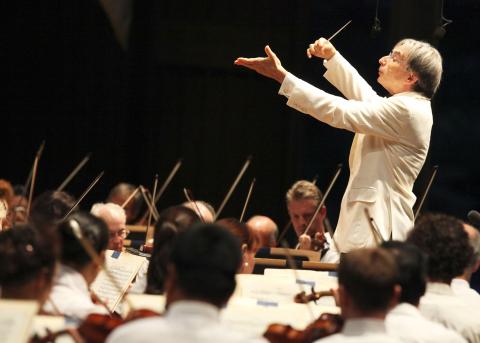 San Francisco Symphony music director Michael Tilson Thomas conducts the Boston Symphony Orchestra.
Photo: Bloomberg
This remarkable venture, which resulted in works by Lukas Foss, Paul Hindemith, Roy Harris, Gunther Schuller and many others, put Louisville and its orchestra on the international cultural map and attracted luminaries like Shostakovich and Martha Graham to visit the city. But that wasn't enough to fend off the regular financial crises that have dogged the orchestra over the decades since, until its recent bankruptcy filing.
This perennial instability has stemmed in part from an over-reliance on bailouts from private sponsors and large corporations, some of which reduced donations during difficult economic periods or moved out of town. "No one wanted to face the reality that one day support would end," said Jorge Mester, the orchestra's current music director, in a telephone interview.
One solution being discussed is to reduce the Louisville Orchestra's 71 salaried players to 55 and fill in the gaps with freelancers. "The musicians, of course, don't want to abandon their colleagues," Mester said. While the ideal is an orchestra that plays 52 weeks a year, he added, "it's not a calamity" to use freelancers. He doesn't fear that quality would suffer.
A reliance on freelancers is growing increasingly prevalent in many industries. Some first-rate orchestras, like the New York ensembles Orpheus Chamber Orchestra and Orchestra of St Luke's, have long had freelance structures. But even with lower overheads many freelance music organizations are now playing fewer concerts and producing less income for the musicians.
Stewart Rose, a horn player with St Luke's since 1983, also plays with Orpheus and the New York City Opera Orchestra and is currently on a temporary arrangement with the New York Philharmonic. He enjoys "the variety that comes along with freelancing," he said in a telephone interview. But the time lag between performances during a slow stretch can be demoralizing, he said. "It's really been tough for everyone with the decline in the amount of work out there."
While the freelance model can be perilous for musicians, the upside for orchestras is a more flexible operating system. The rotating work force of the Orchestra of St Luke's, for example, makes it easier to survive challenging times.
"One of the things that makes us resilient is our flexibility," said Katy Clark, the orchestra's president and executive director. "We don't spend what we don't have. We don't guarantee work to our musicians and don't require that they turn up. Even though you might think this would be anarchic, we have very stable personnel to an amazing extent."
Another benefit of freelance orchestras, Clark added, is that they tend to have more inclusive management styles and thus suffer less labor friction.
St Luke's currently has balanced budgets, no operating deficit and a new revenue stream from the DiMenna Center for Classical Music, a complex for performance and rehearsals that opened in March, with rooms for rent by outside groups at affordable rates. The orchestra, which is often presented by Carnegie Hall and other organizations in collaborative partnerships that Clark described as fundamental to its success, has not cut any of its self-produced programs but has received fewer fee engagements during the recession.
"Orchestras need calibrating for a different world with different priorities," Clark said. "I don't feel pessimistic, but it's a grueling process to have to go through redefinition and recalibration."
Grueling but potentially beneficial, according to Alan Valentine, president and chief executive of the Nashville (Tennessee) Symphony, which went through bankruptcy in 1988 and streamlined its operations. "Chapter 11 bankruptcy is not the end of the world," Valentine said. "It's a tool that businesses use every day to restructure debt and their operations."
After the orchestra moved into the new Schermerhorn Symphony Center in 2006, Valentine said, ticket sales increased from US$2.6 million in the 2005-2006 season to more than US$7 million in 2006-2007. Sales have remained strong.
New buildings like the Schermerhorn and DiMenna centers may justify their cost. But the high fees paid to music directors seem unsustainable.
True, a vibrant and innovative director — Gustavo Dudamel in Los Angeles, David Robertson in St Louis, Alan Gilbert in New York — can attract new audiences with adventurous programming. The New York Philharmonic's Web-savvy promotional campaign for its production of Ligeti's modernist opera Le Grand Macabre last spring created a buzz for the orchestra, and an unusually youthful audience attended the sold-out concerts.
But conductors (some of whom hold multiple positions and most of whom earn extra money from guest-conducting gigs) often receive 10 to 30 times the salaries of the musicians in their orchestras. According to tax documents, in the 2008-2009 season Lorin Maazel was compensated US$3.3 million as music director of the New York Philharmonic; Michael Tilson Thomas, US$1.6 million as music director of the San Francisco Symphony; Charles Dutoit, US$1.2 million as chief conductor of the Philadelphia Orchestra. Executive directors can earn up to US$1.5 million. In comparison base pay in the 2010-2011 season for players in top orchestras like the New York Philharmonic, the Los Angeles Philharmonic and the Chicago Symphony Orchestra averaged around US$130,000 to US$136,000. (A few musicians received up to US$500,000.) Members of regional orchestras earn less; at the Nashville Symphony musicians receive a minimum of US$53,000 and benefits.
The highly trained musicians, you could argue, deserve every penny of their salaries. But as with extravagant conductor fees, it also seems unsustainable to pay star soloists huge fees. According to a former employee of the major agency Columbia Artists Management with knowledge of contracts, top performers like the pianist Lang Lang (郎朗) and the violinist Anne-Sophie Mutter often collect US$75,000 or more for three subscription concerts with a major orchestra. Fees for their solo recitals are usually in the US$65,000 range.
Starry names sell tickets, but a reliance on subscription sales is outdated, given that members of the keep-your-options-open generation seldom commit to events months in advance. Orchestras also need to increase their relevance to their local audiences, although at a recent discussion hosted by the radio station WQXR, Raymond Hair Jr, the president of the American Federation of Musicians of the United States and Canada, said musicians often resent having their job descriptions expanded to include education and outreach activities. That proved a major issue in the Detroit Symphony strikes, after which minimum salaries were cut from US$104,650 to US$79,000.
Alan Pierson, the recently appointed artistic director of the Brooklyn Philharmonic, which has also seen its fair share of financial woes, said in the discussion: "It doesn't mean that every member of the orchestra should be out there talking to kids. But as these great orchestras are facing trouble, we as organizations have to work harder to make a case that we need to exist, that these organizations have a vital role in the community."
In Music Makes a City, the narrator says that Mayor Farnsley believed in the Confucian principle that high culture would attract wealth and power, an idea borne out when General Electric cited the cultural attractions of Louisville in its decision to move there in the 1950s. And the arts still attract business: Paula Angelo, a spokeswoman for Nissan, said in a telephone interview that Nashville's "robust cultural environment" was a factor in the company's decision to relocate its headquarters there from Los Angeles in 2006.
Orchestras have been slow to adapt to changing times, but a younger generation of prodigiously talented, hard-working and forward-thinking musicians are fostering innovative ways to attract fresh audiences and remain vital to their communities. New, streamlined ensembles, we may hope, will rise from the ashes of old ones. Perhaps they'll even lose the white tie and tails.
Comments will be moderated. Keep comments relevant to the article. Remarks containing abusive and obscene language, personal attacks of any kind or promotion will be removed and the user banned. Final decision will be at the discretion of the Taipei Times.