Fish on!
Ji Jia-song had the fans going wild during his first-ever concert at Riverside Cafe on Saturday night
Mando-pop singer/songwriter Ji Jia-song (紀佳松, nicknamed Blue J), delivered a rousing debut performance this past weekend with rabid, screaming fans that would make many reigning pop superstars jealous.
The newcomer held his first-ever concert, titled Ji Jia-song Fish Man Concert (紀佳松.魚人音樂會), on Saturday night at Riverside Cafe (河岸留言) after his second album, Fish Man, peaked at No. 2 two weeks ago on the G-Music Mandarin album chart.
Although new to stardom, Ji commands some of the most fervid fans in the industry. On Saturday, devotees — (some from Hong Kong and Japan) — came fully prepared with banners and cardboard signs. They screamed and sang along to every song, making the evening feel more like a fan party than a typical concert. "It's kind of out of control tonight," Ji said about halfway through the show.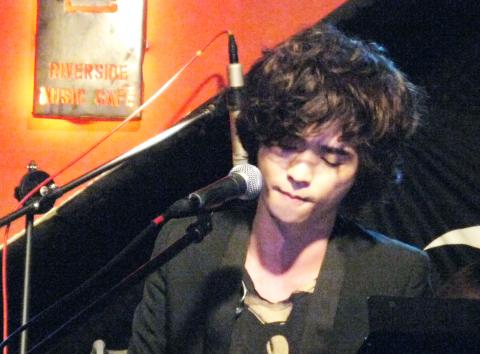 Photo: Andrew C.C. Huang
The crooner kicked off the evening with two new songs: Why Why Why (壞壞壞) and Eyes of Love (目光). It was easy to see why Ji commands such feverish fanfare. Although he doesn't come across as a heartthrob at first glance, Ji's boyish shyness and star-like elegance are magnetic. Singing while playing piano, he projected a pop prince persona that swept the audience off its feet.
The rising star's oeuvre consists of genre-crossing pop gems that blend pop, R 'n' B, hip hop, jazz and beatbox in a dazzling display of musicianship.
Although an accomplished singer/songwriter, Ji is not yet a capable interpretive singer. When he delivered the evening's two covers (Michael Jackson's You Are Not Alone and Daniel Powter's Bad Day), he failed to give the hits his own interpretation, disappointingly sticking with their original phrasing.
Highlights of the evening included two unscripted guest performances. Pop idol Wilber Pan (潘瑋柏), Ji's friend and piano student, joined in for a duet of The Same Regret (同一個遺憾). R 'n' B siren Landy Wen (溫嵐), who showed up sans makeup and in casual sweat pants, requested to perform a duet of her own signature hit Rooftop (屋頂), written by Jay Chou (周杰倫). Ji gamely joined her for an a cappella rendition of the classic.
Whereas Ji was quick to break into shy smiles when he was performing solo on stage, his interaction with friends Pan and Wen had all the spark of a well-timed comic routine.
The star exited the stage after Tears of Goldfish (金魚的眼淚), the emblematic lead single from his new album. Lullaby (蘿勒白) made a fitting encore.
After the concert, I overheard two fans talking to each other: "He is so cute in person," one gushed. "Hearing him live really moved me," the other said. If this evening was any indication, a new star is twinkling in the Mando-pop skies.
Comments will be moderated. Keep comments relevant to the article. Remarks containing abusive and obscene language, personal attacks of any kind or promotion will be removed and the user banned. Final decision will be at the discretion of the Taipei Times.