A spot of history
Visitors to Lin Yu-fang's cafe can take afternoon tea while browsing objects from four centuries of Taiwan's past
The Formosa Vintage Museum Cafe (秋惠文庫) gives visitors an up-close look at Taiwan's complicated history. Vividly colored advertising posters from the Japanese colonial era hang near carved wooden torches that were once used to light beiguan (北管) music performances in the south of Taiwan. Anti-communist propaganda for children, including a wrapper inscribed with the slogan "eat mooncakes, kill Communist bandits" (吃月餅?殺共匪), are placed steps away from a carving of Buddhist goddess Guanyin made by a worshipper from the Amis Aboriginal tribe.
Located near the corner of Xinyi Road (信義路) and Yongkang Street (永康街), the cafe displays a revolving selection from founder Lin Yu-fang's (林于昉) collection of more than 10,000 items and documents related to Taiwanese culture and history. Some date back to Dutch rule, like a 1670 edition of a book by writer Olfert Dapper, while others are from the Martial Law Era.
A former dentist, Lin opened the Formosa Vintage Museum Cafe last summer in his parents' former third-floor apartment. Lin began his collection in 1991, motivated in part by his father's death and a conversation with a friend.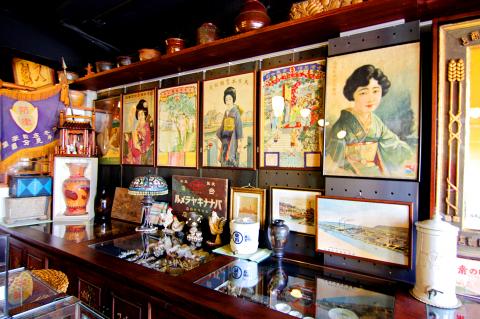 Photos: Catherine Shu, Taipei Times
"He told me that people come to Taiwan to see Taiwanese things, but when you go to the National Museum of History or the National Palace Museum, everything is Chinese. You can find the same kinds of things in China," Lin says. "Those are national treasures, of course, but right now you can't really find a museum dedicated exclusively to Taiwanese artifacts in Taipei."
While plenty of stores and restaurants in Taiwan have retro decor, including items like Tatung Baby (大同寶寶) coin banks and old movie posters, the displays in Formosa Vintage Museum Cafe are meant to give visitors a deeper understanding of what makes Taiwanese culture unique.
Taiwan Folk Arts Museum (北投文物館) director Saalih Lee (李莎莉) recently visited the cafe to look at Lin's collection of antique Beitou (北投) ceramics, which will be part of an upcoming exhibition at the museum.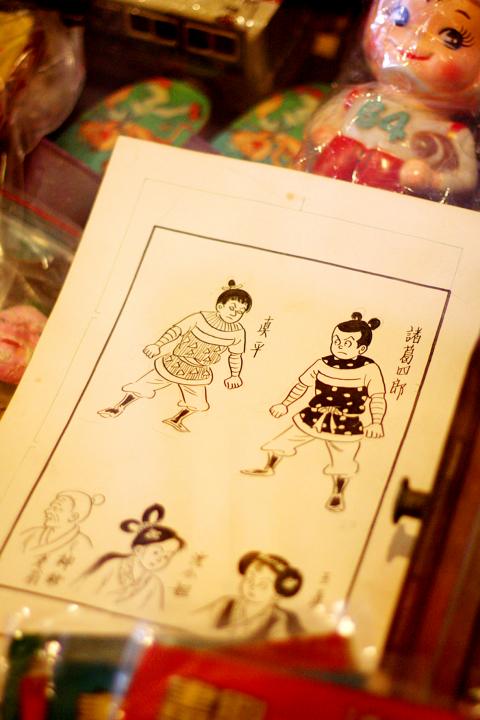 A hand-drawn manuscript by comic artist Yeh Hong-chia (葉宏甲) takes pride of place in a display case filled with children's toys and books.
Photos: Catherine Shu, Taipei Times
Lin's collection is unique for its scope and because he makes it readily accessible, Lee says. "It's not just about nostalgia. Younger people don't know what life was like in the past or they don't understand our aesthetic background. All these items are very important. Dr Lin has preserved them and made them available to everyone in a relaxed atmosphere."
Many objects combine elements from different countries, like an 80-year-old wooden torch from Neipu (內埔) that features motifs from traditional Chinese woodcarving, Japanese cherry blossoms and Baroque-style ornamentations. A wooden frame from Tianliao (田寮) in Kaohsiung, once used to hoist copper drums, shows a pair of angels nestled among Chinese-style dragons.
"You don't see angels often in Chinese art," Lin says. "There are a lot of cultures that have made their way to Taiwan and they have been adapted into art here."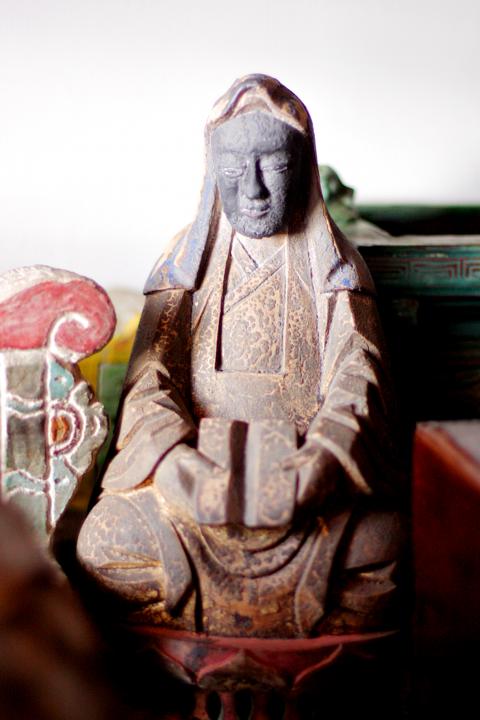 A carving of the Virgin Mary depicts her sitting on a lotus leaf, a common motif in Buddhist art.
Photos: Catherine Shu, Taipei Times
A portrait dated from 1918 depicts an elderly woman wearing traditional Hakka clothing, her face lined with Taiwanese Aboriginal tattoos.
"Of course most Taiwanese are ethnically Han Chinese, but there are a lot of people who have Aboriginal blood and don't know about it," Lin says.
Some of the things in Lin's collection are there because he says they need to be preserved, even though some people may prefer that they weren't. These include brothel signs and a giant plaque reading Taiwan Provincial Government (台灣省政府). Two watercolors by the late Chen Chao-he (陳朝和) are also displayed. The amateur artist's erotic paintings, many of which have inscriptions that contain double entendres in Hoklo (commonly referred to as Taiwanese), have gained a cult following over the last decade.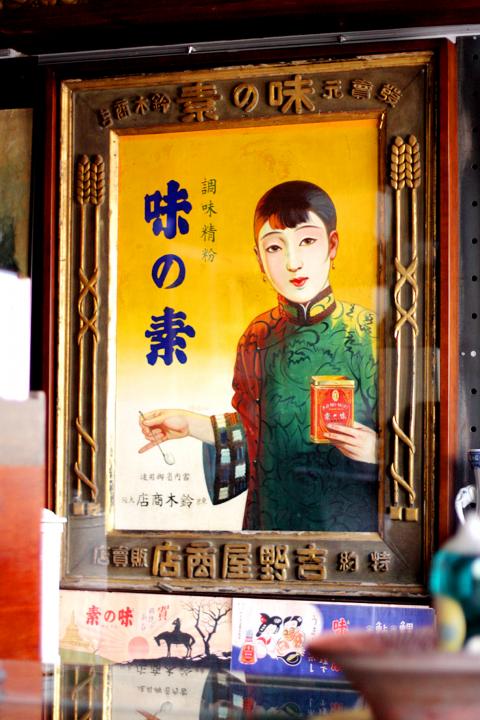 This advertisement for food seasoning from the Japanese colonial era is actually an oil painting. The woman's robe has Taiwanese embroidery on its cuffs.
Photos: Catherine Shu, Taipei Times
While there are many avid collectors and the value of objects like advertising posters has steadily increased, Lin says the government does not pay enough attention to preserving artifacts related to Taiwan's social history. Lin frequently lends items to museums, and pieces from his collection will be displayed in the National Museum of Taiwan History (國立台灣歷史博物館), which is currently under construction in Tainan City.
"These items are relatively inexpensive. For just NT$100 million or NT$200 million, you can build a great collection. But the Taiwanese government spent that much money on smoky Lunar New Year fireworks," he says.
Along with other collectors, Lin was an original investor in Taiwan Storyland (台灣故事館) before the attraction, filled with vintage items, was sold in 2007. Lin says he took a loss on that investment; Taiwan Storyland closed in December.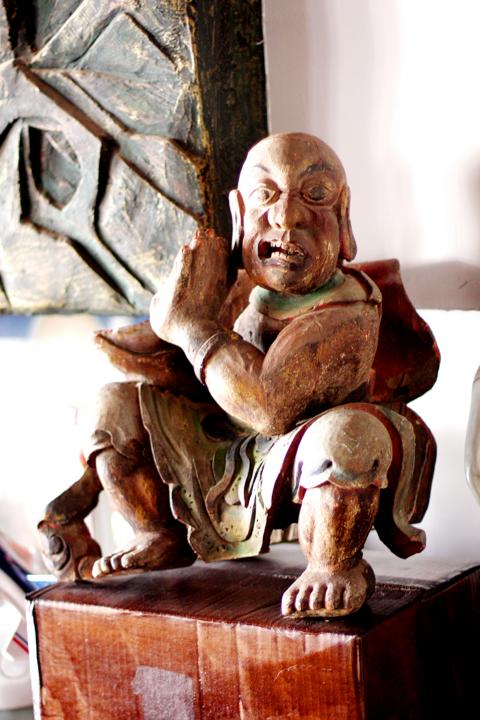 The cafe currently displays several examples of fierce-looking stone or wooden "barbarians," which were often seen decorating temple roofs.
Photos: Catherine Shu, Taipei Times
The Formosa Vintage Museum Cafe's visitor stream is uneven: Every table was taken last Sunday afternoon, but Lin says there are days when less than 10 customers arrive. Lin does not worry about the cafe's future, however, mainly because he inherited the space from his parents and does not have to pay rent. The cafe's main area was once his family's living room and a large mural by famed Taiwanese artist Liao Chi-Chun (廖繼春) hangs in the same spot it has since 1968, when it was created as a housewarming gift for Lin's mother and father.
A storage room in the back of the cafe contains thousands of items that Lin and his staff are gradually cataloging and plan to eventually display. Still more objects are kept in Lin's apartment.
"A lot of antique collectors want to find things that look like they would fit in the National Palace Museum. The things we have here they would consider too ordinary," Lin says. "But culture is only fun if you get to see every part of it."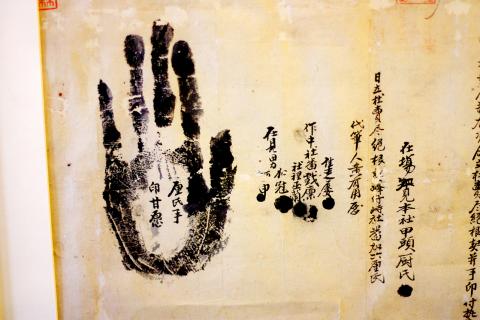 Above: Instead of a signature or name chop, this land deed is "signed" with a palm print.
Photos: Catherine Shu, Taipei Times
Items from Lin Yu-fang's collection of objects related to Taiwan's social and cultural history range from contracts to medicine bottles and temple carvings. Scans of photographs and documents are regularly uploaded to Formosa Vintage Museum Cafe's Facebook page (www.facebook.com/FormosaMuseum).
Publication Notes
CAFE NOTES
ADDRESS: 3F, 178, Xinyi Rd Sec 2, Taipei City (台北市信義路二段178號3樓)
OPEN: Tuesday to Sunday 11am to 9pm. Closed Mondays
TELEPHONE: (02) 2351-5723
ON THE NET: timand2002.pixnet.net/blog;www.facebook.com/FormosaMuseum
Comments will be moderated. Keep comments relevant to the article. Remarks containing abusive and obscene language, personal attacks of any kind or promotion will be removed and the user banned. Final decision will be at the discretion of the Taipei Times.