Art: Out of control
At first glance, one could be forgiven for thinking that the two brothers that make up ScallArt were members of an alternative band: tall, slouching figures with dark hair and darker eyes who emanate a brooding coolness. Scall is English slang for "something a bit shady ... a bit sketchy ... cagey ... dodgy," said older brother Brent Nadin, whose work is on show in an exhibit titled Urban Killer at Lipen Art Gallerie in Taipei.
"What is the root cause of human behavior? Why do we behave as we do?" he said, referring to a two-part work titled Risk, which consists of images of a child's red ray gun firing a flower, and a blue woman in underwear surrounded by a flaming cloud that he said represents an orgasm. "Freud gave two reasons: the quest for pleasure, and avoidance of pain … all the senses are desires and fears."
The show's theme is control of the mind and body, said Nadin, who spent two years doing a residency at Stock 20 (20號倉庫) in Taichung from 2005 to 2007. He formed ScallArt with his brother Martin, a graphic novelist, in 2006.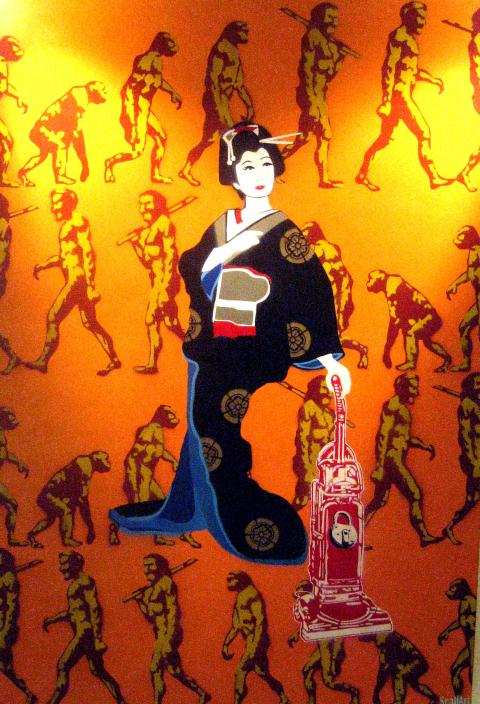 ScallArt, Bound (2010)
Photo: Alita Rickards
"The end result of a process of control [is that] you're a robot," he said. His paintings are created with stencils made from old images that are then mixed with more current ones to augment the former's meaning.
In one picture, a young woman sits on a hand grenade (a recurring image in his work), smoking a cigarette. She is superimposed on a target, with the huge faces of two old men facing her on either side. Below her are six soup cans, each emblazoned with an image: a gun, handcuffs, a man's face. "It's about control, we think we make choices: love, bondage, money. But these things are actually sold [to] us," said Nadin.
Another work, titled Bound, comprises a geisha posing with vacuum cleaner on a background of images depicting man's evolution from ape to modern human.
Nadin's mixed media work, such as I've Been Here Before, which consists of nail-filled baby bottle nipples hand sewn in rows onto the canvas, is less humorous than his stencil work. It is both appealing and repulsive.
"The stitching adds to the idea of the sexual impulse — penetrate and withdraw, penetrate and withdraw," he said.
Restless Feeling consists of square sections of tire inner tubing, including the valve stem, stitched onto canvas. The partly inflated squares protrude about 10cm from the canvas. The swelling at the base of each section represents the feminine, said Nadin, while the valves represent "phallic release and pressure."
Nadin's mixed media work and sculpture use repetition to demonstrate the processes that we "constantly go through where pressure builds and needs to be released."
The artist uses a light box to display an image of one of his sculptures, titled Pill Hand, a clear plastic hand filled with pills, which is intended to examine "addiction as one root cause of behavior, [and] one of the motives behind our decisions," said Nadin.
"The sculpture is about how we try to control the body but don't have control over our functions," Nadin said.
Many of the pieces are both sexual and dangerous: one canvas has a series of leather finger-like appendages tipped with spikes protruding from it.
Nadin is interested in "the movement between attraction and fear that humans go through all the time."
You can't control how you feel, he says. "From when we are children we go through a process to turn us into a robot-consumer that goes into society and takes its place."
Publication Notes
Exhibition Notes:
What: Urban Killer
When: Tomorrow, Sunday and Tuesday to March 26 from 11am to 6pm
Where: Lipen Art Gallerie (麗品藝術), 12, Ln 329, Dunhua S Rd Sec 1, Taipei City (台北市敦化南路一段329巷12號), tel: (02) 2704-1188. On the Net: www.lipenart.com.tw
Admission: Free
On the Net: www.scallart.com
Comments will be moderated. Keep comments relevant to the article. Remarks containing abusive and obscene language, personal attacks of any kind or promotion will be removed and the user banned. Final decision will be at the discretion of the Taipei Times.