Restaurant review:Dazzling Pink and Dazzling Mint
Dazzling Pink and its spin-off Dazzling Mint operate on a simple premise: serving desserts as big as your head in a relentlessly frilly environment will pull in the crowds. The restaurants, both of which are located near the corner of Zhongxiao East Road (忠孝東路) and Yanji Street (延吉街), attract a mostly female clientele that would look at home on the pages of ViVi Magazine. You will feel underdressed if you aren't wearing at least a lace collar or shiny platform pumps.
Dazzling Pink has a sleek black-and-white color scheme, like the Ascot scene in My Fair Lady, while Dazzling Mint's signature shade is more of a soft Tiffany blue. Both locations are brightly lit, all the better to let patrons take portrait snaps (almost every person had at least a camera phone in hand) with Dazzling's confections, most of which follow the same basic recipe: take a golden block of honey toast and load it with as many different dessert products as it can hold before collapsing.
The alluringly named "party in your mouth" (NT$220) boasts ice cream, custard, whipped cream, at least three different types of berries, strawberry sauce and a single pink macaron. My waitress offered to carve the dish up into bite-sized chunks, leaving me to serve myself with a tiny pair of silver tongs.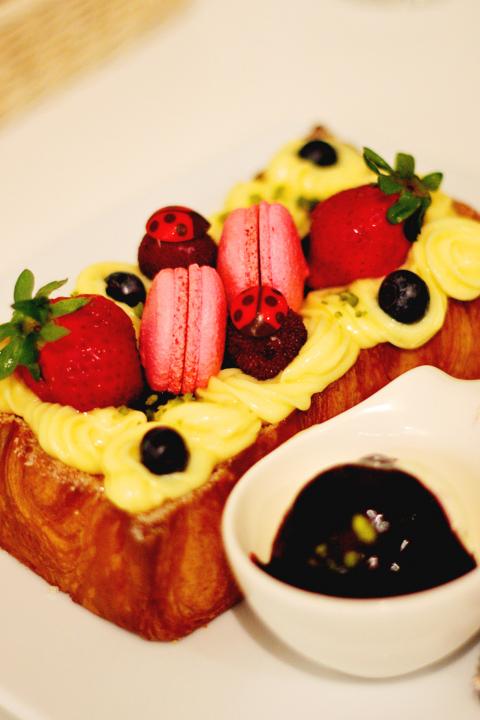 Dazzling's desserts are certainly eye-catching.
Photo: Catherine Shu, Taipei Times
The honey toast is fluffy, almost cake-like white bread sprinkled with crunchy sugar. It tastes best when dipped into the melting ice cream and syrup. Each topping would satisfy a sweet tooth, but all together they are truly overwhelming (though that is probably the point).
Most of Dazzling's desserts are more than enough for two people. The blueberry Danish honey toast (NT$280) is almost as big as a house brick and adorned with lashings of custard, berries, two macarons and tiny chocolates shaped like ladybugs (vanilla ice cream was served on the side with blueberry syrup). The dessert, which is only served at Dazzling Mint, tasted nothing like a Danish pastry, however, and the very rich custard was too much after a few bites.
Both Dazzling locations offer a tiny selection of sweet crepes, which may not be as photogenic as the honey toast desserts, but offer a better balance of flavors. The blueberry crepe with wine sauce (NT$250) is filled with fluffy whipped cream and served with a little scoop of vanilla seed ice cream on top. The light drizzling of sauce was just tart enough to complement the sweetness of the other ingredients.
I had low expectations for Dazzling's savory options, which seem tacked onto the menu like an afterthought, but was pleasantly surprised. The meat in the pork BBQ sandwich (NT$200) had been lightly breaded and fried, and the only hint of "barbecue" came from the sauce, which was more sweet than tangy, but the dish was tasty and filling. Dazzling serves pasta during lunch and dinner hours. The spaghetti with duck breast and mustard orange sauce (NT$220) is cooked pleasingly al dente and the meat is tender. My serving had too much sauce, but I liked how its crunchy mustard seeds served as a foil for the citrus flavor.
The service at the two Dazzling restaurants is fast and efficient. Unfortunately, customers are also expected to be quick and finish up within a 90-minute time limit during dinner hours, even on weekdays (to be fair, both locations are usually crowded). There is a minimum order of one drink per person even if you get an entree and dessert, which is annoying because most of the teas, coffees and slushies feature plenty of sugar themselves.
Publication Notes
Dazzling Pink and Dazzling Mint
Address: Dazzling Pink, 11, Alley 7, Ln 205, Zhongxiao E Rd Sec 4, Taipei City (台北市忠孝東路四段205巷7弄11號); Dazzling Mint, 3, Ln 248, Zhongxiao E Rd Sec 4, Taipei City (台北市忠孝東路四段248巷3號)
Open: Sunday to Thursday from noon to 11pm, Friday to Saturday from noon to midnight Average meal: NT$500 Telephone: Pink (02) 8773-9238, Mint (02) 2731-5199
Details: Chinese and English menu, credit cards accepted
Comments will be moderated. Keep comments relevant to the article. Remarks containing abusive and obscene language, personal attacks of any kind or promotion will be removed and the user banned. Final decision will be at the discretion of the Taipei Times.