The Vinyl Word
On his birthday a few years back, Greggo Russell rushed from gig to gig to drum for the many bands he was in, then headed to a hole-in-the-wall to hear his friends play the heavy drum 'n' bass that he enjoys.
Times have changed.
Tonight in the Pulse room at Luxy, Russell, who turned 33 on Wednesday, celebrates his birthday with a handpicked selection of DJs (Lai, Subtle, Chin, Bonestorm, Mixter T) and MCs (Robi Roka, Stoppa, Elias).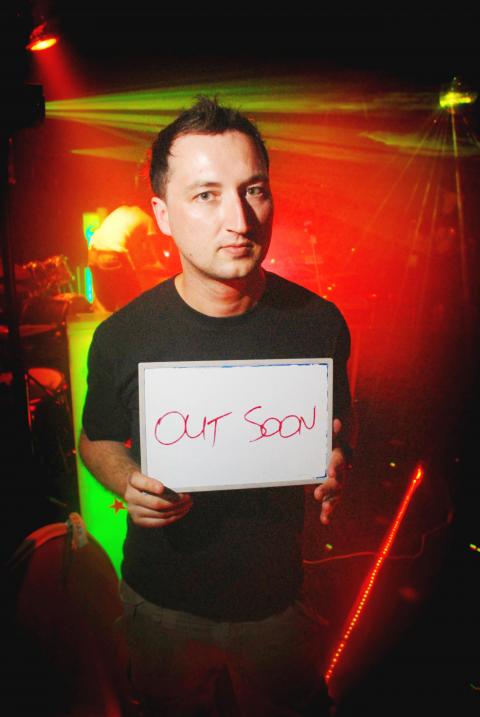 The man, the myth, the drummer: Greggo Russell.
Photo: Steven Vigar
"Nothing gets you respect like doing a party at Luxy," Russell said.
In 2008, Russell, then the drummer in five bands, was booking shows and helping promote four bars, and sending out an endless stream of invites for what seemed to be every live show or DJ event in the country.
"I started promoting using MySpace, and Facebook came around and opened up a whole new world," Russell said.
But there's a fine line between providing a much-needed service and annoying promotion. Then Facebook kicked Russell off without explanation. "It made me rethink my strategy," he said.
At the time, people told Russell that they had a passion for drum 'n' bass, which he describes as "the heavy metal of electronica," but venues weren't regularly including it in their programing. So Russell started his own promotion company, Tranquility Bass.
In the beginning, Russell held events at VU Live House (地下絲絨) because noise wasn't an issue at the venue. "I had free rein to do whatever I wanted there," he said. "Once we added some subs … it was a great place for underground parties."
The parties got better and attracted larger crowds. "We put more into the atmospheric stuff like lasers," said Russell.
Last month, he collaborated with Spunite and Funktion One speakers for Rumble at Pipe in Taipei. "Rumble was my favorite party I've done because it felt so good to hear the music I love on a real sound system," Russell said.
As for the future, Russell is planning Rumble II in Kaohsiung next month. "It's time to bump it up a bit. No more speakers popping or noise problems," he said.
But this weekend, Russell's focus is on the festivities at hand. "First and foremost, it's a celebration of where drum 'n' bass is now in Taiwan," said Russell. "Then it's my birthday party."
Tranquility Bass presents Syncopation 5: The Bash, tonight from 10pm to 4am at Luxy, 5F, 201, Zhongxiao E Rd Sec 4, Taipei City (台北市忠孝東路四段201號5樓). Call (02) 2772-1000 or 0955-904-600 for reservations (English service available). On the Net: www.luxy-taipei.com. Tickets are NT$300 before 11pm or NT$600 after 11pm with two drinks.
Comments will be moderated. Keep comments relevant to the article. Remarks containing abusive and obscene language, personal attacks of any kind or promotion will be removed and the user banned. Final decision will be at the discretion of the Taipei Times.