What do you say?
The language police are mounting a new campaign to not only clean up classics such as 'Huckleberry Finn,' but clamp down on vulgarities in general
"All modern American literature," Ernest Hemingway wrote, "comes from one book by Mark Twain called Huckleberry Finn."
Being an iconic classic, however, hasn't protected Adventures of Huckleberry Finn from being banned, bowdlerized and bleeped. It hasn't protected the novel from being cleaned up, updated and "improved."
A new effort to sanitize Huckleberry Finn comes from Alan Gribben, a professor of English at Auburn University, at Montgomery, Alabama, who has produced a new edition of Twain's novel that replaces the word "nigger" with "slave." Nigger, which appears in the book more than 200 times, was a common racial epithet in the antebellum South, used by Twain as part of his characters' vernacular speech and as a reflection of mid-19th-century social attitudes along the Mississippi River.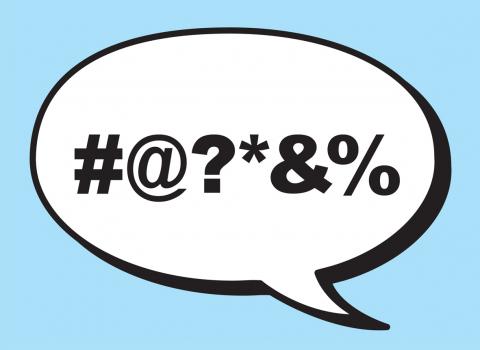 Gribben has said he worried that the N-word had resulted in the novel falling off reading lists, and that he thought his edition would be welcomed by schoolteachers and university instructors who wanted to spare "the reader from a racial slur that never seems to lose its vitriol." Never mind that today nigger is used by many rappers, who have reclaimed the word from its ugly past. Never mind that attaching the epithet slave to the character Jim — who has run away in a bid for freedom — effectively labels him as property, as the very thing he is trying to escape.
Controversies over Huckleberry Finn occur with predictable regularity. In 2009, just before US President Barack Obama's inauguration, a high school teacher named John Foley wrote a guest column in the Seattle Post-Intelligencer in which he asserted that Huckleberry Finn, To Kill a Mockingbird and Of Mice and Men, don't belong on the curriculum anymore. "The time has arrived to update the literature we use in high school classrooms," he wrote. "Barack Obama is president-elect of the US, and novels that use the 'N-word' repeatedly need to go."
Haven't we learned by now that removing books from the curriculum just deprives children of exposure to classic works of literature? Worse, it relieves teachers of the fundamental responsibility of putting such books in context — of helping students understand that Huckleberry Finn actually stands as a powerful indictment of slavery (with Nigger Jim its most noble character), of using its contested language as an opportunity to explore the painful complexities of race relations in the US. To censor or redact books on school reading lists is a form of denial: shutting the door on harsh historical realities — whitewashing them or pretending they do not exist.
Gribben's effort to update Huckleberry Finn (published in an edition with The Adventures of Tom Sawyer by NewSouth Books), like Foley's assertion that it's an old book and "we're ready for new," ratifies the narcissistic contemporary belief that art should be inoffensive and accessible; that books, plays and poetry from other times and places should somehow be made to conform to today's democratic ideals. It's like the politically correct efforts in the 1980s to exile great authors like Conrad and Melville from the canon because their work does not feature enough women or projects colonialist attitudes.
Authors' original texts should be sacrosanct intellectual property, whether a book is a classic or not. Tampering with a writer's words underscores both editors' extraordinary hubris and a cavalier attitude embraced by more and more people in this day of mash-ups, sampling and digital books — the attitude that all texts are fungible, that readers are entitled to alter as they please, that the very idea of authorship is old-fashioned.
Efforts to sanitize classic literature have a long, undistinguished history. Everything from Chaucer's Canterbury Tales to Roald Dahl's Charlie and the Chocolate Factory have been challenged or have suffered at the hands of uptight editors. There have even been purified versions of the Bible (all that sex and violence!). Sometimes the urge to expurgate (if not outright ban) comes from the right, evangelicals and conservatives, worried about blasphemy, profane language and sexual innuendo. Fundamentalist groups, for instance, have tried to have dictionaries banned because of definitions offered for words like hot, tail, ball and nuts.
In other cases the drive to sanitize comes from the left, eager to impose its own multicultural, feminist world views and worried about offending religious or ethnic groups. Michael Radford's 2004 film version of The Merchant of Venice (starring Al Pacino) revised the play to elide potentially offensive material, serving up a nicer, more sympathetic Shylock and blunting tough questions about anti-Semitism. More absurdly, a British theater company in 2002 changed the title of its production of The Hunchback of Notre Dame to The Bellringer of Notre Dame.
Euphemisms are sometimes pushed on writers by their publishers. Rinehart and Company persuaded Norman Mailer to use "fug" in his 1948 novel The Naked and the Dead instead of the F-word. Mailer later said the incident caused him "great embarrassment" because Tallulah Bankhead's press agent supposedly planted a story in the papers that went, "Oh, hello, you're Norman Mailer. You're the young man that doesn't know how to spell."
Some years later Ballantine Books published an expurgated version of Fahrenheit 451, Ray Bradbury's celebrated science-fiction classic about book banning, in which words like "hell" and "abortion" were deleted; it was reportedly 13 years before Bradbury became aware of the changes and demanded that the original version be restored.
The language police are staging a comeback. Not just with an expurgated Huckleberry Finn but with political efforts to clamp down on objectionable language. Last year the Boston Globe reported that California lawmakers first voted for, then tabled a resolution declaring a No Cuss Week, that South Carolina had debated a sweeping anti-profanity bill, and that conservative groups like the Parents Television Council have complained about vulgarities creeping into family-hour shows on network television.
But while James O'Connor, author of the book Cuss Control, argues that people can and should find word substitutions, even his own Web site grants Rhett Butler a "poetic license" exemption in Gone With the Wind.
"Frankly, my dear, I don't give a hoot"? Now that's damnable.
Comments will be moderated. Keep comments relevant to the article. Remarks containing abusive and obscene language, personal attacks of any kind or promotion will be removed and the user banned. Final decision will be at the discretion of the Taipei Times.