FILM: Wheels and reels
After earning a solid reputation for filming two skate movies, Fruit of the Vine and Tent City, Buddy Nichols and Rick Charnoski challenged themselves to film a definitive history of skateboarding in New York City. The result is Deathbowl to Downtown, an 80-minute film that will be shown at Treasure Hill (寶藏巖) in Taipei tomorrow.
"It's different than any other film we've ever done," Charnoski said in an interview with the Taipei Times earlier this week. "It's a skateboard movie that your grandmother would enjoy watching."
Completing the film was laborious to say the least, including interviews with 97 capricious skateboarders who all thought their story should be the main plotline. Finding the right archival footage to match the stories was also difficult, and editing the film in a timely manner to please the sponsors was impossible. Both filmmakers went broke during the three years it took to make Deathbowl to Downtown and their friendship was tested numerous times.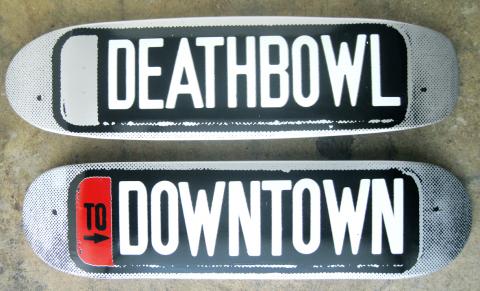 Skaters Buddy Nichols and Rick Charnoski will screen their film Deathbowl to Downtown tomorrow night at Treasure Hill Artist Village.
Photo courtesy of Urban Nomad
"People would come up to me after the screenings and when I asked whether they liked the film or not, they would say, 'I can't believe you guys had the balls to do this,'" Nichols said.
Charnoski said the film was different than earlier projects. "The thing about it is that we never took our shit that serious. But this was serious. I committed myself to this project more than anything in my life."
After the premiere in New York City two years ago, Nichols and Charnoski got a lot of heat from the skaters there and felt like they were blackballed from certain places or events. But Nichols said: "Outside of New York, people dig it."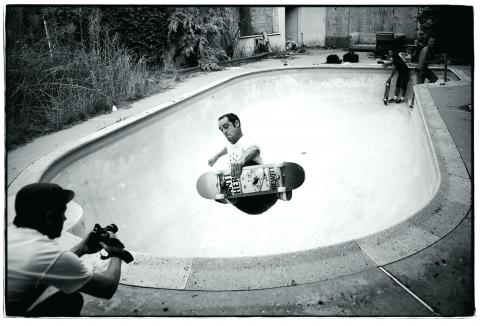 Buddy Nichols frontside airs out of a pool.
Photo courtesy of Urban Nomad
The reception led to screenings in Australia and all over the US. Deathbowl to Downtown was even shown to Harvard and Columbia universities' departments of urban planning and design. "I just barely finished high school," Charnoski said. "But with this, we got more attention and positive reviews than ever."
While the experience has been a mixed bag, Charnoski believes that he will look back on it as positive. "It took us three years to make and the last two years we've been touring around with it," he said. "In a few years from now, I'll like it."
Publication Notes
EVENT NOTES
WHAT: Drive-In Movies: Deathbowl to Downtown (腳踏車電影院:紐約滑板客大事記)
WHEN: Tomorrow from 7:30pm to 10pm
WHERE: Treasure Hill Artist Village (寶藏巖國際藝術村), 4-8, Alley 37, Ln 230, Dingzhou Rd Sec 3, Taipei City (台北市汀州路三段230巷37弄4-8號). The entrance to Treasure Hill is located near the corner of Tingzhou and Keelung (基隆) roads. From there it's a five to seven-minute walk to the site. The closest access by MRT is Gongguan Station's (公館捷運站) Exit 1
ADMISSION: Free
NOTES: The director will hold a question and answer session after the screening
ON THE NET: www.urbannomadfilmfest.blogspot.com
Comments will be moderated. Keep comments relevant to the article. Remarks containing abusive and obscene language, personal attacks of any kind or promotion will be removed and the user banned. Final decision will be at the discretion of the Taipei Times.