RESTAURANTS: Tom's Diner
If you have a burning desire to pull on a poodle skirt and slip on some saddle shoes for Halloween, you will find the ideal mid-1950s Americana backdrop for your costume at Tom's Diner in Taipei's East District (東區). But if you are looking for a tasty sandwich, you might want to head to Toasteria next door.
It's not that the food at Tom's Diner is bad — it's OK if you want a quick fix of American-style grub. But prices are slightly high for the ordinary diner fare (the menu includes the usual assortment of omelets, hamburgers and milk shakes) and the main point of the restaurant seems to be its decor, which includes banquettes upholstered in candy red and white stripes, vintage ads, rows of toys and Major League Baseball games projected onto a wall.
We started our lunch with nachos and salsa, envisioning a plate of crunchy toasted tortilla chips with a giant heap of chunky, spicy salsa. What came was mild, watery salsa, served in a tiny cup, and stale chips. Our sad appetizer, which I could very well have dug out of the back of my kitchen cupboards, was ridiculously overpriced at NT$130. My Tom Hamburger, topped with lettuce, pickles, onion and tomato, was cheaper at NT$100. Though toasted just right, the thick bun was a little too sweet. The beef patty had very little seasoning in it, but was reasonably thick and juicy.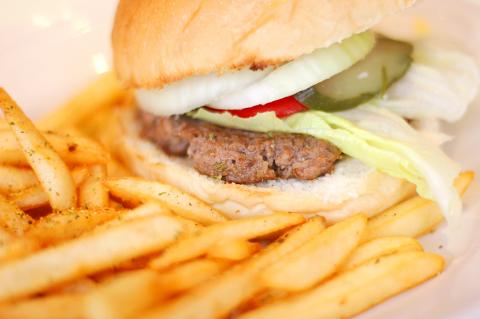 The Americana decor of Tom's Diner belies its ordinary fare.
Photo: Catherine Shu, Taipei Times
My companion's reaction to his hot dog with beef sauce (NT$130) was slight confusion. The hot dog and bun were both ordinary, but the beef topping tasted oddly like spaghetti sauce. It wasn't a bad combo, but spaghetti isn't what comes to mind when you think of hot dogs.
On a separate visit, I tried the restaurant's tuna salad (NT$200), which turned out to be a scoop of mayo-heavy canned tuna on top of a bed of iceberg lettuce, with a little cup of yet more mayonnaise on the side. There was so much mayo mixed into the tuna, in fact, that it became less of a tuna salad and more of a salad dressing with bits of tuna. This may be a boon for mayo lovers (at least the mayo wasn't the sickeningly sweet variety), but it's frustrating for people who just want to pretend that a tuna salad is healthful food.
Despite its lackluster menu, Tom's Diner gets points for having Dr Pepper on its menu (NT$90), its cheerfully kitschy interior, playing sports broadcasts, its friendly staff (whose uniforms match the decor) and being named after a Suzanne Vega song.
Publication Notes
Tom's Diner
Address: 2, Ln 248, Zhongxiao E Rd Sec 4, Taipei City (台北市忠孝東路四段248巷2號)
Telephone: (02) 8773-6664
Open: Every day from 11am to midnight
Average meal: NT$200 including a drink
Details: English and Chinese menu, credit cards not accepted
Comments will be moderated. Keep comments relevant to the article. Remarks containing abusive and obscene language, personal attacks of any kind or promotion will be removed and the user banned. Final decision will be at the discretion of the Taipei Times.