Daddy's girl
She may be the least known of the Shankar musical family, though her name is entering the mainstream with the critical success of her two recent "contemporary" albums, Rise (2005) and Breathing Under Water (2007). Still, as a sitar player, she continues to live somewhat under the shadow of her father, the great Ravi Shankar, and her half-sister, Geethali Shankar, better known as the singer Norah Jones.
Anoushka Shankar studied Indian music on her father's knee, so to speak, and went on to study classical Western music. Her Indian roots have remained strong, and most of her early recordings are of traditional Indian music and her father's own compositions. Given her father's facility at eclecticism — he is credited with having inspired the Indian phase of the Beatles, among an endless list of other achievements — it would be surprising if his daughter did not embark on a few interesting musical byways of her own.
In an interview with ImaginAsian TV to promote Rise, Shankar said that she had been prompted to make the shift toward electronic and other Western music as a means of appealing to a younger audience and showing them that sitar music — with its image as an abstruse Indian classical tradition — could have considerable appeal. In her words, it was a way of "overcoming the stigma" associated with classical Indian music, "because that was something our parents listened to."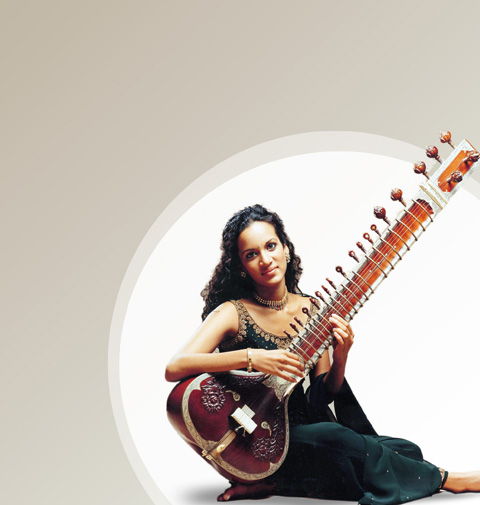 Anoushka Shankar is slowly emerging from her father's shadow.
PHOTO COURTESY OF NEW ASPECT
In the interview, Shankar cited the considerable influence of Indian music on Western electronic music styles such as trance. "Electronica has borrowed from Indian music for years now and has been one of the major influences. As a result it is very popular in India, so it made sense that the Indian musicians would start going the other way as well," she said.
The recent success of Shankar's own compositions and arrangements, and her long history of collaboration with musical greats from both the Western contemporary tradition — she worked with George Harrison to produce Chants of India, a collaboration between her father and the former Beatle — as well as major figures within the Indian music scene such as percussionist Tanmoy Bose.
As a well-established instrumentalist, and now as a composer and producer, Shankar emerges as a musician who has a huge potential to successfully merge styles in an organic way, and her visit has all the makings of a fantastic concert for people whose musical tastes range from classical Indian to electronic music.
Anoushka Shankar performs on Tuesday, 7:30pm, at the National Concert Hall, Taipei City. Tickets are NT$700 to NT$3,000 and are available through NTCH ticketing.
Comments will be moderated. Keep comments relevant to the article. Remarks containing abusive and obscene language, personal attacks of any kind or promotion will be removed and the user banned. Final decision will be at the discretion of the Taipei Times.