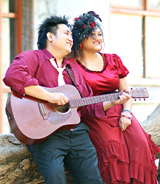 Acoustic duo Hao-en and Jia-jia, who play tomorrow night at Witch House, make music that has a laid-back island feel.
PHOTO COURTESY OF TAIWAN COLORS MUSIC
Highlight
Guitarist Hao-en (昊恩) and vocalist Jia-jia (家家) perform a fusion of blues, jazz and their native Puyuma music tomorrow night at Witch House. Their acoustic sound also has a laid-back island feel, sometimes reminiscent of Polynesian folk music and Hawaiian slack key. The pair have been a longstanding fixture in Taiwan's contemporary Aboriginal music scene with the AM Band, which also features Golden Melody award-winners Pau-dull (陳建年) and Jia-jia's older sister, singer Samingad (紀曉君). Hao-en and Jia-jia have played on stages all over Asia, and are also regular performers in Taiwan's small-pub scene. The two are currently working on a new album, slated for release in August.

▲Hao-en and Jia-jia's live acoustic performance at Witch House, 7, Ln 56, Xinsheng S Rd Sec 3, Taipei City (女巫店.台北市新生南路三段56巷7號)

▲Tomorrow night at 9:30pm. Call (02) 2362-5494 or visit www.witchhouse.org for more information

▲Admission is NT$300 at the door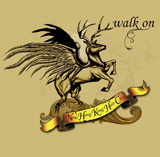 Walk On byNHKHC.
PHOTO COURTESY OF NHKHC
Highlight
New Hong Kong Hair City is celebrating the release of its new CD Walk On tomorrow at APA Lounge 808 (阿帕808) in Ximending (西門町). NHKHC has gained attention for its unusual composition: instead of the usual guitarist/vocalist frontman, this band has saxophone player/vocalist Macgregor Wooley. Kyle Bajcer is more than competent on drums, and is the backbone that supports the band, while Danielle Sanger belts out raw vocals and provides keyboards, and Tom McCann keeps it cool on bass. The group will be joined by Black Faith With Sonic Pace, Divebomb, a killer punk bank from Tainan, and endearing indie rockers The Dolittles from Taichung. The Big Brass Balls Band will show up after midnight to cap what's sure to be a great night of music.

▲Tomorrow from 9pm

▲APA Lounge 808, 6F, 152, Zhonghua Rd Sec 1, Taipei City (台北市中華路一段152號6樓), near Ximen (西門) MRT station exit No. 6. Call (02) 2381-5378 for more information. On the Net: www.myspace.com/newhongkonghaircitytw

▲Entrance is NT$300
The Wall (這牆) hosts indie-rock outfit Pen Sauce (筆醬) tonight. Tomorrow night, Taiwan's indie-pop darlings Tizzy Bac take to the stage, for a show that's already sold-out. On Sunday, it's punk bands Random (隨性) and Fire Ex (滅火器). Wednesday features Taiwanese songstress Jasmine (庭竹), Pink Guitar (粉紅吉他托比兔), and Finn. Singer Xiao Yu (小宇) is on tour to promote his R 'n' B/hip-hop album Classmate Xiao Yu (小宇同學就是我), and makes an appearance on Thursday.
▲B1, 200, Roosevelt Rd Sec 4, Taipei City (台北市羅斯福路四段200號B1). Call (02) 2930-0162 visit www.the-wall.com.tw for more information
Tonight and tomorrow at midnight; Sunday at 3pm
NT$400 tonight; tomorrow is sold-out; NT$300 on Sunday, Wednesday, and Thursday. Admission includes one drink
It's a weekend of Golden Melody award-winners at Witch House (女巫店). Folk singer Huang Chien-wei (黃建為) plays tonight. Popular pub Puyuma duo, guitarist Hao-en (昊恩) and singer Jia-jia (家家) perform tomorrow night [see Highlight].
Amis folk-rock musician Chalaw and his band Passiwali (巴西瓦里) play on Thursday.
▲7, Ln 56, Xinsheng S Rd Sec 3, Taipei City (台北市新生南路三段56巷7號). For more information, call (02) 2362-5494 or visit www.witchhouse.org
▲Performances start at 9:30pm. Restaurant/bar with queer/feminist bookstore and large collection of board games open 11am to midnight Sundays through Wednesdays; 11am to 1am Thursdays through Saturdays