In California, liberal medical marijuana policies create backlash
Residents and officials say state regulations unintentionally provide cover for commercial marijuana growers
There is probably no marijuana-friendlier place in the US than here in Mendocino County, where plants can grow more than 4.5m high, where medical marijuana clubs adopt stretches of highway, and the sticky, sweet aroma of cannabis fills this city's streets during the autumn harvest.
Medical marijuana was legalized under state law by California voters in 1996, and since then 11 other states have followed, even though US federal law still bans the sale of any marijuana. But some frustrated residents and law enforcement officials say the California law has increasingly and unintentionally provided legal cover for large-scale marijuana growers — and the problems such big-money operations can attract.
"It's a clear shield for commercial operations," said Mike Sweeney, 60, a supporter of both medical marijuana and a local ballot measure last Tuesday that called for new limits on the drug in Mendocino.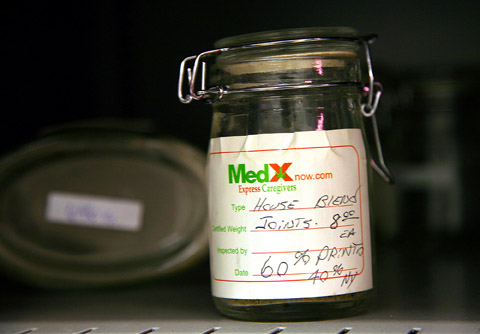 Medical marijuana in a Los Angeles clinic. Medical marijuana is legal under California law, even though US federal law still bans the sale of any marijuana.
PHOTO: NY TIMES NEWS SERVICE
The outcome of the ballot measure is not known, as votes are still being counted, but such community push-back is increasingly common even in the most liberal communities.
Under the 1996 law, known as Proposition 215, patients need a prescription to acquire medicinal marijuana, but the law gave little guidance as to how people were to acquire it. That gave rise to some patients with marijuana prescriptions growing their own in limited quantities, the opening of clubs or dispensaries to make it available and growers going large scale to keep those outlets supplied.
In Arcata, home of Humboldt State University, where town elders say roughly one in five homes are "indoor grows," with rooms or even entire structures converted into marijuana greenhouses.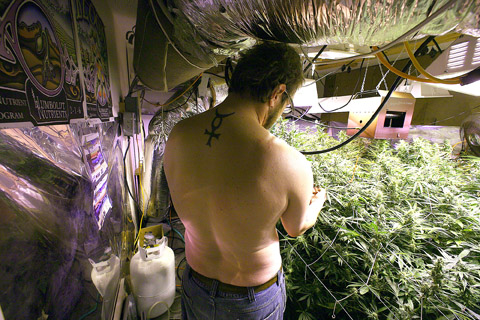 A medical marijuana grower examines his crop in Arcata, California, where, town elders say, the plant is grown in one in five homes.
PHOTO: NY TIMES NEWS SERVICE
That shift in cultivation, caused in part by record-breaking seizures by drug agents of plants grown outdoors, has been blamed for a housing shortage for Humboldt students, residential fires and the powerful — and distracting — smell of the plant in some neighborhoods during harvest.
In May, Arcata declared a moratorium on clubs to allow the city council time to address the problem. Los Angeles, which has more than 180 registered marijuana clubs, the most of any city, also declared a moratorium last year.
All told, about 80 California cities have adopted moratoriums on the dispensaries with more than 60 others banning them outright, according to Americans for Safe Access, which advocates for medical marijuana research and treatment. In addition, 11 counties have also adopted some sort of ban or moratorium.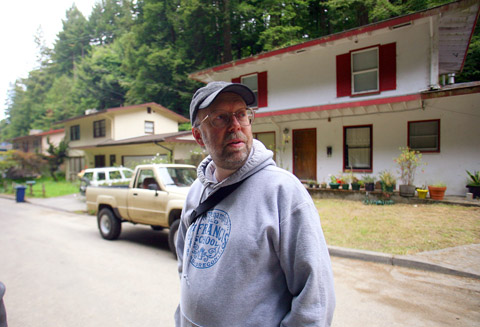 Kevin L. Hoover, editor of the local newspaper, The Eye, has made a practice of confronting people he believes are growing marijuana.
PHOTO: NY TIMES NEWS SERVICE
Comments will be moderated. Keep comments relevant to the article. Remarks containing abusive and obscene language, personal attacks of any kind or promotion will be removed and the user banned. Final decision will be at the discretion of the Taipei Times.