CD REVIEWS: TAIWAN
Adventurous listeners will appreciate Kou Chou Ching's (拷秋勤) first full-length record, Kou! It's Coming Out!!! (拷!!出來了!!), a two-CD set that successfully fuses traditional Taiwanese musical sounds with hip-hop music.
The group mostly raps in Hakka and Hoklo, two Chinese languages that flow nicely on top of hip-hop rhythms, in comparison to the stiff inflections of Mandarin.
The record has two very different moods: the first CD — the band's musical statement on Taiwanese culture, has a folksy, down-to-earth feel with its emphasis on traditional music samples. The second CD is basically a modern re-mix of the first CD, recast in a range of different hip-hop and electronica styles.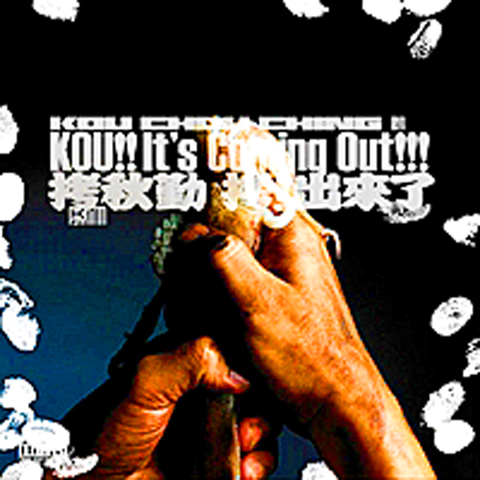 Kou Chou Ching (拷秋勤) Kou! Its Coming Out!!! Thirty Seven Degrees Productions
Sampling old recordings and traditional music can come across as gimmicky, but Kou Chou Ching manages to avoid this with a strong mix. MoShang does a good job of drawing out the musicality of each sample — for example, the droning riffs of the suona (嗩吶), a trumpet-like instrument, and the ruan (阮), a two-stringed lute, fit nicely with the beats and enhance the groove on many of the tracks.
The album is impressive because each half — one traditional and one modern — could stand on its own as a separate record. For the sake of comparison, however, the first CD lacks cohesion in some places — some of the longer dialogues between songs disrupt the album's musical flow. The second CD sounds more dynamic, as each track flows together seamlessly. Web site: www.kou.com.tw.
— David Chen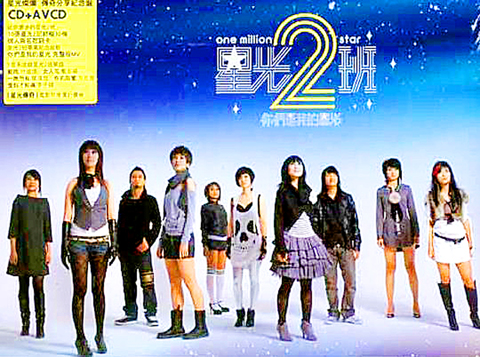 One Million Star 2 (星光二班) The Brilliance of One Million Stars (星光燦爛) Universal Music (環球國際)
The Brilliance of One Million Stars (星光燦爛) is a marvel of production, the sound engineers having surgically excised every ounce of individuality from the earnest if not particularly talented finalists from the second season of CTV's One Million Star (超級星光大道) pop idol "reality" show.
There are no bum notes, as there are in the show, and backing singers fill in when contestants get into the rough, but there is also nothing to make these cover versions, mostly of well-known songs, and all of which were performed by the singers during the competition, particularly worth listening to.
Even for fans, playing back the songs as sung during the competition — YouTube and other Web sites contain plenty of highlights from the show, ranging in quality from really bad to just adequate — is infinitely preferable to this characterless offering. The show, despite the highly choreographed tension between competitors, has moments of spontaneity as the star-struck participants try to give some kind of original twist to songs, or talk about the not-inconsiderable stress the competition places on them. In the album, what emotion there is has been produced out of existence.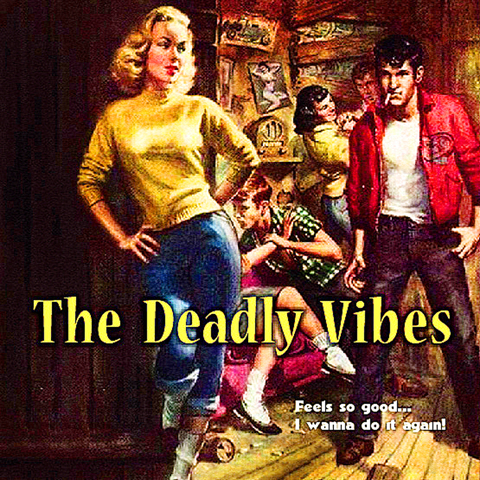 The Deadly Vibes Feels So Good … I Wanna Do It Again Self-released
The music video of You Are My Star (你們是我的星光) on the second disk showcases all the finalists as soloists and as a chorus. It is a masterpiece of kitsch: a narcissistic version of We Are the World and utterly oblivious to irony. Catch it on YouTube, as the nearly NT$500 required for the double album is way too much to pay for the fleeting amusement.
— Ian Bartholomew
The Deadly Vibes could be called country — if Ministry's Jesus Built My Hotrod was country. Sped up, their new album, Feels So Good … I Wanna Do It Again, would be punk. But it's better described as surfabilly, with elements of the Velvet Underground, Iggy Pop, and the Yeah Yeah Yeahs. Feels So Good was recorded independently, on an 8-track digital recorder, to give it more of a raw, live rock 'n' roll sound. Listening to it transports you to a dark-and-dirty version of the 1950s; even the album cover, suitably, looks like that of a pulp fiction novel.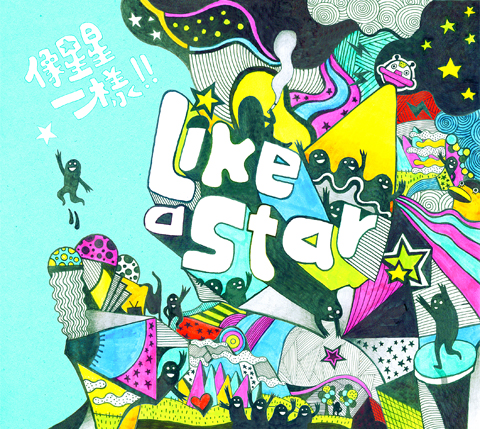 Like a Star (像星星一樣) Various artists Silent Agreement
This is music for dancing to. It's garage, and this is obvious in the gritty, oily quality of the music — it sticks. The high energy of the tracks and the catchy refrains of this boot-kickin', leg-shakin', moonshine-drinkin' throwdown would make even Grandma dance. And coming soon is an opportunity to do just that — the Deadly Vibes play Taipei's Underworld on Saturday. The group's official CD release party is not until May 31, but the album is already available at Underworld, the Armory in Tainan, Join Us in Kaohsiung and Taichung's 89k. On the Net: www.myspace.com/thedeadlyvibes.
— Alita Rickards
Starting things off with a slammin' track from Shy Kick Apple, this compilation is a good introduction to emerging artists in Taiwan's underground music scene. More than just a CD, this album is a compilation of independent artists and musicians, brought to you by independent artists and musicians, for independent artists.
It's also a representative sample of one of the most exciting emerging independent arts scenes in Taiwan. Shy Kick Apple — their name is an acronym for ska — incorporates Mandarin vocals and a flute into the upbeat genre. Veraqueen brings things down a notch with singer-songwriter stylings over electronic beats. And listeners craving a fix for that uniquely Asian electro-heavy indie-pop sound will find a solid intro to that genre in Taiwan on tracks by Digihai and Go Chic.
Like a Star is a compilation of songs by bands directly involved with White Label, an art market staged at Ximending's Red House (西門紅樓) and organized by Come With Us. It captures the essence of that scene in a powerful but tasteful package and is a great primer for those who want to be up-to-date on the latest developments in Taiwanese indie rock.
— NATHAN DAVIS
Comments will be moderated. Keep comments relevant to the article. Remarks containing abusive and obscene language, personal attacks of any kind or promotion will be removed and the user banned. Final decision will be at the discretion of the Taipei Times.