Voices from the displaced Amis
When demolition teams, escorted by police offices, were deployed to flatten the Sanying Aboriginal Community (三鶯部落) last month, social activists, human rights groups, independent media, students and academics quickly mobilized to work with the displaced Amis Aborigines who have lived on the banks of the Dahan River (大漢溪) under the Sanying Bridge (三鶯大橋) for more than two decades.
Two weeks ago, the Taipei County Government suspended the planned demolition of another Amis riverside dwelling, Sijhou Community (溪洲部落), located on the banks of the Sindian River (新店溪), close to Bitan (碧潭), a popular tourist spot. In response to these events, local Amis, social groups and activists will hold an exhibition of documents and a concert at the Sijhou Community today, starting at 6pm, to raise awareness of the history and oppression of the urban Aborigines who were uprooted from their traditional way of life and face the repeated demolition of their communities located in government-defined flood-prone areas.
Documentaries and work by photo journalists such as Li Wen-chi (李文吉) and Kuan Hsiao-jung (關曉榮) have been assembled to show how the government's forced relocation plans for the Sanying and Sijhou communities are not isolated cases, but part of a pattern of violent treatment of urban-dwelling Aborigines across northern Taiwan. The aim of these demolitions and relocations is to make way for riverside parks, bicycle trails, outdoor cafes and lucrative skyscraper projects, activists say.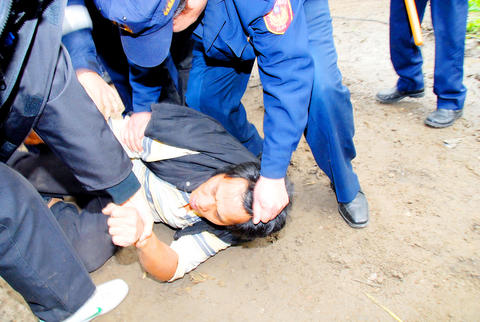 Inset: Members of the Sanying Aboriginal Community have clashed with police over government plans to demolish their homes.
PHOTO: HUANG LI-XIANG, TAIPEI TIMES
Tonight's event, featuring Aboriginal and activist musicians, includes performances by Kimbo Hu (胡德夫), Hsiao Mei (小美) and Chalaw Passiwali, Sangpuy Katatepan (盧皆興), workers'band The Black Hand Nakasi (黑手那卡西) and Country Boys (農村武裝青年). A touring film festival has also been organized to screen documentaries and hold lectures and discussions in universities and colleges. Films to be screened include Children in Heaven (天堂小孩) by the celebrated Aboriginal filmmaker Mayaw Biho (馬耀比吼), who has returned to document the Sanying Community 10 years after completing his classic protest film about a previous demolition of the community.
Organizers say similar events will be held on a regular basis as new documents related to relocation plans are collated.
"The ongoing events can also serve as an important venue to let the Amis speak for themselves. Mainstream media may print the news from the county government's view, saying the residents of Sijhou Community happily accept the offer to move somewhere else, but the truth is they have voted to stay where they have lived for 30 years," said Chi Yueh-chun (紀岳君) of Urban Aborigine Image Collective (都市原住民影像協力小組), a group of activists and supporters that organized tonight's event.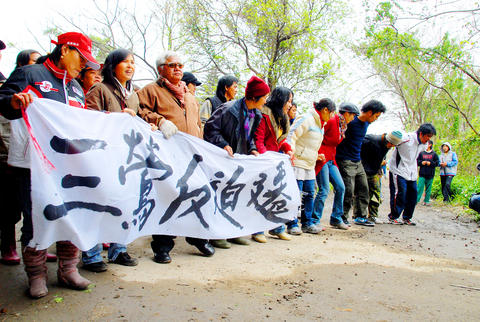 Above: The Amis Aborigines of the Sanying Aboriginal Community are fighting for their right to live without fear that their tribal dwellings will be demolished.
PHOTO: HUANG LI-XIANG, TAIPEI TIMES
Instructions on how to get to the Sijhou Community near the Bitan Bridge (碧潭大橋) can be found at swingriver.googlepages.com. For more information on Amis communities and related issues, visit the Sijhou Aboriginal community support group at shijou.blogspot.com, Sanying Aboriginal community support group at support-sanying.blogspot.com and the online activist portal Coolloud Collective (苦勞網) at www.coolloud.org.tw. — HO YI
Comments will be moderated. Keep comments relevant to the article. Remarks containing abusive and obscene language, personal attacks of any kind or promotion will be removed and the user banned. Final decision will be at the discretion of the Taipei Times.