[REEL NEWS]
The US television ratings for this year's Oscars sunk to an all-time low, preliminary figures showed Monday. According to figures from Nielsen Media Research, Sunday's ceremony at the Kodak Theater averaged an audience of only 32 million viewers, the worst since records began in 1974.
If the figures are confirmed, they would represent a drop of more than 20 percent from last year's average audience of 41 million.
Only one film out of the five best picture nominees - the teenage comedy Juno - broke the US$100 million barrier this year.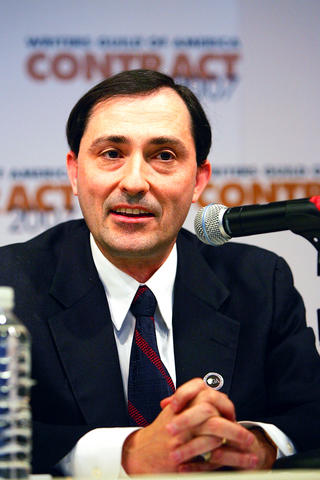 Patric Verrone, of the writers guild, supports the new deal writers agreed to.
PHOTO AFP
Analysts say there is a high correlation between the box-office popularity of films nominated for the best picture Oscar and television viewership for the Academy Awards.
Hollywood star Cate Blanchett missed out on an Oscar but has won the position of chairwoman at an Australian government summit meeting to chart the country's future.
Blanchett will chair the Creative Australia discussions at Prime Minister Kevin Rudd's 2020 Summit in parliament's Great Hall in Canberra from April 19 to April 20, the government said Tuesday.
The actress joins the likes of former deputy prime minister Tim Fischer, World Vision Australia head Tim Costello and Aboriginal surgeon Kelvin Kong as the only woman on the steering committee, which is billed as a meeting of 1,000 of the nation's best and brightest minds.
The summit responsibilities for Blanchett, who is joint artistic director of the Sydney Theatre Company, include helping to select up to 100 participants and leading the discussion in her field of expertise.
The Writers Guild of America (WGA) said members had ratified a new pay deal, two week after voting to end the writers' strike, the US entertainment industry's most damaging dispute in 20 years.
The WGA said 93.6 percent of 4,060 votes cast in Los Angeles and New York were in favor of the three-year deal.
"[This contract] ensures that Guild members will be fairly compensated for the content they create for the Internet," said WGA West president Patric Verrone, "and it also covers the reuse on new media platforms of the work they have done in film since 1971 and in TV since 1977."
Contract talks between the WGA and the Alliance of Motion Picture and Television Producers had collapsed over the issue of payment for content broadcast free or bought over the Internet.
The new contract establishes a scale of royalty payments for writers whose work is sold over the Internet or streamed without charge. Previously writers received nothing for online sales.
Extreme Love, a rare festival of uncensored sexual films, is screening in Tokyo. It is the brainchild of Takashi Asai, head of the Uplink distribution firm who has long battled censorship, and is intended to test the country's restrictions on showing nudity.
Pornography is widely available in Japan for personal use, but bans are imposed on images of genitalia either being imported or being displayed in public places such as cinemas.
"The constitution defends freedom of expression, so anyone should be able to look at erotic or pornographic pictures. But police understand this differently," Asai said.
The Extreme Love festival was put together with the support of the French embassy's cultural service, which said it was promoting two works being shown by French filmmaker Philippe Grandrieux.
The Chaser, a low-budget movie based on the story of South Korea's most notorious serial killer, has become a major box office success distributors said.
The film has attracted some two million viewers since it was first screened on Feb. 14.
"US distributors show keen interest in distribution or remake rights," Showbox added.
The movie is based on Yoo Young-Chul who murdered 21 people - mostly masseuses - between September 2003 and July 2004. Yoo was reportedly caught by pimps who noticed that several girls disappeared after responding to calls from a particular number.
It is directed by Na Hong-Jin, who made his name with award-winning shorts but had never made a commercial feature before.
The director of Oscar-winning French biopic La Vie en Rose said he would start work straight away on his next film, which is to be set in southern and Midwestern US and feature a star-studded American cast.
"I recently wrote my next film and I am leaving on a location shoot on Wednesday," Olivier Dahan said.
Speaking from Los Angeles, Dahan said the movie was "a surrealist drama set between Kansas and Louisiana," and would star Forrest Whitaker and "perhaps Sharon Stone."
An Oscar win "gives me access to all the actors I want today, and that's a good thing," he said.
Comments will be moderated. Keep comments relevant to the article. Remarks containing abusive and obscene language, personal attacks of any kind or promotion will be removed and the user banned. Final decision will be at the discretion of the Taipei Times.