The proof of the pudding ...
Taiwanese writer Egoyan Zheng wants the world to see that Taiwan has some top-class literary talent and is a match for its giant neighbor in terms of quality
On Nov. 10, the winner of the Man Asian Literary Prize, a new component of the prestigious Man Booker International Prize (won this year by Nigerian novelist Chinua Achebe), will be announced. The category for Asian authors includes works originally written in English, as well as translations. With the announcement of the shortlist on Oct. 25, Taiwan's Egoyan Zheng (伊格言) was knocked out of contention, but given the insignificant presence of Taiwanese literature internationally, he is amazed he got that far.
The longlist for the award included such heavy-hitters as Chinese authors Mo Yan (莫言) and Jiang Rong (姜戎), the latter's Wolf Totem (狼圖騰) making it through to the shortlist.
Egoyan Zheng is the pen name of Zheng Qian-ci (鄭千慈), a former medical student who has turned his back on medicine to explore the souls of men, rather than just their bodies. In entering the competition he was acutely aware that he was handicapped in terms of international recognition, not just by his age - he is just 30 - or the fact that Fleeting Light (流光) is his first novel, but also because of where he comes from.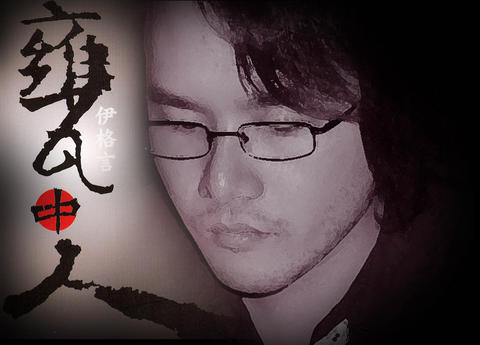 Egoyan Zheng is on a mission to put Taiwan on the literary map.
PHOTO: Courtesy of Egoyan/Hu En-hui
"Most Westerners, if they want to read (East) Asian literature, will think of China or Japan; they don't know that Taiwan has works of equal caliber," he said, in an interview with Taipei Times. Zheng is convinced that in terms of quality, the new generation of writers is a match for all contenders in the arena of pure literature.
To make his point, he took the unusual step of personally seeking a translator for his work and paying her out of his own pocket, rather than hoping that one day a local publisher would come along with an offer to pay for translation, publication and international marketing.
"The publishing industry (for literature) in Taiwan is too small; it cannot afford to bear the costs of translation. So how do you make your work known abroad? One way or another, you have to get it translated. The publishers won't do it, so the only thing to do is pay for it myself. ... And obviously, I am also confident about the quality of my work."
This confidence led him to abandon his medical studies at the National Taiwan University in his fourth year and transfer to graduate studies at the graduate school of Chinese at Tamkang University. In doing this, he also cast aside a family tradition of medical practice.
"I knew I could write well," he said, "and becoming a doctor is basically about nothing more than looking after ourselves economically - its a secure job. As a medical student, I had no great ambition - that's all I wanted to achieve. As a writer, I believe I have talent."
Zheng maintains an interest in science, especially its philosophical implications, and has plans to write science fiction at some point, but the mentality that pushes him toward literature is the desire to explore the irrational in humans. This is behind the choice of his pen name, taken from the Canadian director Atom Egoyan, whose films Zheng admires. Talking about Egoyan's The Sweet Hereafter (1997), Zheng said: "A part of the story is telling you that the irrational part of a person can often be much stronger than the rational. ... Simplifying, I can say that after watching that film, I had an appreciation of the dark power of the irrational. It left a deep impression on me. I later realized that this was a response to a good piece of art."
So putting his medical studies behind him, he dedicated himself to creating experimental, enigmatic and richly ambiguous texts of high literary modernism. Conveying the multiple levels and philosophical contradictions of mundane life is an important part of what Zheng tries to do in Fleeting Light, and he believes that his achievements, and those of his contemporaries, have already taken Taiwanese literature to a new level.
Speaking about writer Lo Yi-chin (駱以軍), who wrote the preface for Man in a Jar (甕中人), the book of short stories on which Fleeting Light is based, Zheng said: "I believe that Luo is a world-class author. It is just unfortunate that he was born in Taiwan. Because of this, he has not had the opportunity (of writers from other nations). ... There simply isn't the environment. He can't get the recognition that he deserves, and I think it's time to do something about this situation. That's why I decided to translate my work."
The belief that until a work of art is recognized internationally, it won't be recognized in Taiwan has been justified time and time again.
"The fact that we have to rely on translation is unavoidable. I have heard older writers say that because the flavor of the text is lost in translation, they won't have their work translated. I don't agree with this ... . Taiwanese prefer to read imported books because they think they are better, but for myself, I can now at least show that I'm good enough to make the Booker (Man Asian Literary Prize) longlist. Readers don't always see the quality of a work, so we (writers) must prove it to them, and show them that local writers are just as good as foreign authors. If we don't get our works translated, we will never be able to do this."
The Man Asian Literary Prize could have been created to fit Zheng's purpose, though the prize itself, worth US$10,000, is overshadowed by the vastly more prestigious international award, worth US$120,000. The prize was instituted partially to feed a growing market for books by Asian authors, who are increasingly making an impact on the international literary scene, a fact supported by the release of imprints such as Penguin India and Picador Asia. Nevertheless, translation remains an issue, not simply from the standpoint of cost, but also from that of quality. In this area, Zheng, who has few illusions about his English-language skills, admits that in finding a translator, he didn't have many options.
"I went online," he said nonchalantly. "I found Laura Jane Wey (魏正儀). She was just one year older than me, and also Taiwanese. She was at Harvard studying comparative literature. ... She'd won some Council for Cultural Affairs translation awards. The process was rather casual. I had her translate some stuff for review, but my English isn't really good enough to judge her translation. I just had to go on instinct. ... Well, it got me onto the (Man Asian) longlist."
Writers from China have made more of an impact on the international market, though the situation favors only a small number of well-known names. Although last year Penguin agreed to spend a record US$100,000 for the English-language rights to Jiang's Wolf Totem, a combination of autobiography, legend and ethnological observations of the Mongolian people, such attention is still rare. The publisher procured the services of Howard Goldblatt, easily the most highly regarded translator currently working from Chinese, and who has an established reputation for handling complex texts. The book is scheduled for release in March 2008. Goldblatt has translated works by Taiwanese authors, most notably Chu Tien-wen's (朱天文) mind-numbingly dense Notes of a Desperate Man (荒人手記) published by Columbia University Press, which despite positive critical reception, failed to generate a popular buzz.
In relation to its giant neighbor, Zheng believes Taiwan has the edge in terms of quality. "To say that China has produced outstanding modern literature is to state the obvious. ... But I believe that on average, they are not as accomplished Modernists (as many Taiwanese writers). They may be very skilled, the stories may be very good, but they lack depth. I am not saying that to tell a story simply from beginning to end is a bad thing, but for me, it's a question of depth. To tell a good story is fine, but in terms of Modernism, can you convey an understanding of a deeply complex dilemma? We (Taiwan's best authors) try to achieve a level of philosophical complexity, and this is something in which they lag behind … ."
"And if you ask me which is more important, a good story or philosophical depth, I will unhesitatingly plum for the latter," Zheng added.
Having failed to gain the Man shortlist, Zheng said he was not especially disappointed. "At least I have a translated text which I can now present to publishers," he said.
Comments will be moderated. Keep comments relevant to the article. Remarks containing abusive and obscene language, personal attacks of any kind or promotion will be removed and the user banned. Final decision will be at the discretion of the Taipei Times.