pop stop
The Million Star Gang (星光幫) craze has reached its zenith after a meticulously planned PR scheme catapulted the group's debut album to the top of the Mando-pop billboard charts.
Wasting no time in cashing in on the fad, the gang was deployed on a multi-city tour last weekend for shows that will see thousands of fans gladly part with their money.
Asked if he was worried that the group's popularity was just a flash in the pan, leader Aska Yang (楊宗緯) responded with a poker face and disappeared in a cab.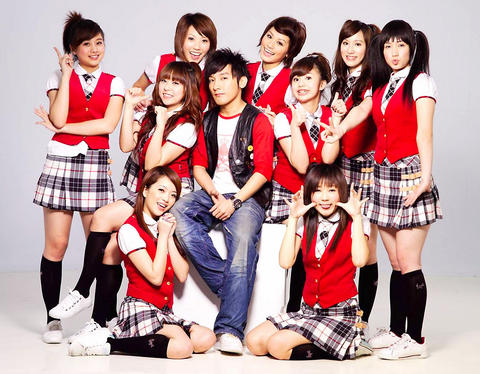 Blackie's Teenage Club Beauties and Bang Bang Tang Boys appeal to young audiences with yummy smiles and cutesy hairdos.
PHOTOS: TAIPEI TIMES
In similar news, Blackie's Teenage Club Beauties (黑澀會美眉) and Bang Bang Tang Boys (棒棒堂男孩), from Channel V's brain-damaging variety shows, have paired up for teen soap opera Brown Sugar Macchiato (黑糖瑪奇朵), which hit the nation's airwaves on Sunday. Agents say they have imposed tough rules on the boys and girls, including keeping their hands off each other, no wandering the streets after 10pm and keeping fit. They have been warned that their characters in the soap will suffer rape or death if there are any transgressions.
Environmentalism is in vogue these days, though it is ironically facilitated by the henchmen of consumerism that include brand worship and the celebrity pitch. While English designer Anya Hindmarch's limited edition eco-friendly shopping bags triggered riots in front of local department stores that ended with broken shop windows, injured shoppers, piles of trash and police mediation two weeks ago, ABT pop star Wang Lee-hom (王力宏) took a ride on a giant globe to raise environmental awareness at a press conference in Beijing last week held to promote his new album Change Me (改變自己), the sleeve of which is made from recycled paper rather than plastic.
The environmentally-friendly star also proved his political sensitivity and pandered to both Taiwan and China by singing Long Live the Chinese (華人萬歲) and a Taiwanese ballad.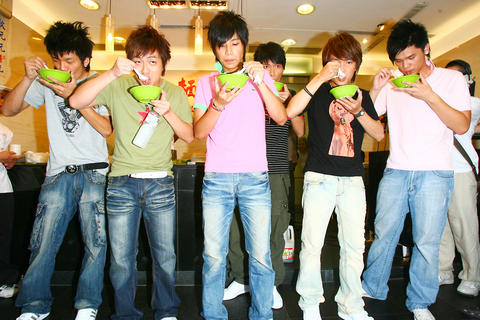 The Million Star Gang has crashed into showbiz with its debut album.
The smooth singer, however, is said to be less than eloquent in Ang Lee's (李安) Lust, Caution (色戒) currently in post-production and slated to hit local theaters by the end of September. When asked by the local press about the performances delivered by the star-studded cast last week, Lee gave two thumbs up to Tony Leung (梁朝偉) and Tang Wei (湯唯) but admitted Wang wasn't much of an actor.
"He didn't really know how to act at first, but did catch up half way through the shooting," Lee was quoted as saying.
Publication Notes
Top Five Mandarin Albums
1.Million Star Gang (星光同學會) and Million Star Top 10 Compilation (超級星光大道10強紀念合輯) with 37.39% of retail sales
2.JJ Lam (林俊傑) and West Side (西界) with 6.42%
3.Chang Chen-yue (張震嶽) and OK with 5.13%
4.Nicolas Chang (張棟樑) and Prince (王子) with 4.39%
5.Compilation album The Best of the Best
(超級星光PK寶典) with 2.97%
G-MUSIC, BASED ON RETAIL SALES
Comments will be moderated. Keep comments relevant to the article. Remarks containing abusive and obscene language, personal attacks of any kind or promotion will be removed and the user banned. Final decision will be at the discretion of the Taipei Times.