Marriages made in heaven may begin with triple seven
Across the world, couples flock to tie the knot today, 7/7/07, believing the date to be auspicious
In Las Vegas you roll the dice and hope they come up seven: today thousands of newlyweds-to-be will descend on this desert city to gamble that the lucky number holds the key to marital bliss.
In the wedding capital of the world, couples are lining up to get married on July 7, 2007 - 7/7/7 - placing their bets on future domestic happiness.
In small chapels that have hosted weddings for decades and at large glitzy resorts where nearby gamblers are sweating and shouting as they watch the dice tumble, thousands will tie the knot.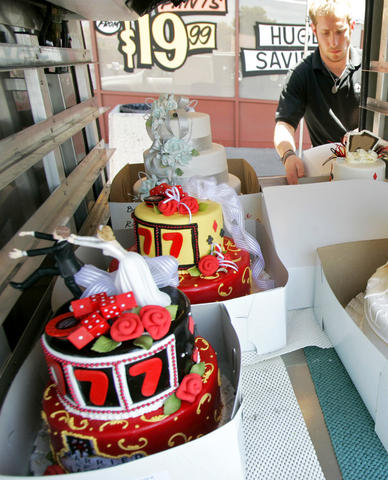 Max Freed, a manager at Freed's Bakery, loads wedding cakes for today's weddings into a delivery truck in Las Vegas
PHOTOS: AFP AND AP
"This is the busiest I've been in my 49 years in this business. This is our magical, maniacal, historical moment of love," said Charlotte Richards, owner of the famous Little White Chapel.
An estimated record 3,000 couples have applied for marriage licenses in Clark County for today, cramming the schedule at the 40 or so chapels across the city that offer bargain-basement, legally-binding weddings.
Never slow to spot a marketing opportunity, the city's main venues are making the most of the calendar quirk.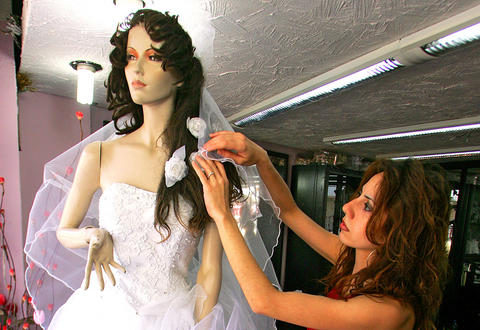 A Lebanese women adjusts a display wedding dress in the window of a shop in Beirut.
The Mandalay Bay Hotel is offering a 777 Beach Extravaganza package that includes a ceremony on Mandalay Bay Beach, champagne toast, a concert featuring K.C. and the Sunshine Band, a catered reception with complimentary bar, a photo of the bride and groom and a souvenir gift bag.
The cost US$1,777, naturally.
The phenomenon is not just confined to Las Vegas. Lebanese couples in their droves want to tie the knot in one of the world's most volatile countries today, hoping it turns out to be one of the calendar's most auspicious dates.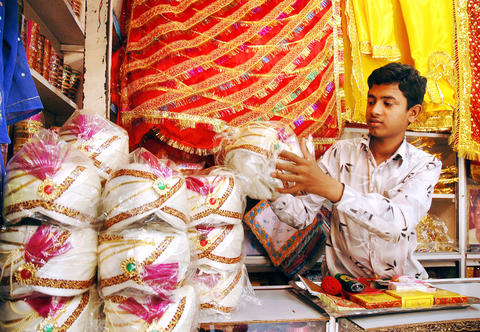 An Indian sales assistant arranges groom's caps for today's ceremonies
"Raz wanted the date more strongly than me. He feels like it's a divine date. For me, it's cute," says Karma Ekmekji, unconcerned that flowers are "like 10 times more expensive" because of the popularity of their chosen date.
Razmig Boladian, the groom-to-be, jestingly tries to explain: "I'm bad with dates. I wanted a date that I couldn't forget."
They chose the "Triple Seven" date two years ago and the location last summer, while holding onto a Plan B in case Lebanon's chronic insecurity and string of bomb attacks since January sabotages their special day.
The church venue, however, had to be relocated from Beirut's attractive downtown district, almost deserted because of the tents erected by opposition demonstrators led by the Shiite group Hezbollah.
From an original invitation list of 800 people, more than half have confirmed, among them a handful of family and friends from overseas.
"I was landing in Beirut a couple of months ago and I looked down at the city and said: 'I don't want to get married anywhere else'," confides Karma, 23, echoing the sentiments of many Beiruti couples.
Churches will be full to the rafters, with a program of hourly services. The sheikhs are also busy this week, with Muslim couples signing wedding contracts in the run-up to today's fireworks.
"To me, it's all a bit stupid, but don't quote me," another wedding planner said, despite the rare boon for business in Lebanon where all the big and unusual venues have already been booked since last year.
Michel Hayek, who shrugs off the tag of "Nostradamus of the Middle East" after having predicted the untimely deaths of Princess Diana and Lebanon's former premier Rafiq Hariri, complains of the rumors swirling around Lebanon.
"You must have heard all sorts of rumors, about how I had put off a 777 wedding of my own because it would be a black weekend," he says. "But I haven't decided on any date at all, only that I will marry this summer.
"The rumors have been attached to 777 to keep everything black in Lebanon, maybe for political reasons to destabilize, or for another agenda," he adds. "I didn't say anything bad about 7/7 of 2007."
Rumors are being spread to stir even more insecurity, as part of a dirty political game, he says. "Sadly, in this country, many people have grown used to hearing the bad things before the good things."
Time has branded 777 "the most popular wedding date ever," noting it has also been chosen by Eva Longoria of Desperate Housewives fame amid a spike of US nuptials, drawn by the powers and mystic of the number seven.
For the gamblers of Las Vegas, a mecca for instant weddings, the triple seven is a lucky number on casino slot machines and the blackjack table. The supermarket giant Wal-Mart is offering free weddings to seven lucky couples.
For the religious, God needed seven days to create the World, the Jewish bride circles her groom seven times, and Muslim pilgrims go seven times around the sacred black Kabaa in Mecca.
Hindus recognize the seven chakras (spinning wheel sources of energy) of the body, while the Seven Deadly Sins and Seven Wonders of the World are a source of fascination across any religious divide.
Comments will be moderated. Keep comments relevant to the article. Remarks containing abusive and obscene language, personal attacks of any kind or promotion will be removed and the user banned. Final decision will be at the discretion of the Taipei Times.