Budget airline travel expands throughout Southeast Asia
Low cost carriers may offer basic levels of service and comfort, but their pricing strategies and the addition of long-haul flights are fueling rapid growth
A network of low cost airlines in Southeast Asia has expanded to the extent where spending today in Bangkok, tomorrow in Singapore and the day after that in Hong Kong is a realistic option for travelers.
Budget airlines may have simple standards when it comes to comfort and service, but they make up for that in their pricing policy.
Europe has been experiencing a boom in budget airline travel since the late 1990s. But in Southeast Asia, the phenomenon is relatively new.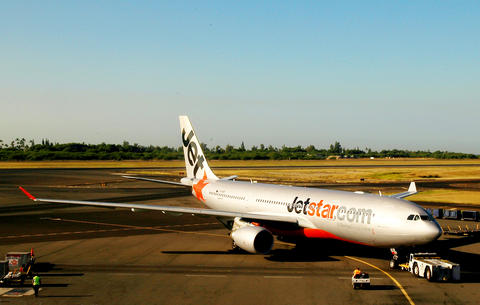 A ground staff member prepares a Jetstar passenger aircraft for departure at Sydney airport.
PHOTO: AP
It is now possible to travel for as little as US$67 from Jakarta to Bali or Bangkok to Manila without having to book far in advance.
The Internet is the best place to book a ticket. Airlines such as Air Asia, Tiger Airways and Jetstar have comprehensive networks servicing Thailand, Malaysia, Indonesia and Cambodia.
In addition to those airlines come other operators who service single routes or just domestic airports.
"This is a great development for backpack tourists," says Wolfgang Georg Arlt, a member of the faculty of International Tourism Management at Westkueste Highschool in Heide in Germany.
One drawback, however, is that travelers must know their way around Southeast Asia as budget airline offers are not very well publicized.
One problem low cost airlines are facing is the region's infrastructure.
"Many airports in Southeast Asia are only suitable for turbo-prop aircraft," according to Lutz Schmidt from the tourist trade journal FVW International in Hamburg.
Most airline fleets consist of jet propelled planes that can land at just a few airports. On the other hand that also means the region has plenty of potential to develop.
But for the moment many operators are forced to fly the same routes thereby making competition fierce.
Schmidt says he expects the number of operators to consolidate and prices to rise eventually.
He advises potential air travelers to compare ticket prices closely. Not every offer includes costs such as tax, service charges, insurance and fuel surcharges.
The Malaysian carrier Air Asia, for example, does not include those costs in its initial prices. Nevertheless, compared to other carriers Air Asia is relatively good value.
A one-way ticket from Bangkok to Singapore costs about US$68. The same charge applies to flights from Kuala Lumpur to Macau.
A domestic flight such as Bangkok to the holiday island of Phuket costs about US$41 one-way.
Air Asia flies to destinations in Thailand, Singapore, Indonesia, the Philippines, Cambodia, Vietnam, Brunei and China.
A luggage allowance of 15kg per passenger is included in the price.
There's no seat reservation, passengers choose their places when they go on board. Drinks and snacks are available at an extra charge.
One advantage of Air Asia is that it flies to major airports such as Suvharnabumi in Bangkok and Changi in Singapore - the main entry points for backpack tourists visiting the region.
Air Asia is planning to extend its network to India and Tiger Airways is planning to do the same.
Tiger is 49 percent-owned by Singapore Airlines and also has a wide selection of flights available for less than US$67.
Apart from destinations in China, Vietnam, Thailand, Indonesia and the Philippines, Tiger also services airports in Australia.
A ticket to Darwin or Perth from Singapore costs less than US$134.
Prices like that make Tiger Airways a big competitor for the Quantas-owned budget carrier Jetstar.
Jetstar services a number of destinations in Australia and recently began flying to airports in Southeast Asia.
Jetstar flies to Cambodia, Vietnam, Thailand, Hong Kong, Indonesia, Malaysia, Singapore, Taiwan, the Philippines and Myanmar. The airline also services routes to Hawaii, Japan and New Zealand. In the past three years, Jetstar carried 17 million passengers.
"A million of them flew at a price less than A$50 (about US$41)," says Nasrin Shaikh, spokesman for Jetstar's parent company Quantas in Frankfurt.
Long-haul flights are more expensive. Jetstar offers flights from Bangkok to Honolulu via Sydney, but they cost US$545 one-way to Sydney and an additional US$517 to Hawaii.
The price may seem high but it's still less than a conventional airline, according to Shaikh.
Some budget airlines only fly to domestic airports. Nok-Air flies exclusively within Thailand and Lion Air is Indonesia's low cost carrier.
Pacific Airlines has concentrated its network on Vietnam. Cebu Pacific Air services the Philippines.
Domestic airlines like those are a good way to travel quickly to destinations in the provinces. Flights costs between US$27 and US$41 for a one-way ticket.
Arlt says most budget airlines in Southeast Asia have very high standards that outshine their European counterparts.
Comments will be moderated. Keep comments relevant to the article. Remarks containing abusive and obscene language, personal attacks of any kind or promotion will be removed and the user banned. Final decision will be at the discretion of the Taipei Times.