High noon at Losheng
The plight of lepers at Losheng Sanatorium who risk being turfed out of their home of decades has sparked the most visual student-led movement Taiwan has seen in 10 years
One day three years ago, Lin Wan-chun (林琬純) had a political awakening. She saw a documentary about the Losheng (Happy Life) Sanatorium, a home for lepers in Taipei County that was being demolishing for a new subway line. Lin saw images of elderly men and women — many missing fingers, disfigured, or partially paralyzed — planting flowers and tending vegetables in their leafy hillside compound. She was told these lepers weren't consulted when the government decided to tear down their home. She felt sorry for the lepers, but mostly she just felt angry.
So Lin joined what would become the most visible student-led movement Taiwan has seen in more than a decade. Ever since work began on the Xinzhuang Line of the Taipei Mass Rapid Transit System, which is to terminate with a station and depot near land currently occupied by the sanatorium, members of the Losheng Youth League have been protesting. Last month the league held a 5,000-person rally in front of Chiang Kai-shek Memorial Hall. The following day, the date Taipei County had promised it would evict the lepers holding out at Losheng, Premier Su Tseng-chang (蘇貞昌) announced demolition would be halted while the central government worked to broker a compromise.
"I used to feel no connection to social issues," said Lin, a 23-year-old urban planning student at National Taiwan University who spends several weeknights at Youth League planning sessions and weekends on guard patrol at Losheng and helping the lepers maintain their home. "Now I see we have the power to force the government to do something. We students have gained the confidence that now we can change things."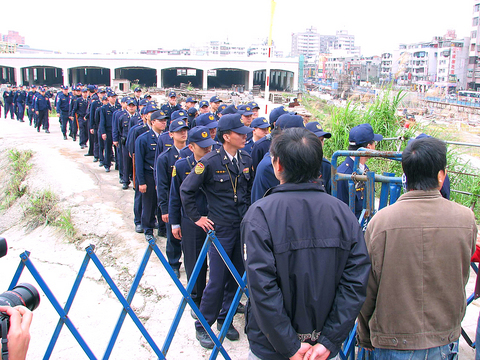 Last month, 200 Taipei County police officers stormed the Losheng Sanatorium to post a demolition notice on a bulletin board in the middle of the compound. Dozens of students had paired off to block access points to the sanatorium. Police forced their way through and were met by a scrum of students who surrounded the bulletin board. Several students were arrested after the police used force to post the notice.
PHOTOS: TAIPEI TIMES
Lin's story is typical for members of the Losheng Youth League, a core group of a dozen college and graduate students who can text message several hundred of their peers — as well as dozens of reporters — to show up for their concerts and rallies, or in the event that the police move in to clear the sanatorium of its residents.
Claire Hu (胡清雅), a 24-year-old graduate student at National Taiwan University, used words like "pure" and "clean" to describe her interest in the cause. She is attracted to the Losheng movement because politicians aren't. "And it's very clear who's right and who's wrong," she said.
Lin and Hu said most teachers discouraged interest in social causes, and that they had tuned out whenever they saw political news on television. That changed when they visited Losheng. Over the past three years, they and the other students have learned how to prolong demonstrations by sitting on the ground and locking arms, making it harder for police the disperse them. They've figured out how to get their message heard on television, using four-character signs and chanting short slogans. And they have the phone number and e-mail of several reporters at every major newspaper and television station, who they call before each publicity event.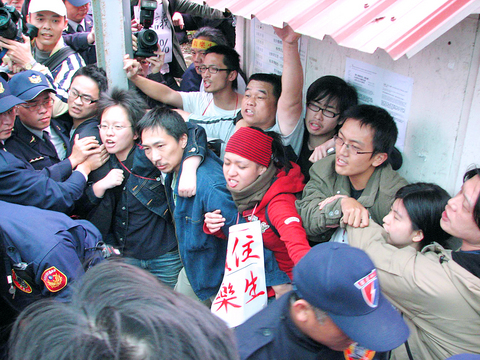 In March, the youth league staged a protest in front of Premier Su's Taipei home. Some 150 students sat in rows outside the main gate, locked arms and chanted slogans like "Losheng will not be moved" (原地續住樂生院!). Su never appeared, but it took police half an hour to pry the students apart and throw them in police vans. The images were plastered on the evening news and the next morning's newspapers, forcing Su to explain his position in front of the legislature.
The students were driven towards Neihu. On the way, officers threatened to arrest them and asked for their ID numbers. "I wasn't scared," Lin said, "but I didn't know where they were taking us." The police drove up a deserted mountain, kicked the students out, then drove away.
Built in 1930 during the Japanese occupation, Longsheng is the only public leprosarium in Taiwan and has housed more than 300 patients, most of whom were quarantined there in their teens and are now in their 60s and 70s. Following a policy originally instituted by the Japanese, people with leprosy, or Hansen's disease, were segregated by law until the 1980s, long after their disease had been cured, and Losheng became a self-sufficient community.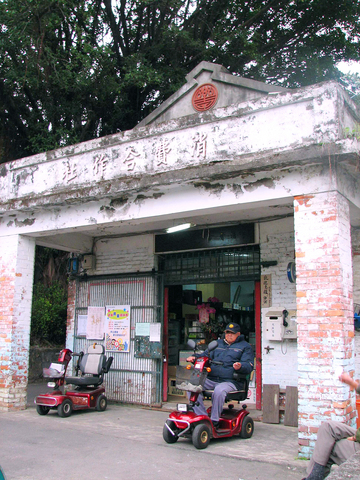 a view of Losheng Sanatorium
In 1994, the central government sold the hill on which the sanatorium stood to the Taipei Rapid Transit Corporation for the construction of part of the Xinzhuang MRT Line. Residents say they did not learn of the sale until nearly a decade later, when demolition work started. Part of the hill on which Losheng stands has been dug away, causing structural damage to buildings further up the slope that were not slated for demolition. One section of dormitories collapsed.
In November 2005, after most of the compound had already been destroyed, the Council of Cultural Affairs designated Losheng a "temporary historic site," giving Taipei County six months to review its historical value. The county allowed the time to pass without conducting the review — deliberately, activists say — causing responsibility over the decision to revert to the central government.
Current plans call for 40 percent of Losheng to be preserved. In an evaluation for the Council for Cultural Affairs (CCA, 文建會) by the Mott MacDonald Group, a multinational engineering consultancy that has also advised on the High-Speed Rail and Kaohsiung MRT, the MRT depot could be moved to allow for the preservation of 90 percent of what's left without delaying the line's completion. The TRTC estimates rerouting the MRT could cost more than NT$2 billion and delay the project by more than three years.
An elderly resident of Losheng Sanatorium
Around 150 lepers have already moved next door to the newly built Huilung Hospital (迴龍醫院). Losheng's previous superintendent intended the building to be a one- to three-story dormitory. He was demoted and reassigned for opposing demolition, and the new superintendent built a nine-story general hospital instead.
Leprosy patients, many of whom get around on motorized scooters, occupy one wing of the hospital. Students say these patients were coerced into moving and receive substandard care, but several interviewed last week said they liked their new home. "I'm old and I'm sick," said a fingerless patient surnamed Wang. "The students said they would take care of me. But a student isn't as good as a nurse and a doctor." At Huilung, Wang has access to specialists working in the hospital's outpatient wing. In his room, which he decorated with photos of him with hospital staff, he has an intercom by his bed for summoning a nurse. There's a TV lounge on his floor. Downstairs, there's a karaoke lounge. "It's great. It's like a hotel," Wang said.
The 75 or so lepers remaining at Losheng disagree. "I don't want to rot away in an institution," said a woman who gave her name as Auntie Hsu. "When I walk out my door I see flowers and trees. I want to live in a big, open, natural space."
"The students are like family," she added. "They really care about us."
National Taiwan University sociologist Lee Ming-tsung (李明璁) says many students see Losheng as a kind of utopia. "Their discourse is full of romantic images, because they see Losheng as a pure, clean, happy land outside the crowded and noisy city." However, he added, "they thoroughly understand and care about the human rights and cultural dimensions of the issue."
Lee took part in the Wild Lily Student Movement (野百合學運) , the 1990 democracy protest which drew tens of thousands of people over the course of a week to Chiang Kai-shek Memorial Hall. Echoing others, he said Losheng is Taiwan's largest student-led movement since then. "It's ironic," Lee said, "because many people from the Wild Lily Movement who later came to power in the Democratic Progressive Party are to blame for the current problem at Losheng."
John Liu (劉可強), an urban planning professor at National Taiwan University and advisor to the youth league, said the students involved represent both sides of Taiwan's political divide. "Some of them were Chinese Nationalist Party (KMT) or DPP supporters and wouldn't talk to each other before," he said. "This issue is pointing the way for a new kind of social awareness that is beyond the party politics that activated people before. It's a new kind of consciousness that deals with local culture, local history."
Right now, the students are a headache for both Premier Su and Taipei County Commissioner Chou Hsi-wei (周錫瑋), who have been playing political hot potato over who is responsible. Chou sent 200 police officers to Losheng last month to post a demolition notice and led a demonstration of 10,000 Sinjhuang residents to demand that the sanatorium be torn down. "We posted a notice [for demolition] on March 16," Chou told the crowd. "When the deadline comes on April 16, the county government will act according to the law," he said, before passing the buck to Su by adding, "unless the Executive Yuan decides otherwise."
After the student-organized demonstration at Chiang Kai-shek Memorial Hall on March 15, Su announced a two-month postponement of the demolition, during which time a Cabinet official would broker a compromise.
Some analysts believe that Su is just buying time to avoid bad publicity as he runs for the DPP's presidential nomination, which will be decided as early as next weekend.
"He's letting this issue drag on and on until the dust is settled," said George Tsai (蔡瑋), a political analyst at National Chengchi University. "I think, personally, he's in favor of constructing the MRT and demolishing Losheng. But since the competition [for the nomination] is so tight, it's better to wait and not make any final clear-cut decisions at this point."
The Losheng Youth League maintains bilingual blogs at losheng-paradise.blogspot.com and lovelosheng.blogspot.com
Comments will be moderated. Keep comments relevant to the article. Remarks containing abusive and obscene language, personal attacks of any kind or promotion will be removed and the user banned. Final decision will be at the discretion of the Taipei Times.