'Nerd,' the musical
If art reflects life, then the Taipei Philharmonic Foundation's new musical comedy is a mirror pointed straight at an important cultural trend.
The Fabulous World of Otaku (宅男的異想世界) — which is produced by National Literary Award Winner Tu He (杜黑) and debuts this weekend at the National Theater — features pop singer Howl (于浩威) in the lead role of Ah Zhai, a computer geek who spends most of his time online and is hopelessly in love with an Internet idol.
Ah Zhai is an otaku, which roughly translated means "nerd" in Japanese. Introverted and homebound, otaku spend long hours pursuing a hobby, often one involving anime films or manga comic books. In Taiwan these people are called zhai nan (宅男), and they've achieved a kind of underground hip cache. Among many young Japanophiles, the hardcore otaku — a man so isolated in his obsessions that he has lost all ability to relate to other people, much less talk to girls — has become a kind of role model, much as other teenagers idolize rock stars or professional athletes.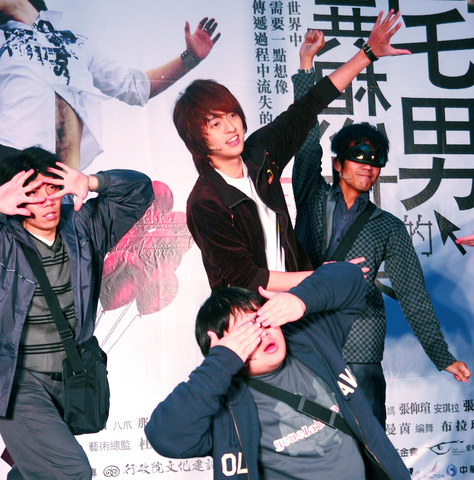 The Fabulous World of Otaku takes a light-heated look at Taiwan's communication breakdown.
PHOTO: COURTESY OF TAIPEI PHILHARMONIC FOUNDATION
In The Fabulous World of Otaku, Ah Zhai is hounded by his overbearing mother, falls into unfortunate love triangles, and ultimately meets Angela, the object of his computer fantasies. He may or may not find true love, but he does find something more important.
"This story is about communication," director Cheng-ju (單承矩) told the Taipei Times in an interview on Tuesday. "Ah Zhai must learn to turn off his computer, open the door of his room, and face the real world."
Producer Tu He, who first heard about the otaku phenomena three years ago from a student, said the musical was not conceived of as an in-depth look at the otaku subculture or the nature of virtual reality. "It's a simple love story," he said, "one that's set against the backdrop of declining communication skills in an increasingly Web-based society."
In Taiwan, this decline has been linked to issues of national importance, such as the country's plummeting birth rate, as well as quality of life concerns. In a recent survey of sexual satisfaction published by the University of Chicago, for example, the country ranked second to last, after Japan.
For the Philharmonic Foundation — whose recent productions have included a Chinese-language musical version of Mozart's Swan Lake that featured rap and dance music — The Fabulous World of Otaku is seen as a production that can attract a younger audience. The group scored a major success by landing the National Theater venue and has gone all out with a catchy score by composer David Kao (高大偉) and creative special effects, which bring Ah Zhai's cyber world to life by turning the stage into a giant computer screen.
After four appearances at Taipei's National Theater this weekend, the musical moves to Taiwan's computer capital Hsinchu, before heading to Tachung in June.
Publication Notes
PERFORMANCE NOTES
What: The Fabulous World of OtakuWhere: The National Theater, TaipeiWhen: Tonight at 7:30pm, tomorrow at 3pm and 7:30pm, and Sunday at 3pmTickets: From NT$300 to NT$2,000 and available at the National Theater box office or online at www. ticket. com.tw
Performance are also scheduled for the Hsinchu County Municipal Auditorium (新竹縣立演藝廳) on May 12 at 3pm and 7pm, and Taichung's Chungshan Hall (台中市中山堂) on June 9 at 3pm and 7:30
Comments will be moderated. Keep comments relevant to the article. Remarks containing abusive and obscene language, personal attacks of any kind or promotion will be removed and the user banned. Final decision will be at the discretion of the Taipei Times.