Chinese, if you please
Taiwan aims to get a crack at the growing Chinese-language learning market, but the government has been less than friendly and ready to please
Learning Chinese is hot, but you would hardly know it here in Taiwan, where many people want to speak English. From kindergarten to business school they believe it is the key to higher earnings. They may be right, but the gains of teaching the world to speak their own language have been relatively neglected and the government is scratching its head and wondering what to do about it.
A year ago, at the same time as civil servants were being offered extra credits for promotion if they passed English proficiency tests, the Ministry of Education (MOE) cracked down on private Chinese-learning schools. Granted, some of these institutes were fronts for getting visas, with students who never turned up for class and instead worked illegally. The crackdown inevitably led to a reduction in the number of private schools and students.
Visas have been a problem for years. Add to this the introduction of another Romanization system and learning traditional Chinese characters, as opposed to China's simplified script, and the difficulties of learning Mandarin in Taiwan are compounded.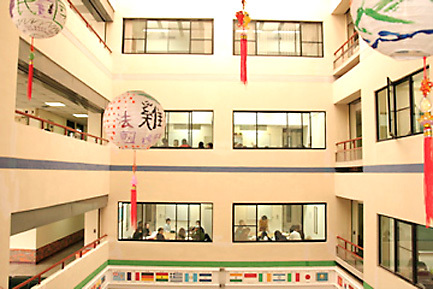 Students are tackling one of the world's most difficult languages to learn at the Mandarin Training Center, National Taiwan Normal University.
PHOTOS: JULES QUARTLY, TAIPEI TIMES
The numbers tell the story. Chinese is the most popular mother tongue in the world with over 1 billion speakers, but it is one of the five most difficult languages to learn, according to the US State Department's Foreign Service Institute.
The Office of Chinese Language Council International, or Hanban, believes there are around 30 million people learning Chinese as a second language (CSL). It estimates that 100 million will be doing so in four years. China's Ministry of Education Web site claims "there are more than 330 colleges offering [teaching Chinese as a foreign language] programs in China, receiving about 40,000 foreign students to learn Chinese every year."
From America to Zimbabwe, students are studying Mandarin because it is seen as becoming the language for business in the 21st century, in the same way that English and arguably Japanese was in the last century. In the US, Chinese immersion classes are the rage and there are not enough teachers to supply demand. In New York Chinese nannies are charging up to US$70,000 a year. In South Korea there has been a 66 percent increase in students learning Chinese over the past five years; in Japan the number of secondary schools offering Mandarin has tripled since the 1990s. The same pattern has emerged in Europe and in the UK the number of students studying Chinese has doubled in the past five years.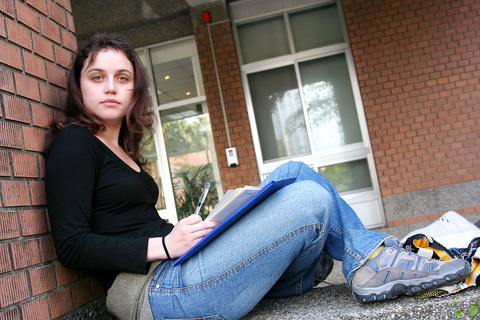 French/Australian CSL student Nadege Bryan studies outside the ICLP center at National Taiwan University.
Over the past three years the number of students studying Chinese in Taiwan has risen by around 1,500 to 9,143, according to MOE statistics. This is a 5 percent annual increase, but set against the explosion in demand for learning Chinese it is a meager return. Taiwan should be riding the wave of learning Mandarin, instead it appears to be floundering around in the shallows.
"There are a lot of complaints about how hard it is to study in Taiwan," said Professor Chou Chung-tien (周中天), director of Taiwan's oldest Chinese-language learning institute, the Mandarin Training Center at National Taiwan Normal University (NTNU). "I believe it is national policy to have more people learn Chinese in Taiwan because it is the best way to promote Taiwan."
Teaching Chinese to foreigners should be a no-brainer. Taiwan is rich in well-qualified teachers and educational resources. It is a way of fostering relations in a world where it has little diplomatic space because of historical problems with China. It could also be a valuable source of revenue in the burgeoning service sector in which it needs to shine, since most of its factories are relocating to China. The British, for example, have done well out of exporting English to the world.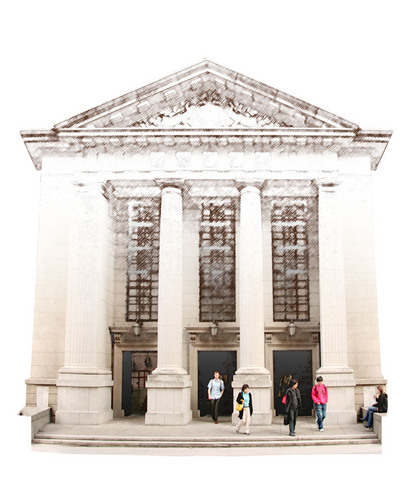 Students are tackling one of the world's most difficult languages to learn at the Mandarin Training Center, National Taiwan Normal University.
There would not appear to be much of a downside and this makes the system of student visas operated by the Ministry of Foreign Affairs (MOFA) hard to fathom. The reason usually proffered by MOFA is immigration controls prevent foreigners from working illegally and taking jobs from locals (the unemployment rate at the end of last year was 3.86 percent).
Most students who gain a place at a certified institute are granted a 60-day student visa. But since terms are in quarters (or three months) they must extend their visas after two months, a process which can cost up to NT$2,300. This can be refused because of poor academic performance (scores of below 60 percent) and attendance (missing 10 hours a month). The maximum stay is 180 days, after which the student must either get an Alien Resident Certificate or leave the country. Police have the option of not giving any justification for refusal of a visa.
"Before the term ends students must go to the immigration office and prove they are not working illegally. They must provide a lot of information but it is still up to the officers to decide if they can stay here, with or without reason. They can make you leave just because they don't like you," said NTNU director Chou, who said there were cases of students with good academic records who were refused. "The students ask us to help and we make calls [to the immigration office] but they tell us, 'You are not in a position to say anything.'"
Vietnamese student, Do Quang Huay, 24, chose to study in Taiwan instead of China because it is "smaller and more friendly." He said classes at the Mandarin Training Center were sound, but applying for a visa had been a fraught experience. "The rules are not too good, a bit messy really. We have to go there with a lot of papers and though I have not had big problems my friends had lots of troubles."
US citizen Paul Schnaars, 25, who studies at National Taiwan University, said he had to maintain an 80 percent grade average and attend 80 percent of classes. The scholarship student said his initial visa was sorted out in New York and his application for an ARC was processed reasonably efficiently. "I went to the wrong building a few dozen times, but if I had to do it again it wouldn't be too bad."
It appears MOFA is currently operating a twin-track system. Stung by criticism of its student policy it has started offering three-month visas on a "case-by-case basis." MOFA spokesman General David Wang (王建業) said the ministry has relaxed regulations for nationals of around 30 countries, including the US, Australia, Japan and many European nations.
"We try to be fair to everyone but based on track records there are certain groups of people that have a high risk of overstaying and working. These people — from parts of Asia, the Middle East and Africa — will be subject to the old regulations," Wang said. From next month visitors from 20 nations in these areas will need a Taiwanese citizen or organization to sponsor their stay.
China, on the other hand, has been reaching out to many of these same countries by sending out over 2,000 missionaries to teach Mandarin. Over the past two years it has opened Confucius Institutes in over 30 countries, according to Time magazine, which didn't even mention Taiwan in its issue on learning Chinese last year.
The Confucius Institute at Michigan State University has a Web site that provides a portal for on-line learning, including one-to-one tutoring, free podcasts and multimedia materials. Interactive multiplayer games are also being developed. Not only has China been teaching Chinese to foreigners for thousands of years, it seems to be ahead of the curve now.
It is cheaper to study in China as course fees and living costs are generally lower and it only has the Hanyu Pinyin Romanization system. Taiwan on the other hand introduced Tongyong Pinyin in 2002 and now uses four systems, including Wade-Giles and Zhuyin. Taipei's road signs, for instance, are in Hanyu Pinyin. In Taipei County, road signs are in Tongyong Pinyin. Even teachers who are required to use Tongyong Pinyin ignore MOE regulations and use Hanyu Pinyin and Zhuyin instead.
Even so, there are optimists who believe Taiwan can control the CSL market.
MOE executive secretary Yuri Chih (遲耀宗) said a range of initiatives was being rolled out in order for Taiwan to compete with China. Addressing the issue of closing down private schools teaching Chinese, he said this had been necessary because the system was abused. These institutes were now partnering up with universities and he promised the private sector would be given "space" in the future. He said 26 Chinese language centers across the country were now able to cater for up to 15,000 students of Chinese and this would increase.
Chih mentioned a NT$1 million incentive for schools to set up CSL courses abroad and said the number of scholarships to study here has been increased by 14 to 265 this year. Local publishers would be revising existing textbooks and introducing new ones. As for CSL instruction, the MOE would be helping teachers make their courses more customer oriented and the department had introduced the first Proficiency for Teaching Chinese as a Foreign Language Examination last year.
"We have been busy. Previously we have emphasized quality over quantity. Having established quality we are now looking at quantity," Chih said, adding a cross-ministry meeting this week would discuss the situation, with particular emphasis on student visas. Japan, for example, offers "cultural studies" visas to stay in the country for a prolonged period; while China gives "Student X" visas, allowing stays for one year with multiple entry. Proposals to the Executive Yuan would be made, Chih said.
Toward the end of last year a conference was held in Taipei titled, Opportunities for Taiwan Amid the Global Craze for Learning Chinese. Participants touted Taiwan as superior to China culturally and educationally and emphasized the high standing of National Taiwan University's (NTU) International Chinese Language Program (台大國際華語研習所), or ICLP, formerly known as the Stanford Center. The aim here is to take the high ground of teaching Mandarin and leave the mass market to China. It sounds like a good idea, even if China is already stealing thunder by partnering with schools like Stanford University in the US.
Another talking point was the Proficiency-Huayu (TOP-Huayu) exam that is being developed to replace the Chinese Proficiency Test, currently used in local classrooms to measure Mandarin ability. The MOE has established a steering committee to supervise its evolution and hopes it will supersede China's Hanyu Shuiping Kaoshi (漢語水平考試), or HSK exam.
This is a long shot, according to critics on local Internet forums, some of whom said operating a separate system would make CSL students less likely to come to Taiwan as HSK was universally accepted and employers would not recognize the TOP-Huayu, even if it was better.
This attitude does not take into account, however, that Taiwan's CSL market is based on traditional characters, rather than China's simplified script. Many students of Mandarin will pick China to learn the language simply because it teaches the language that 98 percent of the Chinese-language world writes, the simplified characters or jian ti zi (簡體字) developed by China to boost literacy. Taiwan is the only country still using traditional script and officially bans simplified characters.
Even so, many students, teachers, course directors and officials defend the teaching of traditional characters and said they believed learning simplified script is not as easy or as useful as its backers thought. NTU teacher and administrator Lu Cui-ying (盧翠英) said simplified characters were easier to write but not remember.
There are a lot of synonyms in Chinese, she said. Therefore, if the characters are similar this causes problems with reading. "Using traditional characters makes it easier to read," she said, adding China's literacy rate was much lower than Taiwan's 98 percent. "Actually, having learned traditional characters it is easy to learn the simplified ones, but not the other way around."
"Our system is unique," said NTNU director Chou, "The shapes of the characters give a meaning and a sound. This is the beauty and practical efficiency of traditional script. We have a hundred teachers and most of them will say that if students are taught simplified characters to begin with they will learn faster, compared with traditional characters. But after level two or three it is the other way round … Especially with computers, there is no reason to use simplified characters and I would be surprised if the advantages of traditional characters were not appreciated more in the future."
One student of Mandarin who has tried both Taiwan and China is Diana Freundl, who is media officer at the Museum of Contemporary Art, Shanghai (and a former Taipei Times' reporter). Both places were good for studying Chinese, she said, the most important thing was to immerse oneself in the language.
"No-one is going to learn Chinese through osmosis. I had to submerge myself in the language and study for eight hours a day but in the end I did learn to read and write in eight months."
"Teaching Chinese is not a zero-sum game," concluded MOE executive secretary Chih, "The market is growing and often healthy competition makes it bigger. There is space for all of us. This is what we should be thinking about in the future."
Comments will be moderated. Keep comments relevant to the article. Remarks containing abusive and obscene language, personal attacks of any kind or promotion will be removed and the user banned. Final decision will be at the discretion of the Taipei Times.