High style born low
An exhibit of photos from a seedy part of Tokyo, 'Gangs of Kabukicho,' leads to an exploration of the role urban tenderloins play in inspiring street style, which in turn inspires fashion designers and, eventually, mainstream trends
Where are the harlots of yesteryear? Where are the creatures of glorious plumage that for so long inhabited a fixed place in urban consciousness — and also a lot of real estate in the landscape of New York music, fashion, literature and art? Who now remembers the soiled doves of the Five Points, besides historians of story or song?
For that matter, what ever became of the male hustlers plying their trade in tight Levis at the corner of 53rd Street and Third Avenue in Manhattan, the guys about whom Dee Dee Ramone once composed a famous, and possibly even autobiographical, tune and whom Andy Warhol lured to the Factory to transform into incandescent although disposable underground stars.
The trigger for this onrush of association is a show, Gangs of Kabukicho, at the Andrew Roth gallery in Manhattan through tomorrow of works by Watanabe Katsumi, a semi-obscure itinerant street photographer who took pictures of Tokyo's prostitutes and drag queens and rockabilly types and supertanned ganguro girls and tough-guy yakuza in the 1960s and 1970s.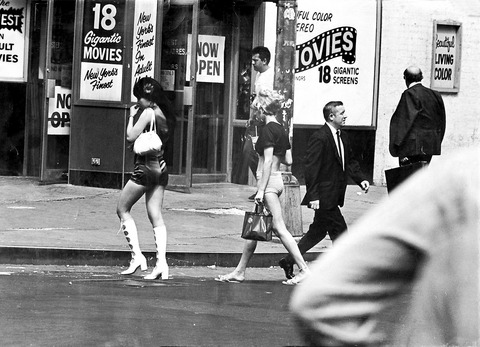 A street near Times Square in 1971.
PHOTOS: AGENCIES
As unexpected as Watanabe's photographs are, their more urgent appeal is as social documents laden with information about style and sex roles, and the mutating masks of identity in postwar Japan. They also have a lot to say, by implication, about what happens when the loamy subsoil of low life is paved over by luxury housing and the grittier dimensions of cities are sanitized.
The function street life plays in pop culture is old news at this stage in history; it was probably old news at the court of Louis XVI. Cultural mandarins have siphoned information and inspiration from the streets for a long time. Fashion, in particular, has reaped the benefits. This was true in the days of Marie Antoinette and true again in the 1980s, when Karl Lagerfeld slummed in the East Village and used what he found to enliven that most fusty of costumes, the Chanel suit, with his version of the cartwheel earrings favored by hip-hop girls and the piled-on chains that, in those days, provided a clanking soundtrack to any walk across St. Mark's Place.
There are plenty who maintain that the streets of New York continue to serve as a rich source of design inspiration. "Every designer of the entire world comes to New York to get inspired," Diane Von Furstenberg, the designer and new president of the Council of Fashion Designers of America said last week. "What is inspiring is the streets, the kids and how they put themselves together," she added. "New York is quite vibrant right now."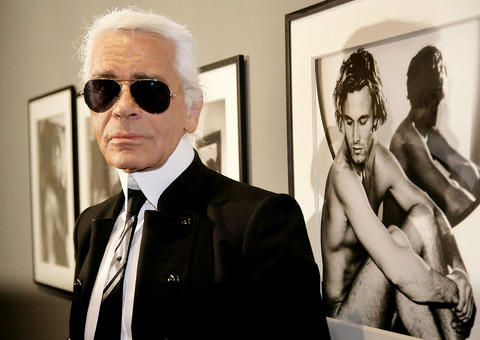 German designer Karl Lagerfeld once slummed it in New York, getting his inspiration from the city's underbelly.
Perhaps that is so. Yet a person could be forgiven for questioning whether Lou Reed would be moved to write Walk on the Wild Side by the Bugaboo platoons massed in Washington Square or whether the designer Stephen Sprouse's fabled graffiti collection would ever have happened had Dondi and his fellow Wild Style writers not gotten there first. "The economy has changed, and the downtown values, with rent control and cheaper housing, gone," Deborah Harry, the lead singer of Blondie, lamented not long ago. "What's happened with the growth of New York University into the East Village is the whole student look has taken over," added the singer, whose disheveled punk Marilyn look evolved from a yeasty downtown scene where Dumpster and thrift shop pickings were still rich, and where old clothes had not yet been rebranded as vintage and sold at Bloomingdale's. "Downtown is starting to look bland, like a penal colony," Harry said. "To me that's one of the worst things that have happened in New York."
Is it willful to lament the loss of the style that drag queens, hookers, hustlers and pimps once brought to big cities? It probably is. Yet, as the long-delayed Factory Girl finally makes it to select theaters late this year, it seems reasonable to point out that the look of both the real (biologically speaking) and pretend girls at Andy Warhol's Factory was largely the invention of speed-addled transvestites with ash-blond dye jobs and 25-cent lipstick from subway vending machines.
And the gaudy 1980s styles now undergoing a loving revival among fashion types in London and Paris owe a substantial debt to the hookers who once worked a stretch of Eighth Avenue known as the Minnesota Strip.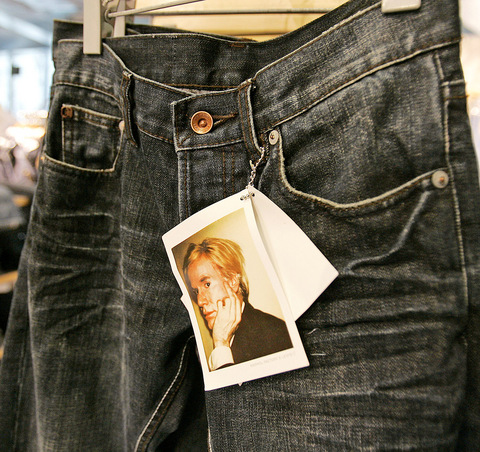 Levi's Warhol collection of jeans and jackets are embellished with imagery reflective of Andy Warhol's more famous artwork and sayings.
As little survives of that place and time as of Kabukicho, the district in Tokyo that Watanabe recorded just before its love hotels and hostess bars were plowed under to make way for high-end real estate. The drag queen geishas, the rockabilly rent boys are gone from Kabukicho. So, too, are the Times Square sex workers whose damaged poignancy was preserved by the photographer Joyce Baronio in her classic book 42nd Street Studio. The notorious gay theaters are gone. The hustlers and prostitutes rarely bother with the streets. Why should they? In an age of online hookups, who needs to merchandise the goods with curb appeal?
And as perverse as it may seem to remark of the men and women (and men dressed as women) who once inhabited Times Square that they were creatures of extravagant style and presentation, there is proof to be found in work produced by the many artists who tracked their inspiration to its source. Look no further than Larry Clark or Jane Dickson or John Ahearn or the various other artists — some now museum darlings like Kiki Smith and Nan Goldin — who made an early splash at the celebrated Times Square Show in 1980.
That the people from the time and the place that Watanabe depicted in Tokyo bear a superficial resemblance to their counterparts in lowlife neighborhoods across the world may be coincidence. Yet the likeness is striking and, in its own way, radiates emotional urgency: Watanabe's people don't merely embrace their outsider status. They make it clear that, in Kabukicho at least, it was the so-called normal people who stood out.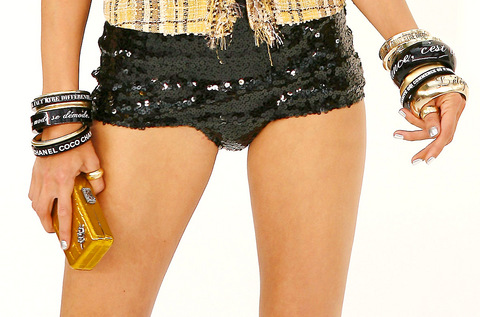 Saucy outfits like this Karl Lagerfeld creation are often inspired by street style.
Born in the Japanese boondocks, Watanabe moved to Tokyo in 1962 and soon found his metier in the city's blue-light district, called that to distinguish it from the capital's red-light district, where prostitution was legal and controlled.
His gift was for capturing his subjects' unbridled pretension, their love of striking effects and the way they got themselves up for the evening (it was always evening) in bleached hairdos, cowboy clothes, rumpled baby-doll dresses, cheap platform shoes, geisha wigs and the thick rows of eyelashes that lent them the air of small nocturnal predators.
That they aped Western style and also seemed to parody it anticipated by decades the antics of the now notorious street poseurs known as Harajuku girls. To the conventions of ordinary dressing, Watanabe's subjects added their own eccentric styling (mesh slippers with suits) and sexual bravura that was always outsize. They battled for a living on the fringes of what the critic Iizawa Kotaro called "violence and Eros," with the aid of some highly specialized armor.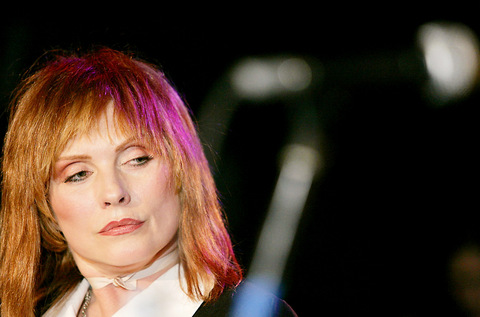 Deborah Harry thinks New York is becoming bland.
Ludicrous they may seem at times, and also jaunty and improvisatory and even elegant. Yet their most moving dimension, which shines through Watanabe's photographs, was their determination to abide by street law and never to come off as soft.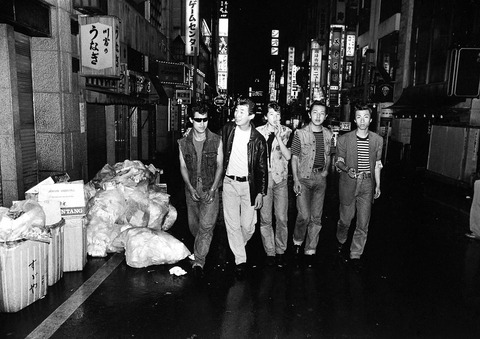 A seedy area of Tokyo, a section since demolished and redeveloped, was captured by the photographer Watanabe Katsumi in the 1960s and 1970s. The underbelly of the city and its inhabitants exude a familiar style.
Comments will be moderated. Keep comments relevant to the article. Remarks containing abusive and obscene language, personal attacks of any kind or promotion will be removed and the user banned. Final decision will be at the discretion of the Taipei Times.