Tourists dig deep, travel far, to find their inner selves
Spiritual tourism is taking off. Tours with religious themes are becoming more popular as tourists swap decadent getaways for a hgher sense of purpose
In 1970, Mirabai Bush was among the forward guard of Westerners who made their way to India in search of spiritual fulfillment. Toting tattered copies of Journey to the East and Autobiography of a Yogi, she accompanied friends who traveled third class on trains and slept on monastery floors in their sleeping bags.
"Coming from relatively cushy backgrounds, living without material comfort was a big part of our spiritual education," said Bush, now the executive director of the Center for Contemplative Mind in Society, a nonprofit organization in Northampton, Massachusetts.
On her latest pilgrimage to India two years ago, though, she found that enlightenment and luxury were not mutually exclusive. She and a friend stayed at Ananda, a luxury spa in the Himalayan foothills overlooking Rishikesh, the holy Hindu city near the source of the Ganges River. Rates there ranged from US$430 for single rooms to US$1,600 for suites.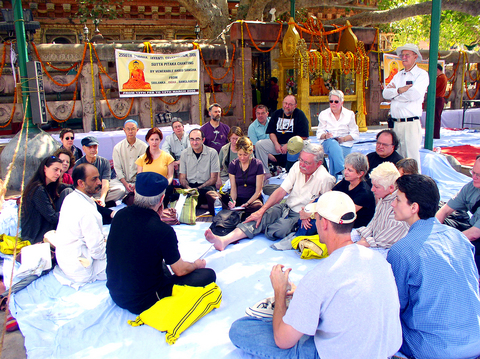 Shantum Seth attracts 20 to 25 people to his tours that focus on Buddhism, as seen in Bodh Gaya, India, in Feb., 2006.
PHOTO: NY TIMES NEWS SERVICE
In addition to joining other daily activities organized by the hotel, like yoga and meditation, Bush and her friend hiked up a hill to an ashram where a Hindu guru blessed them. They also took trips to the river for an evening ritual called Arti. "It was divine," she said.
Bush is among those who have added nontraditional variations to the age-old concept of the spiritual quest.
The Buddha himself helped set spiritual tourism in motion 2,500 years ago when he encouraged followers to visit sites important to his life. Muslims undertake a scripturally prescribed hajj to Mecca in Saudi Arabia at least once in their lives. Hindus attend the huge Kumbha Mela festival, rotating among four sites every 12 years. Sikhs visit the Golden Temple at Amritsar in India. And Christians and Jews trek to the Holy Land.
Kripalu Center for Yoga & Health guests and staff meditate in kayaks at dawn on Lake Mahkeenac in Stockbridge, Massachusetts, on July 6, 2006.
PHOTO: NY TIMES NEWS SERVICE
In its many forms, spiritual tourism is the "oldest and now one of the fastest-growing segments in the travel industry," said Dallen Timothy, an associate professor at Arizona State University and a co-editor of Tourism, Religion & Spiritual Journeys (Routledge, 2006).
Timothy said the niche could also be hard to quantify, partly because of its changing definition. It now embraces yoga and other retreats, metaphysical quests, astrology and adventure tours, visits to places like Stonehenge in England and weekends at New Age spas and wellness centers.
The rising popularity of spiritual tourism can be traced to several factors, including a trend toward vacations that help travelers achieve a higher sense of purpose through volunteering, education, culture and art. In addition, travel experts cite a growing middle class of expatriate and domestic Asians and Middle Easterners whose religions prescribe traveling to places they hold holy.
Raymond Bickson, managing director of Taj Hotels and Resorts, based in Mumbai, said that "as baby boomers age and gray, they have more time and more disposable income to look within." Three years ago, noticing that many of the guests at his 57 hotels in India were seeking spiritual experiences, he added activities like meditation sessions and chanting ceremonies to his spa program. Revenue from spa programs has tripled since then, he said.
The new breed of spiritual travelers "used to be the Lonely Planet crowd," he said, referring to the guidebooks aimed at those who prefer to experience a place the way the locals do. "Now, still at the cutting edge of the New Age, wellness and spiritual frontiers, they continue to travel to feed their souls. They just want to do it without giving up their creature comforts."
Some travelers find that traditional religious institutions are not the only places to find spiritual sustenance — or maybe not the place at all.
"For some of these people, spas are the new church," said Mary Tabacchi, an associate professor at the School of Hotel Administration at Cornell. "They offer a nonthreatening environment that allows people the time and space away from their ordinary lives to connect to something which they describe as spiritual."
Spa marketing materials reflect this understanding, using words that "parallel the language of religion," she said. For example, Leading Hotels of the World, a luxury lodging marketing company, started a spa division last year with the promotional line "Let us enlighten you." The spas emphasize the relationship of body, mind and spirit.
With this wider definition, spiritual tours now include journeys like these:
? Trips focused on astrology and mythology, from Ancient Oracle Tours. One package, called a healing journey, explores mysteries of Hermes, Dionysus and Asklepius in Greece. (The 14-day trips are US$3,350, including air fare within — but not to — Greece.)
? Journeys with a team-building and training organization called Way of Adventure. It offers the "Mountains and Monasteries Expedition — In Search of Shangri-la," a hiking and Jeep expedition to Tibetan regions of northern India. (The 16-day tour is US$2,900, including air fare only within India).
? Pilgrimages to Medjugorje, in Bosnia-Herzegovina. Various groups offer tours to this site, where six teenagers said they had visions of the Madonna in 1981.
? Travels to the lands of medieval saints and mystics of Umbria, Italy. Organized by the priest at the Anglican-Episcopal Church in Orvieto, these trips for women combine visits to cities where St. Benedict, St. Francis of Assisi, St. Thomas Aquinas and others lived; meals feature local foods like truffles and porcini mushrooms. The price is US$2,950 for 12 days, including air fare from Boston.
In a survey released last month, the Travel Industry Association found that 25 percent of respondents in a representative sample of 1,500 adults said they were interested in spiritual vacations. The appeal of such journeys was equally spread among three age groups, 18 to 34, 35 to 54 and 55 and over.
While such research and studies are scant, anecdotal evidence from individual tour operators, retreat centers and spas points to growth.
At the Kripalu Center for Yoga and Health in Stockbridge, Massachusetts, the number of guests has increased 20 percent since 2003, to 30,000 a year. An expansion will add 80 guest rooms in 2008, bringing the total to 278.
Shantum Seth, who leads a journey in India called "In the Footsteps of the Buddha," said that three people signed up for his first 15-day tour in 1988. Now 20 to 25 people sign up for each of three tours he leads a year; the cost is about US$4,800 a person.
Some regions now market their spiritual side. In 2004, the ministry of tourism and culture in India sponsored an international meeting on Buddhism and spiritual tourism. In October, the Cyprus tourism organization was host for an international conference on religious tourism, under the auspices of a UN agency.
In Sedona, Arizona, the local chamber of commerce created the Sedona Metaphysical/Spiritual Association to help travelers explore the spiritual aspects of the region, which is said to be a site of healing energy forces.
Some travelers say their spiritual trips, whatever form they take, can lead to breakthroughs in their lives. Chip Conley, the chief executive of Joie de Vivre Hospitality, a San Francisco-based group of 20 hotels, spent three days in September at a Benedictine monastery in Austria at a conference called "Global Dialogs for Inspiration," sponsored by the Waldzell Institute.
The author of several business books, Conley was struggling at the time to finish his next book. But he said he had a breakthrough after hearing a Tibetan woman sing. "She touched my soul in such a deep way," he said. "God bless her."
Comments will be moderated. Keep comments relevant to the article. Remarks containing abusive and obscene language, personal attacks of any kind or promotion will be removed and the user banned. Final decision will be at the discretion of the Taipei Times.