Classical DVD Reivew
DAS RHEINGOLD

Directed by Joachim Schlomer

Probst, Schuster, Indridadottir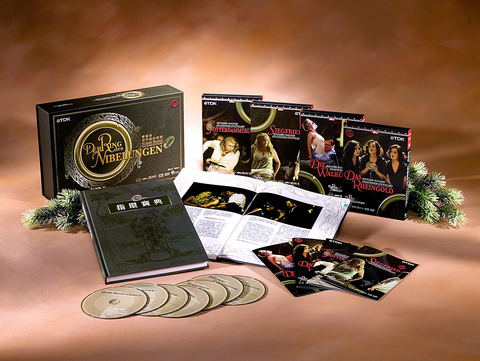 The new set of Der Ring Des Nibelungen, staged by Staatsoper Stuttgart in 2002.
PHOTO COURTESY OF JINGO
JINGO JDV 311062
DIE WALKURE

Directed by Christoph Nel

Behle, Rootering, Denoke

JINGO JDV 311063
SIEGFRIED

Directed by Wieler and Morabito

West, Schone, Gasteen

JINGO JDV 311064
GOTTERDAMMERUNG
Directed by Peter Konwitschny

De Vol, Bonnema, Bracht

JINGO JDV 311065
I won't spend the whole of this review bemoaning the shortcomings of modern versions of Wagner's operas. This new set of Der Ring Des Nibelungen, staged by Staatsoper Stuttgart in 2002, certainly comes into this category, with Mime shaking out packet soups at the opening of Siegfried (Wagner had him trying to forge a sword), Siegfried rolling a cannabis spliff, and numerous other incongruities. I will simply repeat that I find more traditional versions, such as those conducted by Levine and Boulez, more satisfying because they better accord with the grandeur of the music and assist the subliminal power of the archetypal myths that are these operas' subject matter.
That said, how does this new version, distributed in Taiwan by Jingo, square up? As far as innovative productions go, it has some strong points. Musically it's magnificently played and often finely sung, even though few of the soloists are international celebrities. This is arguably the best DVD Ring available as far as the orchestral sound is concerned. Though each of the four operas has a different director and stage designer, and a different cast, the conductor, Lothar Zagrosek, remains in place throughout.
But it's the eccentric stagings that will strike viewers first. Das Rheingold is set in what looks like a 1930s hotel lobby. A gallery runs the width of the stage, while in the foreground stands a circular fountain bowl in which various characters are able to splash around. The gallery (with an elevator at one side) allows for the differences in level between the abode of the gods, the Rhine, and subterranean Nibelheim, while the fountain basin allows the Rhinemaidens to swim about, and various other characters to come to grief as the action proceeds.
The most successful opera — with its kitchen, frontier-fence and bedroom settings — is Siegfried. Jon Fredric West as Siegfried and Lisa Gasteen as Brunnhilde are both vocally magnificent. But it's nonetheless one of the features of this kind of production that we marvel when the occasional detail happens to accord with what's described in the text. Wotan, for instance, whose hat is so often mentioned, here at least wears a baseball cap (in a recent production in Canada he was bare-headed). But by and large such matches are incidental, chance plusses where you could have had 100 percent fidelity had the director so opted.
Once you've accepted these unfaithful readings, though, there are some pleasures to be had. The two giants in Rheingold are memorably presented as yobbish con men. The South Korean bass Attila Jun is outstanding as Hunding in Walkure (he's also Fafner in the third opera). Mime's dead body in Siegfried is dramatically seen propped up against wire-mesh netting, like a corpse in a concentration camp. The Woodbird looks like a contemporary urchin, Wotan sports a grotesquely protruding glass eye, while the drug-smoking Siegfried is offered as an overweight teenager in a T-shirt proclaiming "Sieg Fried."
All in all, this version as a whole has a hallucinatory quality that's in places quite appealing. I found it preferable to Jingo's Barcelona version (Opus Arte OA 0910-13 D), and it thus comes in third in my evaluation of the DVD versions currently available.
An ideal stage version of these operas would, for me, use advanced modern technology to re-create the syrupy dream world of such 1890s painters as Franz Moser, Max Brucker and William Kempin (paradoxically illustrated in the sumptuous Chinese-language book that accompanies this boxed set). It would more recall the imaginative worlds of contemporary Japanese ghost movies than the kitchen sinks and cooking aprons so popular with these Stuttgart directors.
The problem with eccentric productions such as these is that you can't help feeling many of the directors involved dislike opera as an art form and are trying, none too secretly, to discredit and subvert it. You wouldn't think, coming in all innocence to these DVDs, that they are versions of the greatest musico-dramatic works ever written (or that the major contenders for the title are also by Richard Wagner).
Moments of old-fashioned theatricality do emerge in Gotterdammerung — Hagen's men carrying burning torches, a photographed mountain lake, plus a purling stream — but the singers remain incongruously modern-day. Vocally, too, this is the most ill-sorted of the four. Delayed and muted applause greets the ending in which Wagner's written stage directions, describing fire and flood, scroll up the screen, while the camera pans across an audience staring disconcertedly at an empty stage, possibly recalling just how much they paid to watch this non-experience.
Jingo is nevertheless to be praised for making alternative Ring cycles available to Taiwanese viewers so they can judge for themselves. (They also released the stark Barcelona version, reviewed in Taipei Times May 4, 2006, while the more traditional Levine and Boulez versions come from Deutsche Grammophon and Philips respectively).
Another plus for this set, in addition to its instrumental excellence, is that the English subtitles are astutely judged and are all in all the best I've seen anywhere. Chinese subtitles are also available.
Whether this Ring will convert you to the modernist style will depend on your tastes. My suggestion is that you invest in Siegfried to test the waters and, if you enjoy that, take your chance with the other three works.
Comments will be moderated. Keep comments relevant to the article. Remarks containing abusive and obscene language, personal attacks of any kind or promotion will be removed and the user banned. Final decision will be at the discretion of the Taipei Times.