It's crazy zero time at Miami Basel
It is challenging trying to get a rise out of a crowd so aesthetically jaded that its idea of a shocking performance is an artist arranging to have himself shot (Chris Burden) or else shooting a dog (Tom Otterness), crawling into a cage with live wolves (Joseph Beuys) or building a realistic sculpture of a man having carnal relations with a barnyard animal (Paul McCarthy.)
Yet that's what Dita von Teese did on Thursday night, using some pretty simple artistic means. In what had to be a highlight of Art Basel Miami Beach, the four-day, three-night culture orgy that annually sweeps over this glorified sandbar, von Teese mounted a stage set in a pool at the Delano Hotel and did one of her signature burlesque shows, a coy striptease that left her naked except for a G-string and pink crystal pasties, straddling a giant lipstick that bucked like a mechanical bull.
What felt most refreshing about von Teese's performance was that she took it all off at a time when everyone else seems to be piling it on.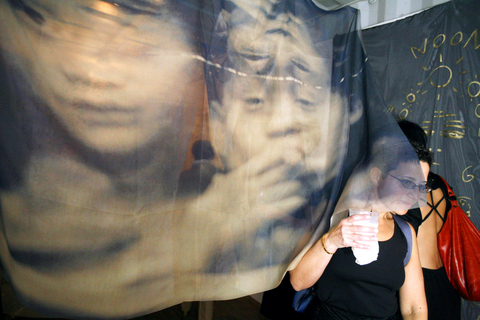 Mianmar Miroir, an installation by the Brazilian artist Cabelo in a container at Art Positions in Miami Beach, Florida.
PHOTOS: NY TIMES NEWS SERVICE
"Yo estoy tormento," a partygoer at the Moore Space gallery downtown moaned theatrically two nights earlier at the start of what everyone calls Miami Basel, the most frenzied, relentless and arguably the hottest trade fair in the hemisphere. The party was in honor of an installation by John Bock and was sponsored, as virtually everything is during this frenzy of cross-platform marketing, by a consumer product unrelated to art. The product was C Tormenta, an energy drink.
Far from being the only event of the evening, the Bock party was a pit stop on a social marathon. For people locally referred to as VVVIPs that might include, say, a business breakfast with Steven A. Cohen, the multibillionaire collector; a lunch given by the art dealer Larry Gagosian; a stop at a Yoko Ono installation in a hotel lobby; a cocktail party at a US$14 million trophy apartment, which happens to be on the market; a dinner with Michael Douglas and Catherine Zeta-Jones given by a billionaire Turkish developer; and an after-party given by Colette Dance Class from Paris at a club called Mansion. After that, well in Miami Beach the night is always young.
All of these things, of course, are auxiliary to the main event, which is the art fair or fairs.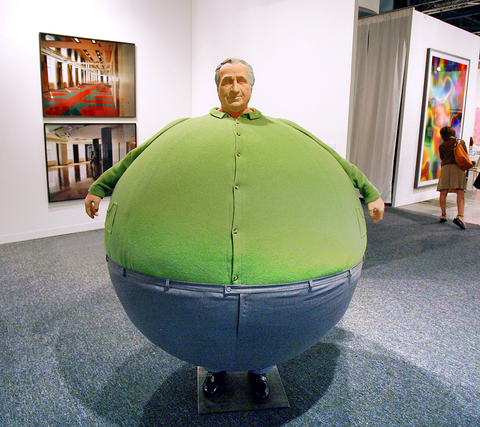 The Artist Who Swallowed the World by Erwin Wurm, shown by Krinzinger Gallery, Vienna in Miami Beach, Florida.
"Now you have Pulse, Flow, Aqua, Nada, Scope and the Design Miami fair downtown," said Mary Hoeveler, who runs Citigroup's art advisory, a sort of personal shopping service for aesthetically enlightened plutocrats. Hoeveler was referring to the satellite fairs that have sprung up like camp followers to the main art fair, each organized to accommodate a market segment and each held in one of the city's seemingly limitless supply of disused warehouses or boutique hotels.
"Miami stakes it all on Miami Basel now," she said, and it is certainly true that where the beach once seemed wreathed in a fog bank of Hawaiian Tropic tanning lotion, the sweet aroma of wealth now floats in the air. "The money is burning a hole in people's pockets, and they're here to spend," Hoeveler said.
Just to thumb-tap all the pertinent social data of a day into a BlackBerry might induce torment, seizure or at least repetitive stress injury. But it would be good pain for the roughly 38,000 people who descended on this beach town and is easily cured by opening one's wallet and watching bills fly.
"They're getting so rich so fast now it's hard to keep up," said someone in the crowd that formed early on Wednesday, "Supermarket Sweep"-style, outside the Convention Center, awaiting a signal for the noontime VIP preview to begin.
When the doors opened, the throng rushed forward, racing toward favorite dealers' booths. These were not housewives wearing kerchiefs and rollers but socialites and hedge fund billionaires and Silicon Valley tyros and Palm Beach matrons with faces as taut and expressionless as the ones on inflatable love dolls.
"Art Basel essentially invented Miami Basel to cater to North American and South American capital," said Nadja Swarovski, of the famous crystal manufacturing company, who sponsors one of the week's big events. Swarovski was referring to Miami Basel's parent entity, a respected traditional art fair in Switzerland. "The world is flat now," Swarovski said. "The borders are breaking down. Cultures are merging."
Galloping democratization has struck the once rarefied hobby of art collecting, for instance, as the dealers first found and then fell on the reserves of capital that were lying around untapped in places like Mexico, India, the Persian Gulf states and Brazil.
Little about art collecting as a competitive high stakes game may be new. Yet the broadening of the consumer base is, and so is the inescapable truth that the trade is now substantially driven by marquee auctions and art fairs that come to feel like circuit parties for the ultrarich.
The profile of an average conventioneer at Miami Basel can perhaps be deduced from the number of private jets leased to fly here this week. NetJets alone — to name a leading vendor of shared jet ownership — booked 216 flights to Miami for this year's fair, a 44 percent increase over two years ago.
"I'm just making the first round," said Beth Rudin DeWoody, the philanthropist and collector, on Wednesday as she power-walked the aisles of the main fair, scattering in her path the red dots that signify a work has been sold.
"Crazy zeros" is how one longtime collector termed current art pricing. Pull a figure out of a hat and add a random nought or two.
Comments will be moderated. Keep comments relevant to the article. Remarks containing abusive and obscene language, personal attacks of any kind or promotion will be removed and the user banned. Final decision will be at the discretion of the Taipei Times.