Tainaner Ensemble gets fresh, but not fruity
New Ideas Theater Festival (新點子戲展) continues with its theme of experimentation this weekend when Tainaner Ensemble (台南人劇團) updates The Tale of the White Snake (白蛇傳), a classic Chinese story, with a Taiwanese-language adaptation called White Snake (白水) at the CKS Cultural Center's Experimental Theater (實驗劇場).
Tainaner Ensemble unites both physical and text-based theater and has been instrumental in pioneering a distinctive performance style called "the score of voice and body," — a style that can be seen as taking elements from both traditional and contemporary theater.
With recent productions of Western classics such as Antigone, Macbeth, Endgame and Lysistrata, Tainaner Ensemble has become one of Taiwan's most well-known troupes for exploring the possibilities of adapting Western canonical works into "Minnanyu," or Taiwanese. With White Snake the ensemble has put aside its Western sources in favor of a Chinese love story.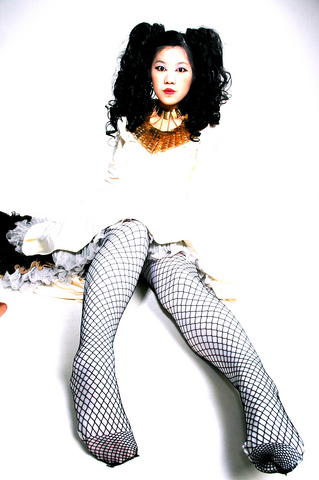 Although there are a few songs, Tainaner's White Snake is not a musical.
PHOTO COURTESY OF NTCH
White Snake tells the story of a white snake who, curious about the lives of humans, transforms herself into a beautiful girl and becomes apart of the human world. She then falls in love with a young scholar, who returns her love. The couple eventually marries and all is going well until a monk discovers the snake hiding behind the mask of the woman and eventually exposes her true identity to the young man. The white snake then transforms back into her former shape which scares her husband so much that he dies of shock.
The script is adapted from Taiwanese playwright Tian Chi-yuan's (田啟元) White Tide, which caused a sensation when it was first performed, because instead of having the white snake played by a woman, her character — and all the characters on stage — were played by men, the purpose of which was to allow Tian to explore themes of homosexuality. Though the current production doesn't deal with issues of sexuality, it does retain the vibrant Taiwanese of Tian's original.
The director of the production, Lu Po-shen (呂柏伸), updates Tian's original production by infusing it with songs to help move the narrative forward. "It's more like a song production. I asked a composer to write 14 songs — but [Tian's] words are our lyrics as well," said Lu. The addition of a chorus consisting of seven singers provides different voices to the work. But Lu is quick to point out that the performance is not a musical. "The original language used in the play lends itself to music, which is why we chose to adapt it to song," he said.
And it is Tian's language that Lu is most excited about presenting to Taipei audiences because it is both unique stylistically and most readily compliments the western works that his ensemble is so interested in staging.
Publication Notes
Performance notes:
What: New Idea Theater (新點子戲展): White Snake (白水)
Where: National Experimental Theater (國家戲劇院實驗劇場)
When: Today and tomorrow at 7:30pm, tomorrow and Sunday at 2:30pm
Tickets: All Taipei performances are NT$400 and tickets are available through NTCH ticketing
Comments will be moderated. Keep comments relevant to the article. Remarks containing abusive and obscene language, personal attacks of any kind or promotion will be removed and the user banned. Final decision will be at the discretion of the Taipei Times.