There's room at the inn
Invariably sold-out performances have empty seats. What is to be done?
Over the last seven days, two ancillary issues came to mind during classical evenings in Taipei — the problem of empty seats at sold-out performances, and the question of the antique clothing classical musicians still persist in wearing.
It happens all over Asia, and Taiwan is no exception — shows are announced as sold out, but when you arrive there are empty seats on every hand.
This was the case with last weekend's The Magic Flute, staged as part of the Taipei Symphony Orchestra's Mozart anniversary celebrations. At a rehearsal on the Tuesday, singers had told me their friends were unable to buy tickets, but at the premiere on the Friday evening at least 50 empty seats were clearly visible in Taipei's Zhongshan Hall's stalls alone.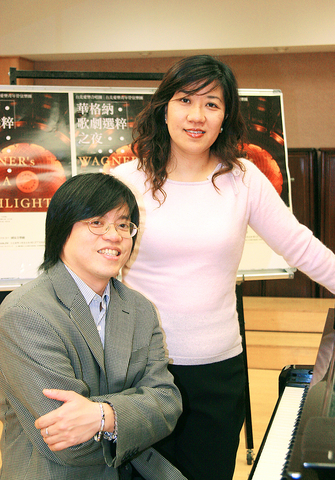 Though Jessica Chen Hsing-an, right, proved a hit in the Wagner Highlights, the performance lacked the oomph provided by scenery and stage action.
PHOTO COURTESY OF TSO
Why does this happen? The answer is almost certainly that complimentary tickets are sent out to business sponsors and government officials, but they either forget to attend, or were not interested in attending in the first place.
How can such situations be avoided? The difficulty is that, if tickets have been sent to eminent individuals, the organization concerned can't risk selling them at the eleventh hour, and then have the individuals showing up at the last minute.
I suggest one method of avoiding this. Instead of V.I.P.s being mailed tickets, their secretaries should be asked whether or not they're interested in attending. If the answer is "Yes," then places should be reserved, but no actual tickets issued. Three days before the performance they should be asked to re-confirm their intention of being there.
A friend in show business adds that they should be told in addition that if the tickets aren't collected 15 minutes prior to the start, the theater would be free to sell them. It seems to me that, with ever-possible traffic congestion, this may be a little too stringent. Even so, something must be done to avoid a situation where the hard work of musicians goes out into half-empty air.
I believe that, when a company is sustained by public funds, all unsold seats should be given away free, or for a token payment, immediately prior to curtain-up. Artists enjoy full-houses, and if patrons who have paid full prices object, they can at least console themselves with the thought that they're above lining up for the possibility of last-minute freebies.
Last Monday's Wagner Opera Highlights event in the National Concert Hall, organized by the Taipei Philharmonic Foundation, led to thoughts on the appropriate dress for performers in such events. As expected, all 200 or more artists on stage — orchestra, chorus and soloists — were decked out in formal evening wear. This admittedly remains the international norm, but it isn't an unchallengeable convention.
The habit dates from the era when theatergoers and concertgoers in the more expensive seats themselves wore such attire. Earlier, musicians had worn uniforms, a distinctive one for each orchestra, much in the way military and other bands are still dressed. But it came to be felt that these impoverished musicians (as they often were 100 years ago) would be less of an embarrassment if, in appearance at least, they resembled the patrons sitting closest to them.
But today no audience members are dressed like that, and the artists are left stranded in clothes that suggest, to the young especially, the old-fashioned nature of the music they're performing.
"But what would you want them to wear?" ask the traditionalists. Perhaps one of the main attractions of abandoning this convention would be that you would never know what to expect. Artists are artists, after all — let them apply their creativity to their apparel. Mozart was excited to wear a new red jacket when playing his piano concertos in public. Let soloists today do the same. They won't have to go to the extremes of Nigel Kennedy, though they can if they like.
As for the performances themselves, The Magic Flute was everywhere satisfactory, and in places enjoyable. Most notably, the Taipei Symphony Orchestra under Andras Ligeti played with great refinement. With a band reduced to just 40 instrumentalists, plus a glockenspiel rendered on an electronic keyboard, this approached the pre-Romantic Era sound that Mozart himself might have heard.
The Wagner Highlights evening, though also enjoyable, proved once again that Wagner without scenery and stage action is only half the deal. Even so, it was wonderful to hear again Jessica Chen Hsing-an (陳興安) and Chong-Boon Liau (廖聰文) as the soloists. The former is a major talent currently bestowing her strengths on Malaysia, Indonesia and Thailand, whereas she should be taking major roles in Europe and the US. Maybe this development will soon come to pass.
Comments will be moderated. Keep comments relevant to the article. Remarks containing abusive and obscene language, personal attacks of any kind or promotion will be removed and the user banned. Final decision will be at the discretion of the Taipei Times.