Silent cinema has never been this loud
Before The Jazz Singer came out in 1927, the world of cinema was silent. But the silent cinema was not totally silent. It was a common practice for films to be accompanied by pianists, accordionists or orchestras. Starting today at the auditorium of National Palace Museum (國立故宮博物院), the music and film festival New is Old: Sound of Silence (故宮世界觀點影像展系列2:靜默之聲) will show 10 silent movie classics, and mix them up with live musical performances — but with a difference. The program runs through Sept. 17.
A word of warning: don't expect orchestral sounds from the pit. The festival calls on a troupe of local DJs and musicians to indulge their imaginations and experiment with a variety of modern musical styles.
Take The Cabinet of Dr. Caligari (1920) for example. The representative work of German expressionism will be translated into a world of atonal audio attack by fish.the and DJ duo i/O sound. DJ Monbaza has been inspired by the eerie ambiance in German master F.W. Murnau's Dracula masterpiece Nosferatu (1922) and created an invisible terror the assaults the senses.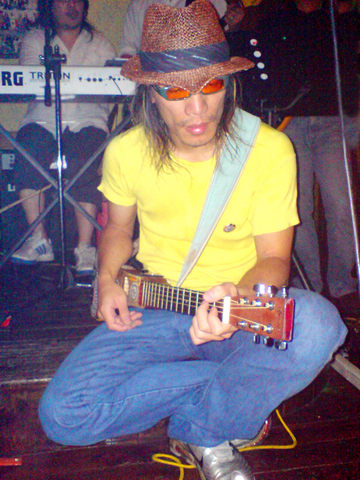 Joy Topper will give Buster Keaton's The General a new voice.
PHOTO COURTESY OF CINEMA
Young and peppey DJ trio ADSCription will soothe the nerves with lively sounds to accompany silent shorts such as Un Chien Andalou (1928) by Spanish master Luis Bunuel and Voyage dans la Lune (1902) by French innovator Georges Melies. Whether working from a laptop or spinning CDs or LPs, the artists are here to probe the vast psychological space left open by the empty audio track of silent movies.
"Hopefully, audiences will come with an open mind, enjoy a feast of live musical performances where they can appreciate the artists' creative interpretations of the classics," said festival curator Angelika Wang (王耿瑜).
Among all the fresh new tunes, the most peculiar mix and match seems to be DJ Ty's soundtrack for Triumph of the Will (1935), the documentary glorifying Hitler that has made director Leni Riefenstahl such a controversial figure. Steering away from the issues and discourses behind the film, the New Zealand-educated DJ is set to amuse and entertain with his funky mixture of Mandarin and Chinese old songs, Taiwanese puppet theater-themed tunes, Taiwan martial music, and MC Hotdog's hit I Love Taimei (我愛台妹).
"Localization rules these days. So I put local elements to make the solemn imagery more human and appealing in the hope that audiences will come out of the theater with big smiles on their face," DJ Ty said.
Apart from the electronica, rapper rebel Joy Topper (朱頭皮) will lead a three-piece ensemble to complement Buster Keaton's 1927 slapstick comedy The General. With the aid of keyboard, electric guitar and his daughter banging on percussion instruments, the musician/comedian will serve as an off-screen narrator/interpreter for the silent classic. We can expect 90-minute of hilarity from the idiosyncratic funnyman.
As for comedy master Charlie Chaplin's 1931 scripture City Lights, veteran musician and composer Chen Yang (陳揚) will put on an interactive music show accompanying today's screening at 2:30pm. Lurking in the audience seats, Chen will ask viewers to make sounds that are digitally processed and played back during the screening.
Admission is free of charge except for today's opening film for which tickets must be procured in advance. For more information, call (02) 2370-1666 or visit www.npm.gov.tw/hotnews/filmfestival/index.html.
Comments will be moderated. Keep comments relevant to the article. Remarks containing abusive and obscene language, personal attacks of any kind or promotion will be removed and the user banned. Final decision will be at the discretion of the Taipei Times.