The town where life imitates art
For his nightly role in the sprawling Pageant of the Masters, Michael Ziegler disrobes and stands patiently for 45 minutes while a makeup artist paints his body silver from head to toe.
"I feel a little bit warm and greasy," he said on a recent evening as he staggered cautiously out of a dressing room with his arms and legs wide apart so as not to smear the paint, like a horror-film mummy in G-string and flip-flops.
Yet after all that preparation, Ziegler, a 53-year-old airline customer service representative, goes onstage and does nothing. For 90 seconds, he stands utterly still — with one leg and arm outstretched, like the confederate across from him — in a re-creation of The Dancers, a bronze sculpture by a largely forgotten artist.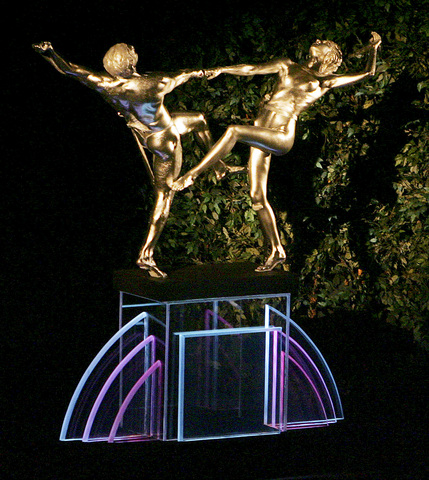 Michael Ziegler, left, and fellow cast member Joy Shirkani-Monson, right, pictured in a recreation of The Dancers by Harriet Whitney Frishmuth during their performance in the Pageant of the Masters in Laguna Beach, California.
PHOTOS: NY TIMES NEWS SERVICE
Is the tableau vivant passe? Not for the 155,000 fans who flock to this beachside town each summer for the pageant. For them, the two-month extravaganza — a US$4.1 million production that includes sets and lighting for nearly 40 art pieces on eight staging areas with live narration and orchestra – weaves a magic that is a welcome palliative to the freneticism of modern-day entertainment.
The Pageant of the Masters dates back to 1933, when a much smaller version was organized to publicize an arts festival featuring local artists, which is still held in tandem with the pageant each summer (this year from July 7 to Sept. 1.). Today the tableau vivant pageant has an all-volunteer cast of about 300, and over the years it has added themes, movement, singing and surprises — from a cowboy on a real horse to the uncorking of a 6m-tall champagne bottle — to maintain its appeal.
The pageant sells out all of its 61 shows and generates about US$1.8 million for local arts programs, exhibitions and scholarships, said Anita Mangels, president of the pageant board. It has been so successful that the main struggle, at times a source of acrimony among board members, has been to keep it in Laguna Beach and fend off offers to franchise it.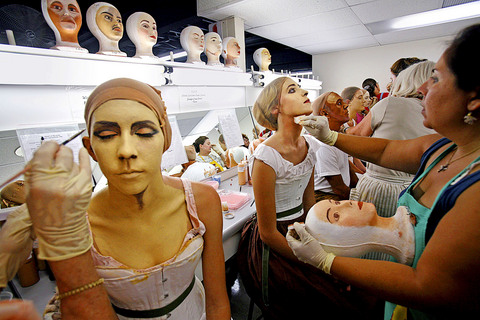 Cast members wait to go onstage shortly before a performance at the Pageant of the Masters in Laguna Beach, California.
"It's an indescribable art form that one must see to appreciate," Mangels said. "Part of what makes it unique is that you can only see it in its original setting two months a year."
From the 2,600 seats in the Irvine Bowl, the amphitheater where the pageant is presented under often starry skies, what the audience takes in is in some respect a trick of the eye. For the re-creation of paintings, humans are positioned to take the place of characters in reproductions than can be as big as 10m wide and 4m high. The models are then made two-dimensional by lighting and the elimination of shadows.
As sets are rolled in and out, the models are sometimes shown taking their positions in semidarkness. The stage darkens completely, and then the lights go on to reveal the models frozen inside the frame.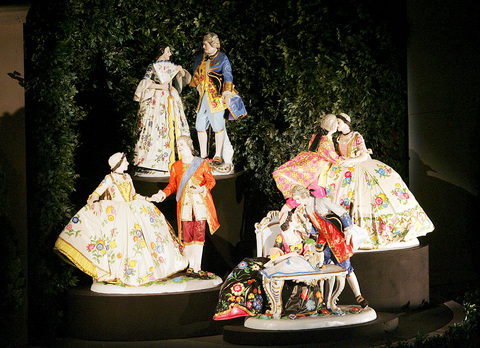 Cast members are shown in a recreation of Porcelain Lovers by J. Kaendler and P. Reinicke, pictured during a performance in the Pageant of the Masters in Laguna Beach, California.
Gasps are often heard from the audience as the scene is illuminated. Ninety seconds later the set goes dark again and the image is gone, as ephemeral as lightning.
"It's never relaxed," said Diane Challis Davy, the pageant's director since 1996. "If one person in the chain is not doing the job, it can have disastrous effects."
This year's theme is A Passion for Art, with a lineup of 38 tableaus, including love-themed paintings like The Suitor's Visit (around 1658) by the Dutch realist painter Gerard ter Borch, The Stolen Kiss by Fragonard and lusty sculptures like Rodin's Eternal Spring, as well as posters, prints and pendants honoring such aids to love as perfume and alcohol. The one departure from the theme, but a constant from year to year, is the finale, Leonardo's Last Supper, in which — in a coincidental nod to Dan Brown's Da Vinci Code — the role of John has for years been played by a woman.
"It's breathtaking," said Kevin Cole, a concert pianist visiting from Chicago, who saw the pageant for the first time on a recent Friday, often training binoculars on the stage. "There are so few things that create wonder in the adult world. This just leaves you in wonderment."
Dickran Tashjian, a professor emeritus of art history at the University of California at Irvine who has seen the pageant three times, says that he finds it a technical marvel but that it cannot be compared with standing before the original art.
"The real thing is a lot better than Pageant of the Masters," he said. "But if you see it as two different expressive forms, then the pageant is unique unto itself."
Behind the scenes, materials like wood, plastic foam and plastic wrap are used to re-create the setting of the original artwork. Face and body makeup incorporates the shadows and colors of the painting.
To remain as still as possible onstage, the models use aids like steel posts and safety belts for support while breathing shallowly and trying to control any sudden cramp or sneeze. (On a recent night, the only movements detected by a reporter were the slight tilting of a head and a heaving chest.)
For The Dancers, a 1921 bronze sculpture by the American artist Harriet Whitney Frishmuth, Ziegler is fastened to supports in five different places for a pose that requires him to hold both left leg and left arm in the air while leaning back.
"Your neck hurts and your back hurts," he said, calling the pose the most difficult he has attempted in 20 years with the pageant. "Your neck is almost horizontal to the ground and you're hanging on with just one hand."
But like much of the audience, cast and backstage crew (another 150 to 200 volunteers who do makeup, wardrobe and sets), he comes back year after year. His partner in The Dancers montage, Joy Shirkani-Monson, 32, first appeared on the pageant at 10 and has recently enlisted her three young children.
This year, the pageant drew 800 aspirants to its casting call and, as usual, those who made it were chosen largely by their measurements. Because of the need for scale, many of the adult figures in paintings like El Jaleo, by John Singer Sargent, in which a woman dances flamenco with five guitarists and singers in the background, are portrayed by children as young as five.
The volunteers are divided into two casts, which alternate weeks performing. They commit to doing two summer months for no recompense other than applause, camaraderie and pride in keeping a tradition alive.
A sprinkling of celebrities have taken part over the years; last year, the actress Teri Hatcher appeared with her daughter. The pageant has such a loyal following that some volunteers have put in more than 30 years and whole families now make it a summer pastime.
"It's become a second home," Shirkani-Monson said. "It's always fun and happy."
Some, like Jesus and his 12 disciples in The Last Supper, have become so tight that they break bread for real once a week. But others enjoy modeling a new pose each year. Ziegler was once a 1953 Buick hood ornament, and he takes pride in being fit enough to perform nearly nude at 53.
In a patio behind the stage on a recent night, little costumed geishas from woodblock prints mingled with figures from Meissen porcelain and a naked golden sculpture shielded by a "modesty panel" as the models waited for their turn to go on. Some children whiled away the time by playing board games.
Among them was Blake Del Rey, seven, who poses for his minute and a half with his head tilted back in El Jaleo. A budding actor who has appeared in musicals around Orange County, Blake is a newcomer to the pageant and still working hard on the not-moving part.
"You're only allowed to blink, but I've been breathing a lot," he said. "Now I'm trying to breathe with my nose."
Adults have their own challenges trying to stay put. "If I start thinking about the pose, sometimes my leg cramps up and I start to shake," Ziegler said. "Or my arm hurts, and the more I think about it, the more it hurts. I try to think about something that's going on at work."
Positioned as a mirror image of him, Shirkani-Monson said she sometimes drifts away and thinks about things she needs to do the next day, like buying tomato sauce at the grocery story. "I snap back and say, I'm in the middle of 2,500 people — I hope I didn't move."
Many of the volunteers say they are already looking forward to next year and 2008 when the show and its accompanying arts festival will celebrate their 75th anniversaries. The concept for the pageant has already being chosen: Young at Heart.
Comments will be moderated. Keep comments relevant to the article. Remarks containing abusive and obscene language, personal attacks of any kind or promotion will be removed and the user banned. Final decision will be at the discretion of the Taipei Times.