FTV wins the battle of the rock festivals
An independent record label's bid to stage an alternative Hohaiyan rock festival ended this week, after Typhoon Bilis prompted a schedule conflict with the official event.
Taiwan Colors Music (TCM, 角頭音樂) had organized the annual summer alt/indie rock festival on Fulong beach in Taipei County for the last six years, growing it into Taiwan's largest rock 'n' roll event. But this year Formosa TV (FTV, 民視) was chosen to run the show, which it had originally scheduled for this weekend.
Saying he had an obligation to music fans, Chang Yi-ping (張議平), popularly known as Chang43 (張43) planned a competing festival for the same venue. It was to be held next weekend. But on Wednesday, FTV postponed the official Hohaiyan festival, forcing TCM to cancel theirs.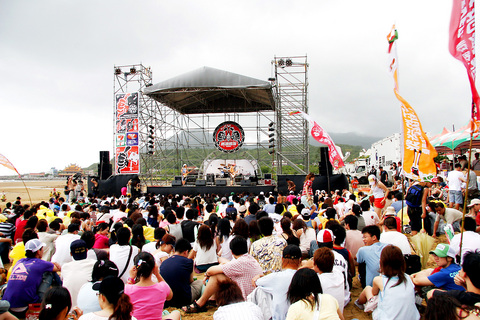 Music lovers and performers have made the Hohaiyan festival a popular event. This year, instead of battle of the bands, it's battle of the festival organizers.
PHOTO COURTESY OF TCM
"My feelings are very complicated right now," Chang said through a spokesman shortly after making his decision. "I don't have the time to think about the emotional side of this because there are so many things to deal with right now."
As of press time, FTV's "Ho-Hai-Yan Gongliao Rock Festival"(貢寮國際海洋音樂祭) was tentatively rescheduled for next weekend. Notable acts are to include old-school Chinese heavy metal band Black Panther (黑豹樂隊).
Check www.ftvet.com.tw/idol/hohai for the official Chinese-language program. International bands scheduled to perform in TCM's festival — including Japan's Dragon Ash and Miyavi, and Cuijian (崔健), the "grandfather of Chinese rock" — may or may not take part.
"We have suggested that they let the foreign bands play in their festival," a TCM spokesman said on Wednesday. "But we have not received a response."
In losing control of Hohaiyan, Chang and TCM, it seems, fell victim to their own success.
Unlike the organizers of Spring Scream, who are content to draw five-digit crowds to their annual party in Kenting, Chang and his indie record label aimed higher. Two years ago their annual Hohaiyan rock festival became Taiwan's largest, drawing a reported 100,000 fans, or 270,000 by Chang's estimate, to the sleepy seaside town of Fulong. Hohaiyan, with its battle of the bands, was hailed as the country's answer to Japan's Fuji Rock Festival.
That attracted interest from larger and larger companies. Two months ago, Taipei County and Gongliao Township officials rejected TCM's bid to host this year's event and handed the responsibility, along with millions of NT dollars in public money, to Formosa TV.
Undaunted, Chang prepared to run an independent festival. He signed on a record number of bands and set about raising money from sponsors.
"The Ho-Hai-Yan festival has become a dream for all upcoming bands,"he explained Tuesday in an interview at TCM's offices, when it looked like his festival would still go ahead. "It's their dream, and it's our dream too."
The battle of the bands was turning into the battle of the band organizers.
TCM' "Hohaiyan People's Rock Festival" (海洋人民音樂祭), which Chang had been planning for a year, was to feature 233 bands, including 13 from overseas. FTV copied TCM's format and signed on past Hohaiyan acts, such as Back Quarter (四分衛) and the Chairman (董事長), for its festival.
But the weather had other plans. Just in case, FTV had booked Fulong Beach through July 25. Chang was told he could use the venue when FTV no longer needed it.
On Tuesday, Formosa TV and officials representing Taipei County and Gongliao Township, where Fulong is located, announced that their festival would run as scheduled this weekend. But on Wednesday, Typhoon Bilis turned towards the island, and FTV changed the dates on its Web site to next weekend. TCM announced later that its festival was canceled. According to Chinese-language media, FTV sustained a financial loss of NT$5 million as a result of having to reschedule, while the cancelation cost TCM NT$4.5 million.
Festivals like Hohaiyan are big business and provide great publicity for their organizers, not to mention the officials who take credit, rightly or wrongly, for their success.
TCM received NT$22 million in support from corporate sponsors for this year's festival. The government tender, which FTV won this year, was worth NT$20 million. That's significantly more than the NT$2.5 million in government money TCM received for the first Hohaiyan festival.
When asked why the government chose a large media company to organize an event designed to promote indie music talent, Deputy Taipei County Commissioner Tsen Tsan-pao (曾參寶) said FTV was chosen by a panel of officials and independent experts because "it had a better plan."
Tsen, who was interviewed after Tuesday's press conference, said FTV provided coverage of last year's Hohaiyan festival and could do a better job of managing the event and working with advertisers, he added. "It's only the organizer. The festival remains the same."
A FTV spokesman, also interviewed after the press conference, said that his company planned to invest 20 percent of the profits from this year's festival in a rock 'n' roll museum for Fulong.
He shrugged off suggestions that the festival would lose its creative edge. "We will remain true to the spirit of the festival," he said.
On Tuesday Chang said he was going ahead with his own festival because he had an obligation to the bands he signed up.
"I want to make this festival for the people, not the government," he said. "Even if we lose money this year, we have to make this first step."
He stressed repeatedly that he had no quarrel with Taipei County or Gongliao Township. However, he criticized the government-run bidding process, which selects an organizer only two months before Hohaiyan starts.
"You need to plan a year ahead to see that a festival like this is done properly," he said. "If we go through the government tender process, we will always only have two months to prepare. This makes running the festival a business and distracts from its original spirit."
A TCM spokesman said the record label would compete for the government bid to be the organizer of next year's festival.
The FTV festival next week will be free. Those who have purchased tickets for TCM's festival can apply for a refund at the point of purchase.
Comments will be moderated. Keep comments relevant to the article. Remarks containing abusive and obscene language, personal attacks of any kind or promotion will be removed and the user banned. Final decision will be at the discretion of the Taipei Times.