Riches from rags
Described as `dotty' by a friend, the man who launched a million stripey shirts reveals how he conquered Japan
Paul Smith, multi-millionaire clothing impresario, avid art collector and honorary member of the rock aristocracy (Eric Clapton and David Bowie are friends), is having a whale of a time. While tearing about his London office, where I meet him to talk about his clothing empire's expansion in Japan, he tells me he was recently described as 'dotty' by a friend.
It's a term he confesses he rather likes and one, I have to agree, that's pretty accurate. He impishly tells me of his day trips: "I go to my office in Delhi, just for the day. I also went to the Great Wall of China and Vietnam for the day. My favorite was a day trip that took in Moscow in the morning, St. Petersburg in the afternoon and New York at night. I'm busy -- I have to visit places briefly."
He goes on to encourage me to embrace a large brown cuddly monkey, which he refers to as "the office manager." His employees look on with affection as Smith bounces off the walls like a kid in a candy store: at 59, he obviously still loves what he does.
Designer Paul Smith revolutionized British tailoring with his cuts of suits and patterned fabric.
PHOTO: AFP
Behind the playful personality, Smith is an astute businessman. He remains chief executive, principal shareholder and chief designer of the eponymous fashion brand he started in 1970, a company that now turns over ?280million (NT$16.5 billion) a year if you add the wholesale, retail and licensing revenues together, and boasts more than 230 stores worldwide.
Smith occupies a place in British fashion like no other. Born in Nottingham in 1947, he dreamed of being a professional cyclist, but a bad accident made it impossible. In 1969, he met Pauline Denyer, an artist who would later -- in 2000 -- become his wife, and has been a driving force behind his fashion business. His cuts of suits and patterned fabrics went on to revolutionize British tailoring.
Interestingly for such an archetypally British label, the majority of Paul Smith's business takes place in Japan, where the label enjoys a cult status. There are 165 stores there alone. Aside from the obvious financial rewards, Japan is also a country that has long been close to Smith's heart.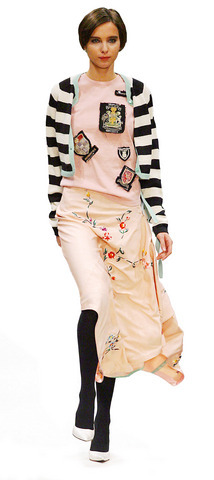 A model presents a creation by British designer Paul Smith.
PHOTO: NY TIMES NEWS SERVICE
"I was invited there in 1982, which was only three years after I opened my second Paul Smith store in London," he said. He is a good model for his designs, on the day we met he was wearing a beautiful gingham cowboy shirt, trousers and brown suede shoes with lilac socks. "A Japanese licensing scout -- someone who looks out for burgeoning businesses that would work well there -- had been watching me. Japan was hungry for young European designers. I was so excited to be travelling to this place called Japan. I was humbled just by being invited."
It was a timely move. The 1980s saw a fashion explosion in Japan. The rise of youth movements in the country and an economic boom meant that opportunities were plentiful for these young European designers.
Paul was surprised at what he found there. "That first visit was daunting. There were only three people working in the company. They'd never owned or ran a shop, they didn't advertise, didn't know about getting editorial in magazines -- all the things that are key to running a fashion business in Europe. They'd never made socks or shirts -- they were tailors. This company made older men's fashion, pure and simple."
He's given to wild gesticulations and vivid facial expressions, complementing a keen sense of humor inherited from his father. It's hard not to be enthralled by him: "The Japanese had, and still have, a love of British culture. Japanese people have a close relationship with British music; they were aware I knew David Bowie, David Hockney... so when Japanese people met me, or latterly, bought Paul Smith, it almost enabled them to plug into that European scene somehow."
The first Paul Smith store opened in Tokyo in 1984. "The licensee lost money on Paul Smith for the first three years," he says.
"By our fourth and fifth years in Japan, Paul Smith had started making money."
Neither Paul Smith the man, nor the manufacturing licensees -- now numbering eight in different sectors of the business, from men's and womenswear to accessories -- have looked back. In 2004-2005, Paul Smith Japan saw an increase in retail turnover of 10 percent. "I've been to Japan more than 80 times now," he says. "I've got my own office there. It's completely independent from the licensees, which means Paul Smith is in control of its own destiny."
After opening in Japan, Paul Smith Ltd went to South Korea and Singapore: "We've now got 12 shops in South Korea, which are worth a few million. Then there are two in Singapore and two in Bangkok. We've got six stores in China."
What's next for Paul Smith?
"The big three -- Russia, India and China -- are the places everyone wants to be."
Where does Smith get the energy? "I just love life. I like to be interested and interesting. I go swimming every day at 6.30am, then on for toast and Marmite at the same cafe. Walking to work I stop and talk to the road sweeper in Old Compton Street, he's a great guy.
"He's Polish and got married three weeks ago. We're all the same. I don't see myself as just a brand, Paul Smith is more than that."
He's certainly right about that.
Comments will be moderated. Keep comments relevant to the article. Remarks containing abusive and obscene language, personal attacks of any kind or promotion will be removed and the user banned. Final decision will be at the discretion of the Taipei Times.