John Banville's new book is over the hill
The author's previous works have been praised by many critics. His latest offering, however, lacks zest and borrows heavily from Samuel Beckett's lexicon
This novel is currently on offer in Taiwan in two different paperback editions, one costing only NT$300. Here is a must-read, the book trade seems to be saying. It was the unexpected winner of the 2005 Man Booker Prize for fiction, and for a decade and more people knowledgeable about contem-porary literature have been claiming John Banville as a true master. So, what is this seduc-tively short novel all about?
Essentially, it's a monologue about old age. You could truthfully say it was about youth and age, but it's mostly about age nonetheless. Banville's narrator, Max, is a retired art historian supposedly at work on a book on the French painter Pierre Bonnard, though you can be sure it's a book that'll never be finished. Following the death of his wife, Max returns to the Irish coast, scene of a childhood holiday, and eventually moves into an isolated beach-side hotel that was then the holiday home of a family, affluent compared to his, the Graces.
In the manner of the boy in L.P. Hartley's 1950s classic The Go-Between, Max ruminates about that summer long ago when he observed adult events he didn't fully understand. His mind wanders between three time-zones -- the present in the stultifying hotel, the illness and death of his wife, and the summer vacation back in his early teens. Now only death awaits him, of which the sea is an ancient symbol -- featureless, numbing, all-embracing.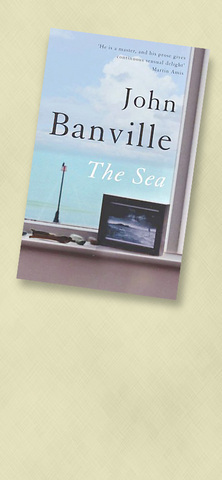 The Sea By John Banville 264 pages Picador
What could be seen as the characteristics of old age inform the narrative -- aches and pains, addiction to memory, a tendency to mull over familiar territory, a preference for food over sex, and a general sense of lethargy and inertia. And here lies the essence of this novel's problem, divisible into two parts.
First, age is not a very exciting subject. We may all have it to look forward to, but most of us prefer not to contemplate the prospect just yet. And secondly, it's hard for an author engaged on such a project to disentangle his own concerns from his narrator's. Does Banville himself feel he's over the hill (he's currently only 61), or is he exercising a still insightful vigor on dissecting what characterizes the old in general? Either way, as any dramatist could have told him, when your chosen form is the monologue, it's hard to keep up the distinction.
"A person of scant talent and scanter ambitions, greyed o'er by the years, uncertain and astray and in need of consolation and the brief respite of drink-induced oblivion" -- this is Max's self-description. It's certainly not Banville's, but the implicit weariness nevertheless pervades his text.
Many of Max's concerns, too, are surely Banville's as well. Max is professionally interested in painting, and Banville has featured art experts and painters in several of his previous novels, notably The Untouchable (about the UK curator and spy Anthony Blunt) and The Book of Evidence (about a stolen painting). Furthermore, Banville's absent-minded speaker is endlessly quoting and half-quoting English literature. Banville, who spent many years as Literary Editor of The Irish Times, is surely also someone whose mind echoes with phrases like "exterminate all the brutes" (Conrad), "that is not it at all" (Eliot), "I did not mean to but I did" (quasi-Larkin), "darkness visible" (Milton), and many more.
There's an even greater apparent indebtedness, or, if you prefer, unconscious self-fashioning on the part of the narrator. The ghost of Samuel Beckett hovers over the proceedings. It isn't only a remembered lost love, as in Krapp's Last Tape, or the insistent use, common in Beckett's novels, of a character stumbling for words ("if that is the way to put it," "I think they were called," "that is the word, surely"). There are also whole sentences where Beckett's tone is unmistakable, such as, "I do not know what was the matter, I mean other than what is usually the matter." And finally Max coins an aphorism about God in a manner that's not very characteristic of him but is eminently Beckett-like: "Given the world that he has created, it would be an impiety against God to believe in him."
As for the novel's characters, they're little developed. There's the overblown father, Mr. Grace, the motherly mother (for whom the narrator as a boy develops an erotic attraction), the casually cruel children (the dominant girl and her deaf-mute brother), and their governess, who we're destined to learn more about later. Then there's the narrator's dying wife (unlike him, stubbornly independent) and his unmarriageable daughter. None are portrayed full-length, but presumably the world of ghosts, artistic and literary, that inhabit the speaker's mind are intended to make up for them.
The style is suitably mannerist for a failed art-critic, and the colors it characteristically evokes -- pewter, umber, pale lavender, burgundy, "the deepest imperial purple" -- are also appropriate enough. But the cult of obscure words such as "caducous," "mephitic," "crepitant," though certainly intended as geriatric pontification, is sleep-inducing nonetheless.
But at his best John Banville is a supremely fine novelist. The Untouchable is for me one of the really great books, endlessly re-readable, and his historical novels on Copernicus and Kepler (there's another on Newton) are also fascinating.
What The Sea lacks is energy. This was a danger implicit in the original conception, and in the event the narrator's near-aim-lessness also characterizes the book itself. In this novel Banville the master-stylist sets himself a difficult literary task -- how to make old age interesting -- and fails to find an answer. Maybe the sad truth is that there isn't one, unless, as Shakespeare does with Lear, you turn your character into a monster and let him discover a new purpose in raging against a world he used to love.
Comments will be moderated. Keep comments relevant to the article. Remarks containing abusive and obscene language, personal attacks of any kind or promotion will be removed and the user banned. Final decision will be at the discretion of the Taipei Times.