Dances from the heart
Spring Gathering 2006 is an opportunity for Cloud Gate 2 to look both backward and forward
It is with light feet but heavy hearts that Cloud Gate 2 dancers will take to the stage of Novel Hall this week for their Spring Gathering 2006. The company opened its 2006 tour last Saturday night in founder and artistic director Lo Man-fei's (羅曼菲) hometown of Ilan, just a few weeks after she died of cancer on March 24.
On the program is Lo's final work, Pursuing the Dream, Gloaming by Bulareyaung Pagarlava (布拉瑞揚), the company's resident choreographer and A Dignified Joke by young choreographer Cheng Tung-lung (鄭宗龍), another graduate of the Taipei National University of the Arts.
Lo invited one of her favorite former students, Martha Graham Dance Company principal dancer Sheu Fang-yi (許芳宜) to appear as a guest artist with Cloud Gate 2 again this year, and choreographed Pursuing the Dream especially for her.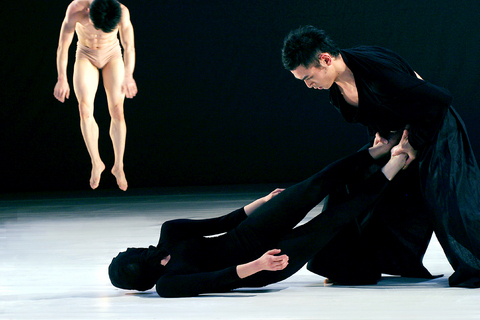 PHOTOS: LIN JING-YUAN, CLOUD GATE 2
The piece was a chance for Lo to collaborate with her elder sister Sophie Lo (羅蘇菲), a New York City-based singer. Sophie Lo will sing excerpts from traditional kun operas, including Peony Pavilion during the program, while Sheu dances the role of Tu Li-niang, who is willing to live or die for love.
"She [Lo Man-fei] made this piece because her sister can sing. She thought it would be a good chance to choreograph something for me and to work with her sister. Their relationship was very tight ... I know her sister is nervous that she will be too emotional to sing," Sheu told the Taipei Times in an interview before Cloud Gate Dance Theater's opening night for White X3 and Formosa two weekends ago.
Even though this is the second year in a row that Sheu is dancing with the company, she stressed that she is only a "guest."
Cloud Gate 2's Spring Gathering includes Pursuing the Dream, top, A Dignified Joke, above, and Gloaming, inset.
PHOTOS: LIN JING-YUAN, CLOUD GATE 2
"I'm always waiting for the next invitation. It's not my main job. But this was a great opportunity to work with Bula [Bulareyaung] and with Lo Man-fei," she said.
Sheu acknowledged that Lo hoped that the company's dancers would be inspired by how she has carved out a full-time career as a professional dancer with an internationally renowned company.
"When Lo was young she really didn't take dancing seriously as a career until she saw the Alvin Ailey company and thought `maybe I can do that, maybe I should try that,'" Sheu said. "Maybe a young dancer here could have the same experience she did."
Sheu said she had gained a lot from Lo.
"Another gift Lo Man-fei gave to me was pushing me to try different places, letting me know that I have different talents -- as a rehearsal director, artistic director -- she didn't know if I could do it, but she trusted me [to try]," Sheu said.
Sheu will also be dancing in Gloaming, which she said was a change of pace from boyfriend Bula's piece for last spring's performance.
"It's about the period right before death ... almost the end, we call it jiang jin (將盡). When you are about to have a new beginning. You expect something coming up ... there's hope," she said. "There's no story line, it's like a dream. Whatever you think, whatever you see, is right. It's not reality ... It's just people walking by, reversing as time goes on, then reversing back."
The final piece, A Dignified Joke, is a little lighter, Sheu said, to have the audience leaving the theater on a happy note. Choreographer Cheng explores the human character and finds that behind each person's dignified appearance is a joke. In the piece, the 16 dancers put on layers of clothing and use new body language as they awkwardly try to move about.
After Thursday's opening night performance, the company has organized a special memorial for Lo. It will show a 1991 video of Lo performing her signature solo Requiem, choreographed by Cloud Gate Dance Theater founder and artistic director Lin Hwai-min (林懷民).
After the video is shown, Bulareyaung, Cheung and the company's dancers will place Lo's favorite flowers, yellow orchids, on stage in her honor. The company will also have extra flowers on hand for any audience members who would like to pay their respects to Lo.
Lo became the artistic director of Cloud Gate 2 in 1999 to foster young choreographers and provide a stage for young dancers, who range in age from 18 to 25.
"Lo Man-fei loved young talent, especially choreographers. We train a lot of good dancers [in Taiwan] but after they graduate what can they do?" Sheu said. "She wanted them to have a place to perform, to create a stage for them, a very, very good stage. Before [getting to] the big stage you have to start small and move up."
Cloud Gate 2 will go on without Lo, but who will step into her shoes as director is not yet known.
"One year after she [Lo] founded the company she discovered she had cancer. So for more than four years she was a patient and a company director. Like a European house director, she came to meetings and rehearsals, but left room for the dancers and choreographers to do their work." Lin told the Taipei Times in an interview earlier this month.
"I'm just babysitting it now. I don't know what is going to happen," Lin said. "I don't have other directors in mind at this moment."
However, he said, "I want [Cloud Gate 2] to do a lot of demos [demonstrations] on campuses ... do pieces without lighting or technical baggage, develop a repertoire of excerpts of all their pieces -- lots of duets, trios, quartets."
What: Cloud Gate 2 -- Spring Gathering 2006

When: Thursday, May 4 to Sunday, May 7 with performances at 7:45pm each night and matinees at 2:45pm on Saturday and Sunday.

Where: Novel Hall (新舞台), 3-1 Sungshou Rd, Taipei (臺北市松壽路3-1號)

Tickets: Prices range from NT$400 to NT$1,200; available through
www.artstickets.com.tw
The company will perform at National Sun Yat-sen University (中山大學逸仙館) in Kaohsiung on Saturday, May 20 and in Taichung at the Chungshan Hall (台中中山堂) on May 27, both days at 2:30 and 7:30pm.
Comments will be moderated. Keep comments relevant to the article. Remarks containing abusive and obscene language, personal attacks of any kind or promotion will be removed and the user banned. Final decision will be at the discretion of the Taipei Times.