Whither Taiwan's identity?
Green Ray Theatre Company is back in town again, this time with a new play written and directed by famous Taiwan director Wu Nien-Jen (吳念真). The play titled Those Men in Her Life (她與她生命中的男人們), aims to speak about the historical experiences of Taiwan's previous generations and what it now means to be Taiwanese.
What is a Taiwan identity? What is Taiwan culture and its values?
These are the questions writer and director Wu sets out to address and he aims to do so without pointing fingers or hollering slogans.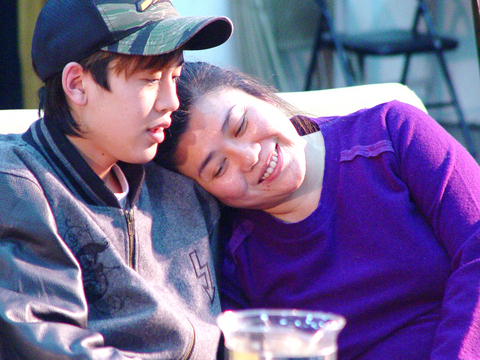 Green Ray Theatre Company takes a look back in time at Taiwan.
PHOTO COURTESY OF GREEN RAY THEATRE COMPANY
The story is relatively straightforward: As she lies on her deathbed, 79-year-old Yuki, played by Lin Mei Hsiu (林美秀) recollects the events of her life.
The story spanning more than half a century from 1947, when she was 17, is in many ways symbolic of what Taiwan went through and many older people will find a lot to relate to.
As the only daughter of a rich Taiwan family growing up in the Japanese era right before the Chinese Nationalist Party (KMT) came to Taiwan, she received a good education and her family was keen for her to marry an ambitious young man.
She, however, has her eyes set on the young family handyman who never summons up the courage to ask her father for her hand in marriage. Baffled by what she sees as the lack of willpower in men to fight for what they want in life, she reluctantly marries according to her parents wishes.
Later, as her husband becomes increasing successful as a Taiwan politician, she starts learning Mandarin, a sign of the political times.
Her husband, however, picks up bad habits, such as womanizing and becoming increasingly obsessed with the entanglements of politics. As her children grow up, they all leave Taiwan and finally years later, as they return, she realizes that in order to communicate with her grandchildren, she has to learn English.
"Every detail was meticulously prepared by Mr. Wu," explains Green Ray's Joyce Chiou (邱瑗), producer of Those Men in Her Life.
"When the actors are speaking in the beginning, they speak Taiwanese according to the grammar and poise of the era. It's really about that age and who they are. Later as Mandarin comes in, the way words are delivered evolves and by the time the main characters are interacting with their English-speaking grandchildren, English, spoken from a Taiwanese grammar perspective is used, symbolizing the many sides of life in Taiwan now.
Everything else, from black and white TVs, to old mugs, to the music that represents each character and their generation, all these details about life in Taiwan is what separates Those Men in Her Life apart from any other play, and what hopefully will resonate with the audience."
An interesting subplot is the discovery of a body in the Danshui River after the infamous 228 Incident, which Yuki later dresses and buries in her backyard, believing that her gesture means that the spirit of the deceased will therefore look after the family. During the final years of her life -- as her children are arguing over the inheritance and selling the land to contractors -- she refuses, still insistent on her loyalty to the body still buried.
It will be scenes like these, very Taiwanese in context, that strike home.
Comments will be moderated. Keep comments relevant to the article. Remarks containing abusive and obscene language, personal attacks of any kind or promotion will be removed and the user banned. Final decision will be at the discretion of the Taipei Times.