A hive of activity at Treasure Hill
The opening of a general store may not ordinarily warrant a mention in the newspaper, but the Treasure Hive, which opened its doors to the public at Treasure Hill last Sunday is part juice bar, part performance space, part soup kitchen, part grocery store, part local pub.
But it's mostly the latest chapter in the half-century saga that has seen Treasure Hill go from an anti-aircraft installation to an art installation.
"It's great to see somebody doing something here that is going to stay and to see this area revitalizing," said Yeh Wei-li (葉徫立), a photographer who has had a studio at Treasure Hill for three years.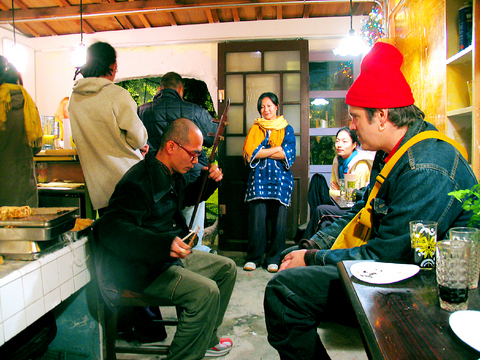 Friends and well-wishers at the soft opening of the new Treasure Hive.
PHOTO: DAVID MOMPHARD, TAIPEI TIMES
Treasure Hill got its start when the soldiers of the Chinese Nationalist Party (KMT) came to Taiwan.
The area was fortified and designed to protect the city's southwestern side from a Communist air attack. The soldiers stationed there built homes next to the guns they manned and married local girls.
By the time the guns were eventually removed, the area had become home and the soldiers stayed. Now there are ongoing plans to turn several of Treasure Hill's dilapidated structures into facilities that will host an artist-in-residence program.
Treasure Hive, located at the front of the community by a bicycle path that runs along much of the Danshui River, could be considered the first of the structures in the new artist community. Its proprietor, Mina Chin (覃敏怡), says she'll host weekly music performances on the lawn adjacent the store, will serve up a soup of the day, and plans to offer a variety of staple goods which she'll deliver to elderly locals.
The Treasure Hive is at 3, Alley 16, Ln 230, Dingzhou Rd, Sec. 3, Taipei (寶藏巖台北市汀州路三段230巷16弄3號).
Comments will be moderated. Keep comments relevant to the article. Remarks containing abusive and obscene language, personal attacks of any kind or promotion will be removed and the user banned. Final decision will be at the discretion of the Taipei Times.