'Crooks' intends to steal young audiences
Tang Mei-yun and her production company are updating Taiwanese opera for contemporary audiences
A woman wails in a rehearsal hall of Taipei's National Theater, her face twisted in a look of painful disbelief. Her gestures are punctuated with drumming on woodblocks and the crashing of cymbals. It must be gezai opera.
In fact, it's Tang Mei-yun (唐美雲), and her eponymous Taiwanese opera troupe preparing their most recent offering, World of Crooks (人間盜) for performances tonight through Sunday afternoon. And as with Tang's past productions, the wails and expressions of anguish disguise a theater troupe that has a lot to be happy about.
That's because Tang has done more to resuscitate Taiwanese opera than any other performer of the genre. Her production company has revived and revised the ancient art for contemporary audiences that have grown accustomed to other operatic forms.

This weekend's performance, however, sees the troupe returning to a more melodramatic performance style that is sure to please traditionalists, while keeping the contemporary accouterments that have been the hallmark of the company's past productions: A sleek, minimalist set; stylish, anachronistic costumes; and fuller, more orchestrated musical accompaniment.
Written by Ke Zong-ming (柯宗明) and Shi Ru-fang (施如芳), and directed by Lee Xiao-ping (李小平), World of Crooks tells the story of two thieves who stumble across the house of an official deep in the night. The official has a reputation for honesty, but the thieves discover he is hiding a conspiracy. What's more, the official's wife is hiding a man.
The thieves, who have watched operas all their lives and are filled with a belief in patriotism, loyalty and honor, decide to take justice into their own hands. But should the official arrest the thieves, or should the thieves seize the official?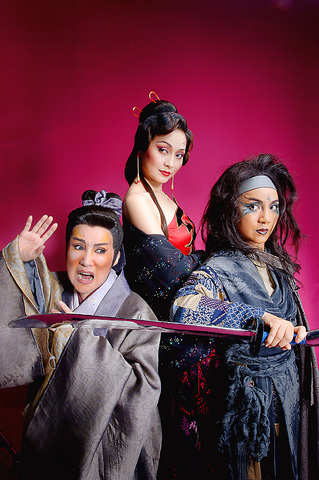 Swords at the ready, it's Taiwanese opera.
PHOTOS COURTESY OF TANG MEI YUN TAIWANESE OPERA COMPANY
The story is billed as a "black comedy" but it's far more humorous than dark. Tang plays one crook, and actress Xiao Mi (小咪) plays the other. The official is played by veteran actress Lee Luo-qing (李珞晴), who audiences will recognize from innumerable appearances in tele-vision soaps. Liu Wen-liang (劉文亮) arranged the music.
It's not the first time Tang's troupe has turned to crime for subject matter. A show in 2002, Tian Deng Chi (添燈記), told of a loving couple who, unable to have a child, steal a newborn child from a beggar couple. Like the characters in World of Crooks, all involved were forced to look closely at their consciences.
Last year's The Immortal Lover (無情遊), also delved into the consciences of its protagonist. That show was loosely based on The Bridges of Madison County and was one of Tang's big efforts at updating the art form.
But her success in modernizing melodrama has come at the expense of pleasing lovers of more traditional gezai opera, who claim that in updating Taiwan's only indigenous opera, it has lost its roots. It's a balancing act that she takes seriously.
In an evening rehearsal on Tuesday, Tang was instantly recognizable as the prima donna local audiences know her to be. But during a conversation at the Chungho offices of her production company earlier that afternoon, she was playing the part of producer and waxing philosophical about the current state of Taiwanese opera and its prospects for the future.
"There are few good performers of Taiwanese opera any more," she said. "And people who can write the stories, well, [they] are even fewer."
And it's not just the number of players that are shrinking, audiences sizes have decreased, especially compared to the golden days of gezai decades ago.
Tang is the daughter of Chiang Wu-tong (蔣武童), Taiwan's most famous Taiwanese opera performer during a time, decades ago, when local gezai figures were put on the same pedestal as movie stars. She knew from an early age that she wanted to follow his footsteps on the stage. She's now equaled her father's success -- indeed, World of Crooks opens in the same month that a book about her, The Prima Donna of Taiwanese Opera (胭脂紅), hits bookstore shelves.
But her success comes at a time when demand for Taiwanese opera has diminished. What are her plans for bringing it back?
"I ask young people why they don't come see gezai opera and they tell me, `All that ever happens is people crying and crying. It's boring.' So I say to them, `If I give you something cool and new, will you come?' And, yes, they've started coming."
She continued, "To keep audiences interested, we have to keep ourselves as performers interested, and that means constantly challenging ourselves to innovate."
For your information :
WHAT: World of Crooks, by the Tang Mei-yun Taiwanese Opera Company

WHEN: Tonight through Sunday, with performances at 7:30pm tonight and tomorrow and matinee performances at 2:30pm tomorrow and Sunday.

WHERE: Taipei National Theater, at the CKS Memorial Hall

TICKETS: Tickets cost between NT$400 and NT$2,000 and are available at the door. They can also be purchased through ERA Ticketing at 02 3393 9888 or online at http://www.artsticket.com.tw.
Comments will be moderated. Keep comments relevant to the article. Remarks containing abusive and obscene language, personal attacks of any kind or promotion will be removed and the user banned. Final decision will be at the discretion of the Taipei Times.