The Vinyl Word
The police made sure last Saturday's Summer Aquarian party was about peace, if not love. Promoters thought their permit was good until 4am, but police shut the party down at 2am, forcing an estimated 2,500 partygoers from the beach onto the roads in the middle of the night. An odd choice for public safety, considering the authorities had been so concerned about it all night. Police staked 40 signs at the waterfront -- one every 3m -- reminding people that water really is dangerous. Anyone seen wading past their heels was told to move back.
Also last weekend, obviously a key one for the boys in blue, Purple was raided and partygoers were forced to sit around for four hours while they were filmed for TV. Fourteen people were urine tested, said one of our gangster informers who was there. Room 18 and AXD were also targeted by police, while Luxy got hit briefly on Wednesday.
While the Aquarian party at Baishawan (白沙灣) was otherwise well-organized, most of the DJs were not pleased with their sets, citing strong winds and technical difficulties. Marcus Aurelius kept the hip-hop stage bumpin.' Good to see that the local crowd is down with old- school and not just Jay-Z and Snoop Dogg.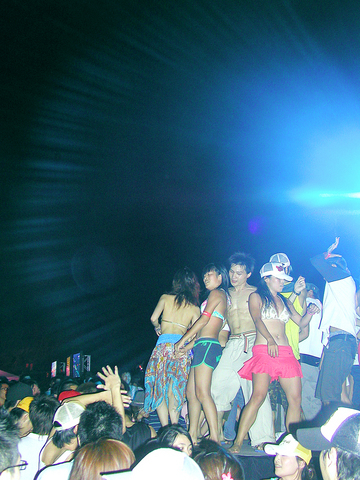 The party at Baishawan last weekend was hopping until the police closed it early.
PHOTO: DAVID MOMPHARD, TAIPEI TIMES
Speaking of Snoop, Dogg Pound member Kurupt is at Ministry of Sound tonight. Kurupt came up in the gangsta rap scene with Snoop after the two met while battling at LA's Roxy. They started rapping together and Snoop introduced him to Death Row Records' boss, Suge Knight. Knight brought Kurupt into the Row and paired him with other rappers. As a result, you can hear him not only on Snoop Dogg's maiden voyage, Doggy Style, but Dr. Dre's The Chronic, two of rap music's biggest-selling records.
At MoS yesterday Korupt and his younger brother Rosco said they were "real happy" to be in Taipei and they seemed to be having a good time at the soundcheck. "This is one of the greatest trips ever. Tell everyone out there we love it here an' we're gonna get Snoop and the whole pound with us next time we come back. Tell 'em we love 'em," Korupt told The Vinyl Word. The party forecast for tomorrow night looks steamy.
Luxy is drumming up its Summer Jam, with Underground Nation and DJs Enferno and E-Turn in the Galleria. DJ Vertigo and J6 will host The World tribal house party.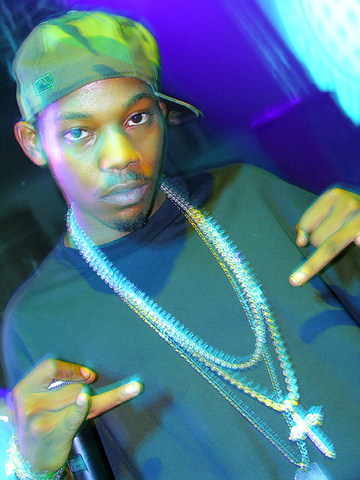 Rosco is supporting his brother Kurupt behind the mic tonite.
PHOTO: JULES QUARTLY, TAIPEI TIMES
Down the street at Eden, the Beat Symposium boys are "Diggin' Deep." These are the guys whose "I Love" parties have worked crowds into a sweat. With Diggin' Deep, they say, they'll be reaching far back in their record crates and searching for killer B-sides. Marc Ketts and Zoltan will start things off. Zoltan was a resident DJ at Taichung's Soundgarden before it was turned to rubble and plays a broad selection of house music.
Topping the show after Zoltan will be SL (劉軒), followed by Junior and Megan. This couple are relatively recent arrivals from Canada and are a welcome addition to the local club scene. A bit unorthodox -- for now, at least -- they spin Final Scratch. NT$350 with one drink before 11:30pm, NT$500 with two drinks thereafter. (11F, 98 Zhongxiao E Rd, Sec. 4, Taipei (台北北市忠孝 東路四段98號11樓).
Across town at the Source, Tensegrity Productions is going Back 2 Basics with DJ Apparition, a techstep turntablist who has for the past few years been a fixture in the Seoul scene. Drum 'n' bass will be loud and large, with DJs Elements, Zeon, Adora, Funkstar and Remedy. NT$500 gets you in and buys all you can drink until 3am. (1-2 Roosevelt Rd, Sec 1, 台北市羅斯福路一段1-2號).  -- david momphard, with additional
Comments will be moderated. Keep comments relevant to the article. Remarks containing abusive and obscene language, personal attacks of any kind or promotion will be removed and the user banned. Final decision will be at the discretion of the Taipei Times.