Spot the star at Ho-Hai-Yan
Thousands of people are expected to flock to the east coast next week for the annual Ho-Hai-Yan Rock Festival, but few will be going for the music
Earlier this week it looked as if this year's Ho-Hai-Yan Rock Festival would have to be canceled for the simple reason that there just wasn't enough beach in Fulong (福隆). Ceding to demands by Taipei County Government, Taipower on Wednesday began to replace the parts of the beach washed away in recent heavy rains. Come next Wednesday there should be plenty of beach for the two huge stages and the thousands of festival goers expected to descend on the sleepy seaside town.
Since its inception six years ago, when a handful of local indie bands played to a few hundred music fans and a couple of hundred curious onlookers, the Ho-Hai-Yan Rock Festival has morphed into the nation's largest free outdoor music festival. Last year's festival, which was the first time international bands were included in the line up, attracted an estimated 100,000 people over a three-day period.
Organized by the Taipei County Government with the help of local indie label Taiwan Colors Music (角頭音樂會), A Strong Production (壯態影音傳播有限公司), and with corporate sponsorship this year coming from President Chain Store Corp's (統一超商) 7-Eleven, the event is, according to the county government at any rate, set to be bigger and better than ever.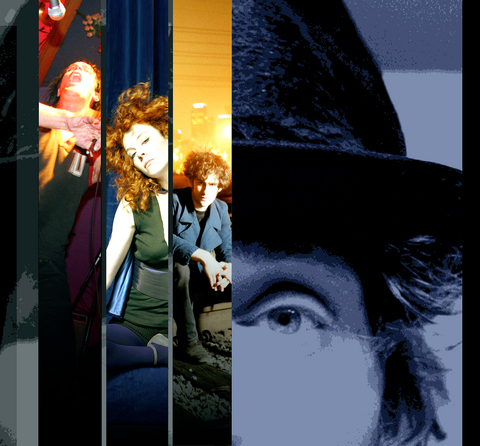 Ho-Hai-Yan Rock Festival 2005 will run for five days -- Wednesday, July 20, through Sunday, July 24 -- rather than the traditional three. It will see a total of 180 local and six international acts performing and will include a mini-movie festival at which half a dozen well-known music related films will be screened.
Although a mammoth five-day rock festival in Taiwan may seem a bit over the top, Taipei County Government initially wanted to extend the festival time frame to nine days. Pleas from the more music festival savvy co-organizers, however, put a halt to this idea.
"At first [Taipei County Government] wanted to make it nine days and we thought they were crazy. They talked about making it `bigger and better,' but this depends on the definition of `big,'" said international band coordinator Arthur Chen (陳彥豪). "They had no idea that there is a big difference between the length of the festival and the quality of music."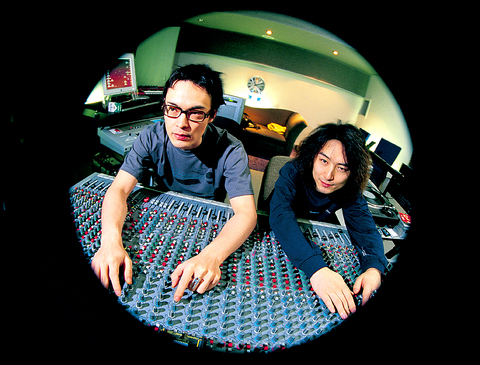 Boom Boom Satellites are one of the many bands turning up for Ho-Hai-Yan next week.
PHOTO COURTESY OF A STRONG PRODUCTION
While exact numbers are impossible to predict, organizers expect the number of festivalgoers to increase by at least twofold this year. Pre-festival estimates by the county government apropos the number of people expected to travel to Fulong at one time or another during the festival period has been put as high as 500,000. More credible sources expect the figure to be somewhere in the region of 200,000.
The numbers may look impressive on paper, but the reasons so many people choose to go to Fulong paints a very different picture. The Ho-Hai-Yan Rock Festival might well be the nation's largest outdoor music festival, but of the thousands of people only a very small percentage attend the event for the music.
According to a survey carried out by co-organizers last year, a mere 10 percent of those who traveled to Fulong had done so to see the bands. The remaining 90 percent of those questioned had simply chosen to visit the seaside resort during the weekend of the festival to party, have fun in the sun and, as one cynical member of the local independent music scene put it, "to look at girls in bikinis."
According to Freddy Lin (林旭佐), who heads the Taiwan Rock Alliance and organizes the Formoz Festival, the reasons so few people go for the music is due to the lackluster manner in which the county government advertises and promotes the event.
"You see the television commercials and advertisements in newspapers and magazines and none of them tell you what bands are playing or who's headlining," said Lin. "It's as if they don't care about the line-up or know anything about music. People who want to go for the bands are forced to ask their friends. This is really no way to run something called a `music festival.'"
Taipei County Government might be more than happy to slap itself on the back because its festival is "bigger and better then ever," but sadly the international line-up reads more like a "who's that?" rather than a "who's who" of the global music scene.
When you compare the acts Chen's production company has attempted to book since late January with those that it was able to confirm late last week, then Ho-Hai-Yan 2005 could best be remembered for the bands that didn't play rather the ones that did.
A Strong Production employee contacted the agents of a bevy of international acts including ex-Jam frontman Paul Weller, The Pogues, Primal Scream, Linken Park, Nick Cave, Radiohead, the Foo Fighters, Lou Reed, Bob Dylan, Bruce Springsteen and even James Brown and China's leading rocker Cui Jian (崔健). The festival's meager NT$24 millon budget might sound like a lot of loot, but it put severe constraints on who could perform at Ho-Hai-Yan.
"Linken Park wanted US$500,000 (NT$15 million) to perform and the Foo Fighters US$250,000 (NT$7.5 million). I mean, for that price I could have got two Bob Dylans," said Chen. "If we had the money I'd love to have been able to book Lou Reed. In the long run, though, it's probably OK that that we couldn't get them because it really doesn't matter who the bands are. More people come to Ho-Hai-Yan for the beach and to have fun than to listen to the music anyway."
It wasn't solely a question of cash that limited who Chen's company could book. Several Western acts including Paul Weller and Nick Cave did show interest but had prior engagements. And China's Cui Jian was banned by his own government from coming to Taiwan to perform for the inane reason that the Chinese Communist Party considered his appearance on the festival's "international stage" to be
inappropriate.
There may be no big names appearing at Ho-Hai-Yan this year, but the international line-up pretty much covers all the musical bases and should placate music fans even if they have never heard of the acts.
Actor and semi-ambient/post rock instrumentalist Vincent Gallo, Australian alt-rock combo Baseball, ex-Hole and Smashing Pumpkins bassist Mellisa Auf Der Maur, Japanese electronic pop duo Boom Boom Satellites and Canadian indie rock/experimental techno act Peaches are set to perform on Friday, July 22 from 5:30pm. The local bands will perform from 3pm until 10pm daily throughout the festival.
Headlining Ho-Hai-Yan 2005 is the US-based alt-rock trio Black Rebel Motorcycle Club (BRMC). While the band and its Jesus and Mary Chain-like heavy buzzsaw guitar sound boasts a sizable international following and the group has performed at top international festivals, even Chen admits that it is hardly a band one would expect to see headlining a nation's largest outdoor rock festival.
"I'd never heard of [BRMC] before the opportunity to book them arose and I'm still not that familiar with several of the other acts," he said. "I'm afraid that very few [local] people will be familiar with any or all of the international acts performing at Ho-Hai-Yan this year, which is a pity. But what can you do when you don't have enough money or incentive from the organizers to book well-known acts?"
What: Ho-Hai-Yan Rock Festival

Where: Fulong beach, Taipei County

When: Wednesday, July 20 until Sunday 24.

Tickets: Admission to the festival is free

Getting there: Trains travel to and from Taipei and Fulong at the rate of about one every hour.
Comments will be moderated. Keep comments relevant to the article. Remarks containing abusive and obscene language, personal attacks of any kind or promotion will be removed and the user banned. Final decision will be at the discretion of the Taipei Times.