POP STOP
Taiwan's pride and joy, supermodel Lin Chih-ling (林志玲), had a rather unpleasant time in Beijing at the Bai Shi Music Award ceremony (百事音樂風雲榜頒獎典禮) on Sunday. In a Gucci one-piece, see-through dress, Lin's assets were easy to detect. You would have thought this would have pleased anyone with hormones but alas fashion trends on the other side of the Strait are surprisingly hard to predict. Beijingers were critical of her efforts and said Lin had ``no face'' and that it was morally degrading to appear half-naked in public. Despite these harsh words, our Lin didn't lose her cool and simply responded, "I'll learn from the experience and be more considerate and thoughtful next time.''
Also appearing at the same awards ceremony was another Taiwanese beauty, Stephanie Hsiao (蕭薔). Even though she was wearing more than US$1.5 million worth of jewelry, her retro curly hair and outdated black evening gown did not attract much attention from the media, compared with Lin. Nevertheless, the pouty star agreed to have a joint interview with Lin and there was a lot of photo evidence to confirm their newly-established friendship. Despite the sisterly surface, Hsiao later threw out the seemingly casual remark, ``Lin and I have actually met before. She probably forgot that many years ago, she worked as my double in a commercial.''
The two beauty queens may look cozy together in the press photos and may have swapped niceties, but reading between the lines there is the inevitable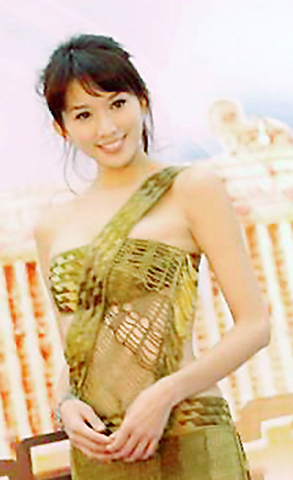 Lin Chih-ling is, unaccountably, cold-shouldered by her Chinese fans.
PHOTO: TAIPEI TIMES
competition.
For film director Tsai Ming-liang (蔡明亮), this past week has been a a big success. Box-office receipts of his latest work, The Wayward Cloud (天邊一朵雲), reached NT$7 million just two-and-a-half days after it hit the big screen. It is an amazing commercial achievement for the Taiwanese film industry since most Taiwanese films ticket sales are usually under NT$1 million. The subject matter of the film has drawn all kinds of audience members to try out the art-house experience. For example, many middle-aged, weird-looking men have reportedly emerged from nowhere to invade the theaters located in age-discriminatory, trendy districts. Tsai was said to welcome such new fans, believing it's a sign of greater acceptance of his work.
Family values and baby talk are still hot this week. Actress Lee Chien-rong (李蒨蓉) made her first public appearance yesterday after confirming the news of her second pregnancy. Lee proudly showed off her baby-bearing belly at Fendi's 2005 spring collection fashion show and couldn't stop her baby talk throughout the show. Singer Shun Zi (順子) is getting chubbier these days. When asked if she got pregnant before her November wedding, Shun Zi modestly replied that she wouldn't do something like ``get on the bus before buying a ticket.''
Patty Hou prays for babies, along with Jay Chou?
PHOTO: TAIPEI TIMES
Even though the gossip-generating couple, Jay Chou (周杰倫) and Patty Hou (侯佩岑), are still in their honeymoon phase, both of them have already expressed their wishes -- on separate occasions -- to have babies. In her book-release press conference, Hou revealed her plan to get married and have children at the age of 30. As the only child of his family, Chou also talked about how great it would be to have his own baby to play with at fundraising events. Babies in the entertainment world seem to be the latest fad.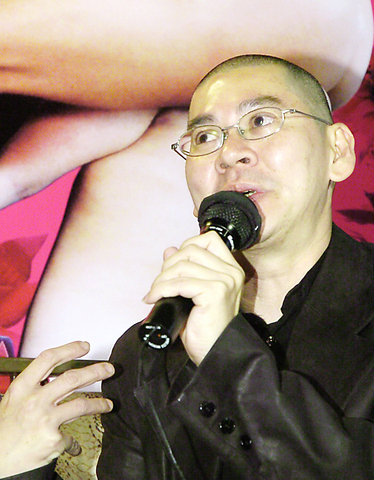 Sex and a scandal rarely hurts at the box office, Tsai Ming-liang explains.
PHOTO: TAIPEI TIMES
Comments will be moderated. Keep comments relevant to the article. Remarks containing abusive and obscene language, personal attacks of any kind or promotion will be removed and the user banned. Final decision will be at the discretion of the Taipei Times.