If you missed these, you missed out
The best feature stories of 2004 were...
Picking the 10 best entertainment and cultural events of 2004 was a daunting task in a year packed with so many awesome things to go see and do. But it's an enviable task. Here's our list of the year's most memorable in reverse chronological order. \nJazzy Jeff \n"The illest hip-hop show in Taipei, ever, hands down." The Vinyl Word isn't partial to pronouncements (cough), but we gotta call 'em like we hear 'em. Jeff had the onus of living up to the pre-show hype. Taipei has the stench of an Asian backwater for some world-class DJs. They parachute into town between gigs in Tokyo and Bangkok then phone-in their set. A world-class bummer. Did he live up to the hype? "Hell yeah!" was our answer then and now. We still have that Michael Jackson track in our heads. Jeff packed the room and kept the crowd bumpin' and grindin'. Let's hope he finds his way back in 2005. \n2004 FIFA Futsal World Championship \nAlthough Taiwan didn't fare terribly well in this year's Futsal World Championship, we in Taipei got to enjoy two weeks of world-class sport as it was the first year the tournament was held in Taiwan. \nPity it may likely be the last. Partisan politics played defense and prevented the nation from scoring points as a good host to the games -- something to do with the central government not wanting appear to give enthusiastic support to a tourney held in Taipei, lest it give an inadvertent boost to the opposition party's Mayor Ma Ying-jeou (馬英九). \nSpain took home the silverware, but Taiwan fans were at least thrilled to watch their team score its first two goals in international Futsal play. \nRitual of the Short Black People \nThe Saisiyat tribe -- which is said to have killed off the last of the black pygmies that were possibly the earliest settlers of Taiwan -- has held the Ritual of the Short Black People for up to 400 years, ever since their extermination is believed to have happened. \nThe ritual is held every two years by the Saisiyat tribe in Nanchuang, Miaoli County and Wufeng in Hsinchu County, with a special event every 10 years. Basically, tribe members gather in the mountains of Miaoli, or at an amphitheater in Wufeng and repeat rituals connected with the god of the Short Black People, that have been handed down for generations. There is a lot of drinking of rice wine, dancing in circles and socializing. This goes on for a whole weekend and is one of the most colorful and lively events that happens in Taiwan. \nExperimental Theater Festival at CKS \nEvery year the National Chiang Kai-shek Cultural Center showcases the works of four local theater groups in a "New Ideas Series" at the experimental theater. Motivation for the series is to expand its audience among the general public and four companies are selected among numerous applicants by a panel at the CKS Cultural Center. Each of the shows offered a different stage design, original script and professional acting. Taipei has numerous independent theater groups with performances every weekend making it difficult to decide what to see and what to avoid. Having attended three of the four productions, including Honan Opera Troupe, Assignment Theatre and Riverbed Theatre, it is fair to say that any of the festival winners would be a good pick. \nWu Bai heals the people \nWhen the hometown rock hero goes on a two-year hiatus, you know his next concert is going to be a doozy. And so it was with Wu Bai's September tour of Taiwan: just what the doctor ordered. \n"Taiwan's society is sick and it needs to take medicine," he told the Taipei Times before his tour. The sickness, he said, is a high suicide rate and the loss of a balanced life. His prescription was to give more love to others. He did just that, at each of six gigs where he and his band, China Blue, played at least 30 songs. We still may not be cured, but we can at least look forward to the next dose. \nAkram Khan \nThe London-born, Bangladeshi dancer Akram Khan is renowned in the dance world for his unique fusing of contemporary movement with the north Indian style of classical dance known as kathak. In September, the Akram Khan Dance Company brought its latest production, Ma, to a full house at Taipei's Novel Hall. Based on text penned by writer Hanif Kureishi and a collection of essays by Arundhati Roy, the show was an amazing integration of dance, text and live music, in which Akram and his company explored environmental issues. The combination of an original contemporary dance style, moving storyline and live classical Sufi vocals was impressive to watch. \nSummer Jazz Fest \nJoe Lovano has been called the "world's greatest tenor" -- tenor saxophonist, that is. He was one of a pair of greats from the Jazz world that headlined Taipei's Summer Jazz Fest. The following week we all became lost in the Jack Dejohnette's drumming. \nThe pair were originally billed as a triumvirate, along with pianist Ahmad Jamal. Sadly, Jamal was forced to cancel for health reasons. But even at 60 percent of what it was supposed to be, the Summer Jazz Fest raised the bar for future jazz festivals. \nMichelle Shocked at Formoz \nThis year's Formoz was itself a highlight of the year, but Michelle Shocked took top honors, both there and at a gig the following week at The Wall. She brought on stage all the friends she'd made during her stay and the lot of them had the most spirited grassroots jam of the year. \nBefore she arrived in Taiwan, the Taipei Times asked Shocked what she hoped audiences would get out of her performance. "Very complicated truths are conveyed through very simple melodies," she told us. Her own truth was that her simple melodies, like love, are a universal language. \nDJ Tiesto at the Taipei World Trade Center \nWhen MTV compiled a roster of the best pop music acts as voted on in countries around the world, the Dutch put Tiesto near the top of their list. The rest of us thought they either had a twisted sense of pop music or Tiesto was just too awesome not to get a mention. The answer, as some 6,000 of us found out in April, is the latter. \nIt should be said, though, that Paul van Dyk's gig at Luxy last month was on equal dance-floor footing with Tiesto's. But in a tug of war between the two, the guy who packs the World Trade Center is bound to be the winner. \nSpring Scream in Kenting \nIt was the 10-year anniversary of the farm-field jam session whose name has become synonymous with that weekend in April when everyone young at heart converges on Kenting and cuts loose. To mark the occasion, this year's gig lasted 10 days. We remember most of them. \nIn the past decade, the event that Wade Davis and Jimi Moe started has helped Taiwan's budding rock bands blossom and been a shot in the arm for Kenting's economy. Now there's talk of finding a different field in another part of Taiwan for this year's Spring Scream in order to unplug from the electronic music scene that has taken over the weekend. We wait with bated breath to know what will happen but feel sure it'll be in 2005's top-10.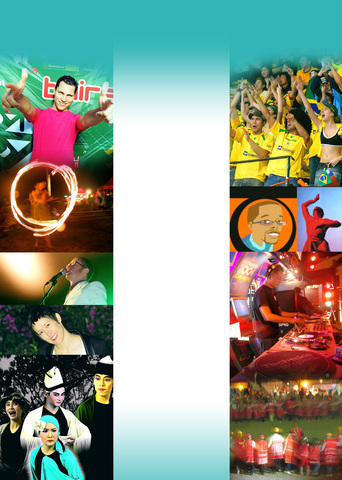 Comments will be moderated. Keep comments relevant to the article. Remarks containing abusive and obscene language, personal attacks of any kind or promotion will be removed and the user banned. Final decision will be at the discretion of the Taipei Times.