Pop Stop
Actress Lin Wei-chun (林韋君), whose main claim to fame was her starring role in a true tale of betrayal last year when she was caught playing tongue hockey with someone other than her boyfriend, has gotten herself into hot water again. She's mid-way through filming a TV series at Yangmei Yijen Hospital, but has thrown a spanner in the works by saying she saw a ghost hanging on the outside wall of the hospital.
Not surprisingly, given the importance of superstition and ghosts in Taiwan, the hospital's administration, according to The Great Daily News (大成報), did not appreciate the loud airing of a sighting of a ghost literally hanging around their institute. So, in retalliation, the hospital has forbidden the cast to continue filming at the hospital, which is the main setting for the show.
Meanwhile, Lin's agency is trying to mediate with the hospital and find some way to apologize for Lin's verbal slip-up so the show can continue filming at the site.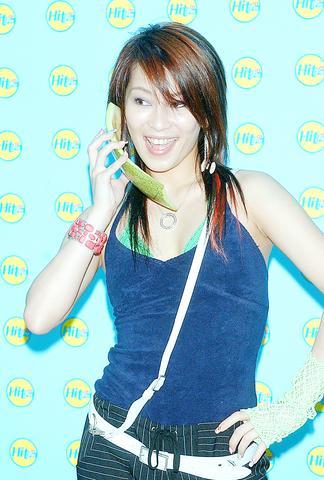 Hello, is anyone listening to my records? Wen Lan sure hopes so.
PHOTO: TAIPEI TIMES
Taiwan's own supermodel Lin Chi-ling (林志玲) is paying the price for fame recently with the endless gossip about her rumored lovers and whether or not her University of Toronto diploma was fake. So far none of the rumors have stuck, but that hasn't stopped the gossip rags from slinging mud. Next Magazine (壹週刊) this week rolled out one of its favorite old tricks with a piece about a Japanese porno look-a-like of Lin Chi-ling. The magazine even dug into its archives for a retrospective photo layout of other stars with porno doppelgangers. News anchorwoman Patty Ho (侯佩岑), A-mei (阿妹) and Coco Lee (李玟) are all featured, but the most uncanny resemblance is of Jay Chou's (周杰倫) porno stunt doubles.
Hong Kong singer/actor (aren't they all singer/actors?) Leon Lai (黎明) gave a big shout out to Asian-American sensation William Hung (孔慶翔) on Saturday when he appeared on Gold Sun TV. Lai said Hung, who lost the American Idol show but won audiences' hearts with his off-key voice and uber-geek persona, was a great entertainer and that he hoped to meet him when Hung goes to Hong Kong next month.
Another shout out from Hong Kong went to John Woo (吳宇森) for his contributions to the city's film industry. The government announced the award last Thursday, along with recognizing 375 others for their contributions to Hong Kong, according to a report by Channel News Asia.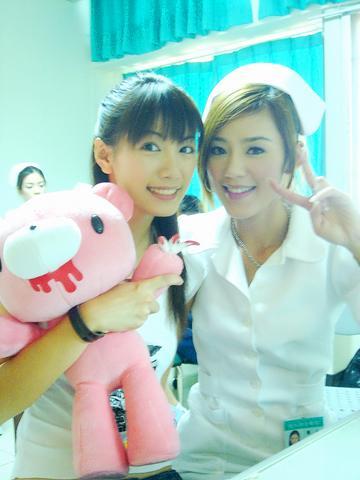 Lin Wei-chun, left, won't be hanging around a hospital for long if she keeps running her mouth.
PHOTO: TAIPEI TIMES
Closer to home, tomorrow starts the Taipei Pop Music Festival at the Songshan Tobacco Factory. Wen Lan (溫嵐), eVonne (許慧欣), Nan Quan Ma-ma (南拳媽媽), Energy and Taiwanese-American pint-sized rapper Machi (麻吉) will be hitting the stage for the third annual edition of the festival. The event is being held along with a graffitti art activity that local school kids have signed up for through MTV. The show will be a sort of second coming for Wen Lan, who hasn't released an album in two years since an aborted attempt to launch her as a pop star. This time, we'll see if she has the goods to make it big.
Comments will be moderated. Keep comments relevant to the article. Remarks containing abusive and obscene language, personal attacks of any kind or promotion will be removed and the user banned. Final decision will be at the discretion of the Taipei Times.