Hong Kong's colonial past through the eyes of a foreign child
Author Martin Booth spent four years as a child in Hong Kong and at the end of his life wrote `Gweilo' based on his recollections of that time
Gweilo is the Cantonese term signifying red-haired devil or foreigner. Martin Booth spent four years of his childhood in Hong Kong and this is his memoir of those days back in the 1950s. He's the author of many books, both fiction and non-fiction, most of them concerned in one way or another with Asia. Sadly, Gweilo was his swan song -- he died last year, while it was still in manuscript.
Colonial Hong Kong in 1952 (the year Booth arrived, at the age of seven) exhibited few of the virtues of a modern world struggling to be born. Other places may have been experiencing Elvis Presley and the first stirrings of the Beat poets, but the British colony, at least as exemplified by Booth's stubborn and irascible father, was more interested in pink gins, anti-communism, and the restoration of an old world after the terrible humiliation of Japanese conquest.
Booth has many adventures in Gweilo. He gains easy access into the legendary Kowloon Walled City (as in so many fairy stories, the adventures begin when the child makes straight for the one place his parents have told him he must never go). There he is befriended by two men who proceed to show him an opium den and a brothel, before he learns that they are in reality triad supremos who locals would happily give an arm to avoid meeting.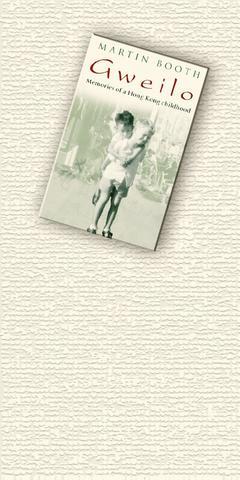 Gweilo By Martin Booth 337 pages Doubleday
In the Tsim Sha Tsui area of Kowloon he learns a salesman's trick of smilingly "accepting" the same number of US dollars for an article priced in the Hong Kong currency, then one seventh its value. He also learnt the technique of the pick-pockets. Their trick, apparently, involved two men, one to shove the victim and the second to take his wallet. This contrasts with the London habit (described to me by an inmate when I was briefly teaching in the city's Pentonville Jail) of one man shoving, a second taking the wallet as the victim turns to see who pushed him, and a third immediately receiving the stolen item so that the actual thief, the second man, can hold up his hands and say "Not me, gov'nor!"
There are tales of typhoons, of course, as well as horse racing and every other conceivable form of gambling, fugitive Russians, trams, and food of every kind. There are trips to the New Territories (including Shatin, then paddy fields and fishing villages but now a densely-packed suburb), and one to Lantau island and its Buddhist monasteries. The family live first in Mongkok, then on the Peak on Hong Kong island. The youthful Booth finds the former greatly preferable, though the latter was and is the most prestigious address anyone could ask for in Hong Kong.
The buffoon-like father is no comic parody. There's true feeling here, and it gives the book a serious undertow. At the end of a chapter describing a visit to an island leper-colony, and the father's rage after the boy allows a leper to stroke his blond hair for good fortune, Booth writes, "It was from that moment that I hated my father, truly abhorred him with a loathing that deepened as time went by and was to sour the rest of both our lives."
Booth adopts a simple but effective plan in this readable, and in several aspects engrossing, book. The father is an intolerable bigot, and the mother someone who would like to understand her Chinese neighbors but is effectively prevented from doing so by her husband. The way is thus open for the small boy to get to know the locals on his own terms and so gain a host of insights that the mature author will later utilize.
Innumerable English novels for children have proceeded on this assumption -- that the child has an open and inquiring cast of mind denied to his elders, and this enables him to solve mysteries, insinuate himself into criminal conspiracies, and generally make the world a better place where all the attempts of the adults have failed. As childhood drifts away, the knowledge and friendships he had as a boy begin to evaporate like a dream. It's the procedure adopted by Kipling in Kim, Stevenson in Treasure Island, J.K.Rowling in the Harry Potter books, and many others. A darker version is that of J.M.Barrie in Peter Pan where nothing is as simple as it seems. (The year's best news so far is that the incomparable British TV mini-series about Barrie, The Lost Boys, is being released on DVD in October.)
Readers who've lived in Hong Kong recently will find this book absorbing reading, and will be intrigued with the details of the territory as it was 50 years ago. Booth may judge that the British world lacked charm, though it was probably his father who was largely responsible for this, but the Chinese world remains fascinating to an extreme degree. It is, however, the unique mix that makes Hong Kong so very distinctive.
Martin Booth died at 58, and wrote this book knowing he didn't have long to live. The desire to memorialize is strong, and masterpieces have resulted from the impulse to set the record straight. All that ancient times can speak to us through are DNA-datable bones and shards of pottery. At least we have books, and this one, though not a masterpiece, serves as an atmospheric evocation of somewhere that's simultaneously instantly recognizable and lost for ever.
Comments will be moderated. Keep comments relevant to the article. Remarks containing abusive and obscene language, personal attacks of any kind or promotion will be removed and the user banned. Final decision will be at the discretion of the Taipei Times.