Restaurant: NY Bagels Cafe
Address: 147 Renai Rd, Sec 4, Taipei (北市仁愛路四段147號)
Telephone: (02) 2752 1669
Open: 24 hours a day, seven days a week
Average meal: NT$250
Details: 10 percent service charge added to bill on weekends, 7am to 6pm. Credit cards accepted. Menu in Chinese and English
Cities are judged on such criteria as infrastructure, income and education levels. But how about whether or not you can get a lox and cream cheese bagel at 4am? In opening a second shop on Renai Road, that is 24-hour, NY Bagels Cafe has given Taipei a new place for nocturnal noshing and helped the city fit into its international-sized shoes. \nLocated a block from the 24-hour Eslite Bookstore and a short walk from the late-night lounges lining Anhe Road, the new bagel shop is already filling tables after having been open for only two weeks. \nIt's no surprise. There is a lot more on offer in the 20-page menu than just bagels. Notably, a section of gigantic sandwiches, including a delicious sirloin steak sandwich on sourdough and a "homemade" hamburger, that will likely find favor even among those who aren't bagel fans. \nOther non-bagel items unique to the new store are a selection of pastas, Jack's lasagna (NT$190) or a choice of chicken, bacon or seafood spaghetti in a creamy tomato sauce (each NT$170). Here, too, you can ante-up for an optional drink and fries. \nThe menu is a bit annoying. Rather than simply list what's on offer, it's unnecessarily promotional and filled with newspaper clippings and ads for cream cheese and olive oil. There's even a section titled "What's a bagel?" for locals that think bread should be steamed. If they want to get creative, they would do well to look at Japanese grill Kan Pai's menu, which doubles as a monthly newsletter, with articles on everything from proper grilling techniques to local alt-rock bands. Last month's menu had illustrated instructions on how to change an electrical switch -- quirky, but it moves the conversation away from the work day. \nOther suggestions: First, tack up some no smoking signs. Nothing messes with your mish more than the cigarette smoke from the guy next to you. Next, add a couple of fondues to the menu.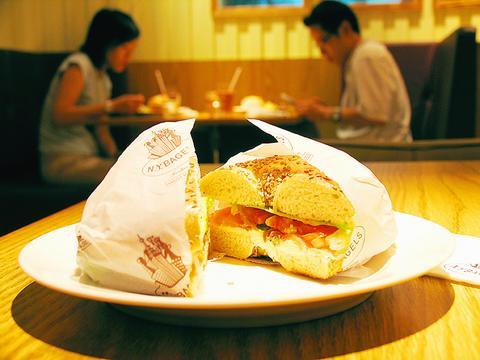 Nocturnal noshing just got better.
PHOTO: DAVID MOMPHARD, TAIPEI TIMES
Comments will be moderated. Keep comments relevant to the article. Remarks containing abusive and obscene language, personal attacks of any kind or promotion will be removed and the user banned. Final decision will be at the discretion of the Taipei Times.