Feminist art opens the mind, gently
The country's leading contemporary artist, Wu Mali, has created a subversive fabric project
Taiwan's foremost avant-garde artist Wu Mali
(吳瑪 ) has redefined conceptual art, turning installation exhibitions that for decades were venues for flashy self-aggrandizement into subtle processes of self-knowledge.
In Taiwan, Wu has given Taiwan's avant-garde art a measure of genuine life and significance undreamt of by her counterparts elsewhere.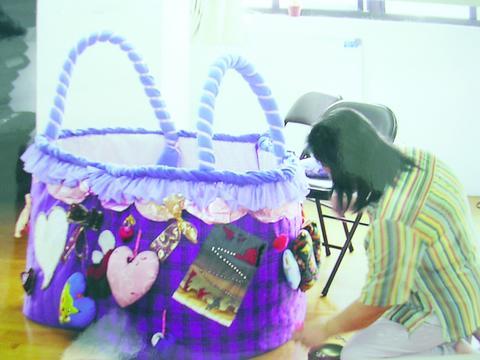 Under the guidance of Taiwanese artist Wu Mali, a group of local women made artworks using discarded fabric, shown above and below, in a project that ended up changing the participants' lives.
PHOTO COURTESY OF TAIPEI WOMEN AWAKENING ASSOCIATION
In what was considered a landmark occasion, Marcel Duchamp once declared a urinal as artwork for his New York exhibition. The museum, in accepting his "definition," further fueled the notion that artists were the high priests of culture. Artists since Duchamp have attempted ever newer concepts, actions and installations, resulting over past decades in an alarming abuse of nature and resources.
Stifling productions by the Bulgarian artist Christo wrap up entire islands or hills in pink canvas. But displays like these do not actually benefit anyone other than the project teams. They fail to move viewers or, even less, make us change our perception of the world. Such widely publicized projects always cost millions in paid and unpaid man-hours and materials, not to mention trauma, even death to flora and wildlife, and inconvenience workers and visitors to the targets.
Unfortunately, top art administrators are often themselves men seeking "exciting" exhibits reflecting, as it were, their own fantasies of brutality and violence. The Christo syndrome lately engendered British shocker Damien Hirst, who soared to fame by standing real sheep and horses in huge glass tanks filled with formaldehyde. Art spawned by masculine mindsets often celebrates inequality and dominion.
The avant-garde ranks itself elite, but Wu has miraculously done the very opposite. In poignant projects, she reveals the globally rooted destructive patriarchal mindset through the women it has so deeply affected.
Asked by Taipei City, she joined Taipei Women Awakening Association (台北市婦女新知協會) to work creatively with their abundant fabric. Wu engaged with mothers and wives who, except for one college art major, had never felt that "art was part of life."
They gathered for weekly meetings, got teachers for sewing skills, social workers to discuss community issues, and gradually built up a meaningful outlook that enriched and eventually transformed their lives. There Wu designed a fabric project aptly titled, Bedcover of the Soul (心靈被單), for which each woman created for herself a bedcover imaging her soul.
Like Christo, Wu speaks of fabric as skin, but skin for Wu is no cover to wrap up something and separate it from others. For Wu, skin is the interface between soul and universe -- for inter-relating, for mutuality, for integration.
The process of creating this work entailed several months of intense labor on the part of everyone involved. The members of the Creative Textile Workshop women belonged to different age groups and social classes. Along with Wu, psychological counselor Lin Fang-hao (林方皓), and the association's social worker Wan Hsiu-hua (萬秀華), used the production of a soul sheet as intimate as their own skin to explore their existence and the substance of their lives. As work got underway, it was recorded by Taiwan's famous woman director for video-documentaries Chien Wei-ssu (簡偉斯), and is now available in DVD format.
This DVD now travels around Taiwan to awaken dormant feelings and inspire self-awareness and growth among viewers of all ages, classes, and both genders.
It is a powerful video, revealing a subtle process. We share in the stitching sisterhood and follow their self-discovery. In a nurturing environment, they began speaking of deeply repressed feelings, bringing up topics untouched at home. They acknowledged a sense of alienation from the world of their fathers and husbands; they wept over the endless waiting that "filled" their days, of being a person who makes life for the family -- but not for herself.
Then we see their Bedcovers of the Soul. One was sewn with dead leaves, "I long deeply for Death. Death of this life, so that a new life can begin." Another applied lacey fragments bounded by the outlines of a tight-necked bottle. One loose fragment flies outside, but remains attached to the bottle by a string, "My soul dreams of escape. But try as I might, wherever I go, I remain chained to my home."
Wu's bedcover was a huge fluffy red broken heart cushion with broken bits of red fluff that, once moved, revealed beneath a pair of huge fluffy white wings -- of flight, of benediction and succor. Here the essence of womanhood is revealed as Genetrix who, through suffering, heals and nurtures.
At a recent Taipei video-showing, someone in the audience asked to screen it at the coming Asia-Pacific NGO Forum in Bangkok on the Beijing Platform for Action (BPFA) titled "Celebrating women's gains ... Confronting emerging gender issues" in July.
Watching Taiwanese women emerge from traditional mental confines and become able to see themselves and society in a new light, the man at the show said, would help other Asian women waken to their vibrant inner life -- so simply accessible without preposterous patriarchal costs -- once the heart and mind is gently opened.
For information on where to buy the DVD, contact the Taipei Women Awakening Association at (02) 2351-1678.
Comments will be moderated. Keep comments relevant to the article. Remarks containing abusive and obscene language, personal attacks of any kind or promotion will be removed and the user banned. Final decision will be at the discretion of the Taipei Times.